When artist Derek Hess would go to the therapist, he'd make a list of stuff he wanted to discuss. The list patters off: IRS/Born Agains/Republicans, Alone, Another Career, Don't Say Suicide/Pink Slip, Carry Gun, Hot GF. You know, normal Stuff right? He discussed the piece titled Stuff — a hunched man with a ticking time bomb for a head sketched directly on the handwritten notes — and several others at the Department of Psychiatry Bipolar Disorders Research Lecture at the University Hospitals Cleveland Medical Center March 10. "It's all in the head," he explains.
It was a big morning. Hess, who has bipolar disorder and dual diagnosis, which is having addiction and mental health issues, is the first patient to speak in this format of the lecture series that usually features physicians. It was also a rare behind-the-scenes look at how Hess' mental illness intersects with his creativity. He does most of his fine art when he is in a depressive cycle of bipolar.
"The only issue for me not being able to draw is when I'm happy," he says. "I can draw. If it's something pleasant, than it's just decoration. It's not really saying anything. It's not art. No matter how well it's rendered. I know I'm going back down."
The artist, who is also a mental health advocate with his Acting Out festival, returning to Gordon Square Arts District Sept. 13-16, discusses three more pieces.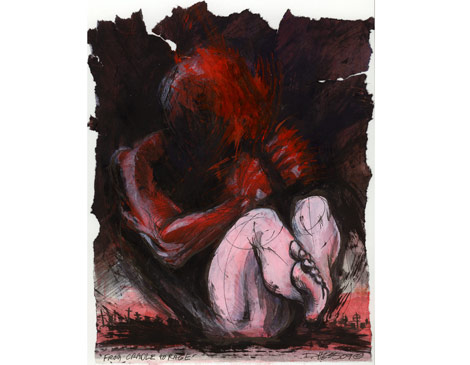 From Cradle to Rage
The 2009 piece made with pen, ink and acrylic shows the feet coming out of the womb, resting in the fetal position, clenched hands and a blackened face. "Is it nature? Is it nurture? Is it genetics?," Hess muses. "What brings me to that? What I really know is that I'm that."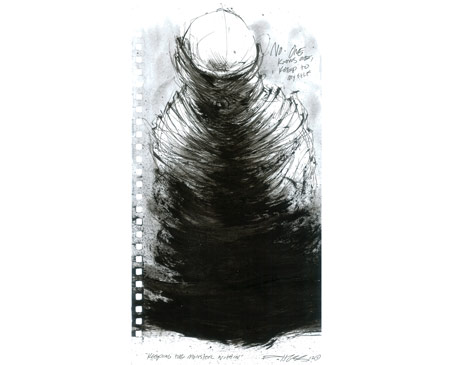 Keeping the Monster Within
The artist, who is famous for his '90s rock 'n' roll posters, names many of his fine art pieces after lines from rock songs. This 2012 artwork is titled after a line from a song by the German band Wolf. "No one knows me. I keep to myself." is scrawled in messy script in the top right corner. "This is tightly wound," Hess says. "Very tightly wound aggression. Trying not to break free and end up having to act out. I really like this piece. I wish I didn't sell it. I wish I still hung onto to this piece. I wanted the darkness to go from the head to the base of the piece. All held around here and then lighten around the edges, so your really in here … you're tight."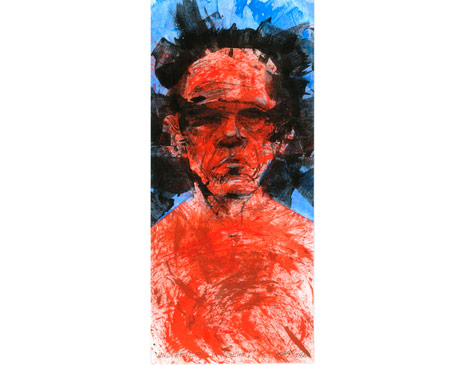 Uncomfortable In My Skin I
This 2008 piece is part of a series of blue, black and red works on cardboard. He used a toothbrush to fill in acrylic on the figure. "That's the anxiety; that's was it's like," he says. "It doesn't go anywhere. It stays with you. You gotta ride it out, and it's not that fun."