On the third page of Doug Henderson's debut novel, The Cleveland Heights LGBTQ Sci-Fi and Fantasy Role Playing Club ($16, University of Iowa Press), Henderson breathes life into Coventry Road with descriptive delivery that slowly spins out and falls back in on itself like a boomerang.
"Coventry Road in Cleveland Heights was a power ballad, a nap, a rainbow, a dull noise, a cluster f--k, a nostalgia, a dream," writes Henderson.
It's this kind of balancing act — between the light and the dark, the real and the imagined — that makes Henderson's novel soar in bright and unexpected ways. "It just always felt really alive to me," says Henderson, who received his bachelor's degree from Kent State University and now lives in San Francisco. "It was the kind of neighborhood that was edgy and quirky but also could be kind of hip and trendy, and you could see it in many different ways."
This multifaceted setting of eclectic mom-and-pop shops offers a multitude of paths for Henderson's queer cast of 20-something geeks to explore as they discover innate truths about themselves and establish lasting friendships.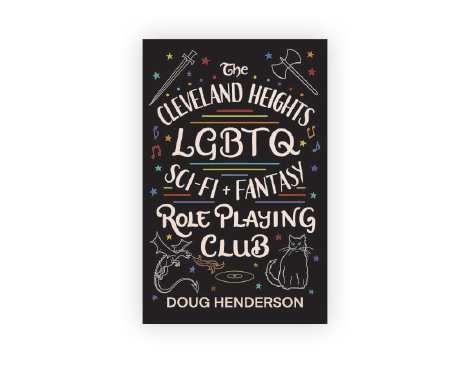 The heart of the novel revolves around a budding romance between Ben, a heartbroken young man living in his parents' basement, and Albert, an edgy and erotic newbie who joins Ben's neighborhood LGBTQ Dungeons and Dragons club. But it's the group as a whole that truly carries the magic of what it means to be queer in your 20s and 30s. Celeste, the dungeon master, is transgender and easily the most welcoming and affirming person in the group. Valerie is a lesbian who has her own reservations and Mooneyham is a brute and a banker confronted with coming out late in life.
"I think that the characters have some arrested development," says Henderson. "I think that is fairly common amongst queer people. We don't often get to have a high school sweetheart or go to the prom, and I think these things are changing, but I think that we find love much later. We develop our families much later."
So Henderson finds ways to explore familiar themes of self-discovery and resilience while mastering a metafictional narrative that seamlessly weaves together high fantasy elements in the vein of The Lord of the Rings with real-world antics.
Early on in the game, for example, Ben's character is beheaded, and the group must work together to bring him back to life. It's not a far cry from where Ben is at outside of the game, as he's been struggling to find the means to move beyond an unrequited romance. By having his characters act out their desires and push themselves to explore new horizons, Henderson crafts a narrative that's as compelling as it is comedic.
"I hope the reader can realize that they can manifest their desires into the real world, that they can become who they want to be and they can be who they want to be all the time," says Henderson.