Dave Lubinger first met Adam Slivka in the late 1990s when Lubinger was a teacher at Brecksville High School and Slivka was a student in his American history class.

Nearly 20 years after their first meeting, the duo are working to spread the message of the importance of adopting shelter animals. Earlier this year, they released The Adventures of Jill, Jake, and Stimlin: Jill Gets a Brother ($18), a self-published children's book written by Lubinger and illustrated by Slivka that is based on Lubinger's dogs Jake (a standard poodle), Stimlin (a schnoodle) and his daughter Jill. For most of Jill's childhood, she was around Jake, Stimlin and the plethora of other critters that found their way into the Lubinger household.

"This was a passion project for me," says Lubinger. "It's something I've always wanted to do. I wanted people to be able to hear stories that are based on my experiences with my daughter Jill and our two dogs."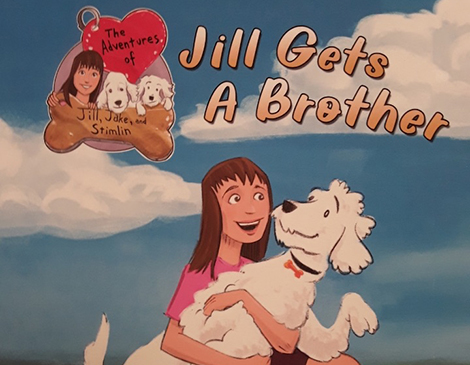 While Lubinger had always been interested in writing a book, not even he could have written the script to how The Adventures of Jill, Jake, and Stimlin got written and published. In 2014, the longtime teacher retired from teaching to focus on writing books, more specifically, a memoir about his dad, Herbert Lubinger, who died in 1993. But the idea fizzled out.

From there, he attended various workshops and classes at the Hudson Library, one of which was led by Amanda Flower, a children's book author and the library's author-in-residence. While attending one of Flower's workshops about writing children's books, Lubinger began to formulate a plan for a children's book in his head.

"I've got stories about my daughter and my two dogs that I could write right now," he recalls thinking. "I think people would like them."

In November 2017, Lubinger began fully formulating his plan for a children's book, going as far as to read 45 children's books and taking meticulous notes about each one. In May 2018, he sat down with his friends Jacqueline Perry and Jessica Wilms (who Lubinger refers to as his two "go-to moms'") to go over his rough idea for The Adventures of Jake, Jill and Stimlin. After they said they liked the idea while offering up some slight tweaks, he hired an illustrator, but, after nearly 18 months, the illustrator hadn't produced anything.
Enter Adam Slivka.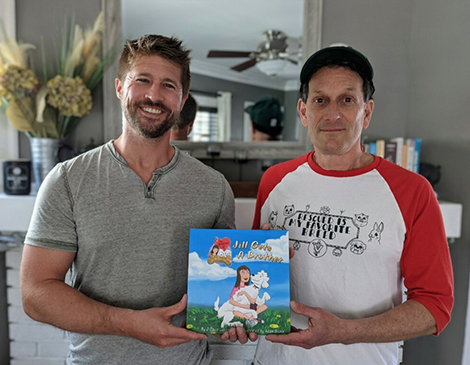 As a part of Lubinger's curriculum as a teacher, he had his students create music, art and literature to demonstrate their understanding of different time periods. Slivka's art immediately stood out to Lubinger, but in more of an unconventional way.

"It was really science-fiction-y and gruesome," Lubinger says now with a laugh.

Slivka and Lubinger relinked in February 2020, with Lubinger laying out his plan for the book and asking Slivka to create some illustrations based off those plans. A week later, Slivka turned in his drawings. At that moment, Lubinger knew Slivka was the perfect illustrator for the book. Over the next month, the duo worked together to illustrate the first couple pages of the book.
"I said, as long as you get the characters lovable and cute, I don't care what you do with the background," Lubinger says. "I was really hard on him for a few months to get the characters perfect. But he did it."

But then COVID hit right as they were getting going. That, combined with Slivka dealing with health problems while also juggling his asphalting business, meant that creative process for the book was delayed until the winter. But once the winter came, Slivka and Lubinger poured all their attention into the book. In April 2021, they uploaded the book to Ingram Spark (an online, self-publishing website) before the book hit store shelves on May 1.

The 34-page book, the first of a planned four-part series, is awash with Slivka's bright, cartoonish drawings of Jill and Jake, depicting Jill, now a 25-year-old veterinarian student at Ohio State, as a young child.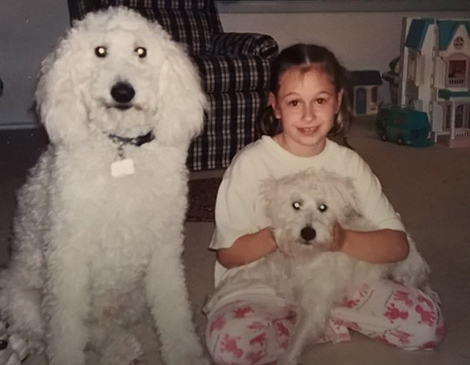 "Jill has always said that Jake and Stimlin drove her to want to become a vet," Lubinger says. "Who knows where her life would be without them."
All of the proceeds from the book, which Lubinger self-published, go towards three animal sanctuaries and one animal shelter — Rescue Village in Geauga County, Parma Animal Shelter, CHA Animal Shelter in Columbus and the Heart of KJOS Animal Microsanctuary in Minnesota. The book is available at local bookstores like Loganberry Books, Fireside Book Shop and Mac's Backs-Books, as well as on Amazon.

As of now, Lubinger said the plan for the future is that book two (where Stimlin is introduced) will be released in the spring of 2022, with book three coming out sometime in the early fall.

"It's been awesome to see feedback from readers," Lubinger says. "I love that people are buying the book and reading it to their children."