The new iteration of A Christmas Story is, as one might expect, chock full of references and scenes from the first iconic movie, set in Hohman, Indiana, in 1940. In A Christmas Story: Christmas, Ralphie Parker (played by a bespectacled Peter Billingsley) is a husband and father of two kids, living in Chicago in the 1980s.
After learning that his old man passed away, he heads home with his family to Hohman to spend Christmas with his newly widowed mother and to write his dad's obituary.
The movie, out on Thursday, Nov. 17 on HBO Max, gives plenty of nods to its predecessor, which was filmed in Cleveland and Toronto. Here are our five favorite throwback moments in the sequel: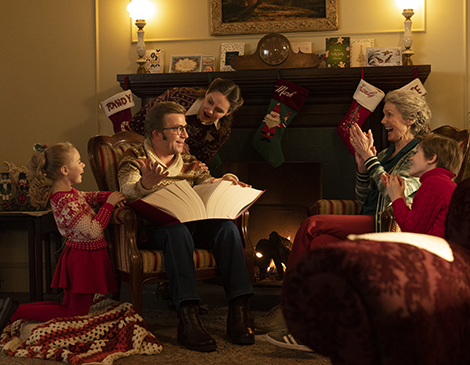 "The House On Cleveland Street"
"It looked like it had been frozen in time," Ralphie muses, as he and his family pull up to the iconic yellow and green house.
The sequel wasn't filmed here in Cleveland like the original. Replicas of the house and the surrounding homes like the neighboring Bumpus House were built on a set in Hungary, where A Christmas Story: Christmas was filmed.
However, if it had been filmed in Cleveland, that yellow and green house in Tremont's neighborhood would look pretty close to the original movie. That's because the Christmas Story House has been preserved and run as a museum for years. (Big news: As of this week, the house went up for sale, along with the museums and lots surrounding it.)
Beyond the house, you'll also see the steel mills humming in the background of A Christmas Story: Christmas, and several scenes set at or around Higbee's, both nods to the original movie's filming in Cleveland.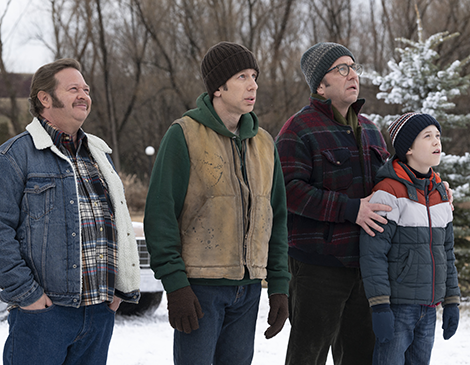 "I Triple Dog Dare Ya!"
Billingsley isn't the only returning cast member from the original A Christmas Story. In the sequel, you'll see plenty of shenanigans from Flick (played by Scott Schwartz) and Schwartz (played by R.D. Robb). In the first movie, Flick gets his tongue stuck to a frozen flagpole after he's triple-dog-dared to lick it. In the sequel, he's triple-dog-dared to sled down a deadly-looking, poorly CGI'd slide with a ramp.
Other cameos appear as fun Easter eggs for movie fans. That includes the Bumpus Hounds, little brother Randy Parker living in luxury, and Scut Farkus, who becomes a neighborly cop ("One of the good guys," he says) in the ultimate redemption arc.
"A Major Award"
No, the leg lamp is (sadly) not on display in the Parkers' home anymore — but its iconic beaded lampshade makes a split-second appearance while Ralphie's rifling through the attic. You'll also catch a glimpse of the "pink nightmare" bunny suit, tucked away in a box.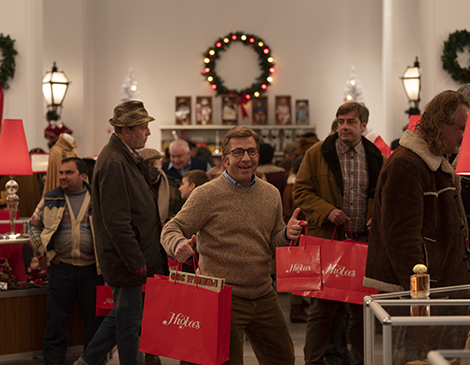 "HO, HO, HO."
A noticeably less grumpy and more convincing Santa Claus welcomes Ralphie's kids at the top of an identical-looking mountain and slide. This time, the man in red doesn't kick the kids down the slide and instead patiently answers their questions, convincing them he's the real deal.
The scene takes place in Higbee's, like in the original movie — and it cuts back and forth between the kids' experience waiting in line to see Santa, and Ralphie's experience frantically shopping for all of their gifts. It's a heartwarming moment that reflects the different experiences of Christmastime for children and their parents, and it's sullied only by another poor moment of CGI, this time featuring an unnecessary spew of pink vomit from a candy-licking kid in line.
"You'll shoot your eye out!"
In A Christmas Story, Ralphie is repeatedly warned that he'll shoot his eye out with his new BB gun. It turns out it's not the only eye injury in the movie franchise. In the new sequel, Ralphie accidentally whips a snowball at his daughter Julie, forcing her to wear an eye patch for a couple of days.
On a bigger note, Ralphie's relationship with his kids grows from his relationship with his dad. Throughout A Christmas Story: Christmas, Ralphie imparts lessons to his kids about haggling with Christmas tree salesmen, fixing cars and standing up to bullies, mirroring the same lessons his Old Man taught him in the first movie.
Ralphie, struggling to pull together a perfect Christmas for his kids, learns more about his own parents' festive work in the process. "My dad made this all look so easy," he reflects at one point.
READ MORE: Peter Billingsley Talks 'A Christmas Story' Sequel in Q&A
Get ahead of the weekend by signing up for our free weekly "In the CLE" newsletter — your guide to fun throughout The Land. Arriving in your inbox every Wednesday, this weekend's to-do list fills you in on everything from concerts to museum exhibits — and more. Click here to subscribe.