It's like a runway show through 150 years of Northeast Ohio fashion — minus Heidi Klum. Part of the Cleveland History Center's 150-year anniversary celebration, Wow Factor: 150 Years of Collecting Bold Clothes features more than 100 gems from the museum's collection of 40,000 pieces designed and worn by locals. The yearlong exhibit, which opens April 28, showcases high points of Cleveland fashion from Millionaires' Row to the pinnacle of downtown retail in the '50s and '60s. "There's a level of quality that's high," says Patty Edmonson, MAC curator of costumes and textiles. "Historically, Cleveland was just as big for clothes as New York City." The silk flowers on a big-hipped 1920s robe de style, for example, look like a watercolor painting, while the '80s Joan Yellen power suit makes a statement with completely sheer pants and a plunging jacket. Edmonson also praises today's maker community, including leather maker Fount, which is featured in the exhibit. Edmonson shares looks that are on display in four galleries including the Chisholm Halle Costume Wing.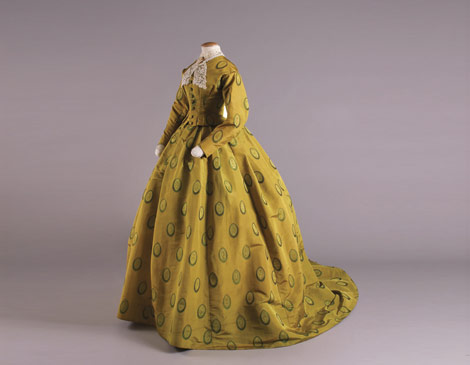 1865-68
Who: Ann Otis, the second wife of Cleveland mayor Charles Otis and an advocate for the poor and sick, likely wore this dress with lace cuffs and collar to a dinner. Crinoline produces the empowering silhouette. Why: While bright green exudes confidence, it's also a shockingly dangerous color choice. During this era, toxic dyes were combined to make green and yellow. "It's very likely that it's an arsenic dye that's faded in the light over time," says Edmonson.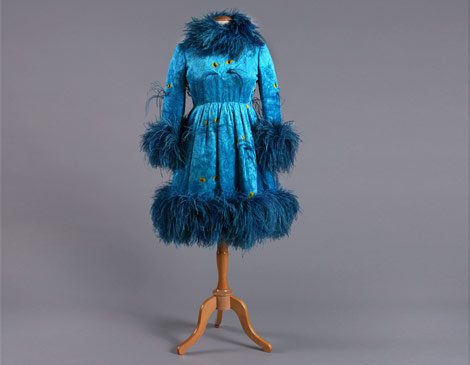 1969
Who: George Halley, the designer of the whimsical, dramatic turquoise silk pile dress with rhinestone feline fabric and ostrich feather trim, grew up on a farm in Alliance. Why: The fun collar can also be a party "fowl." Sarah Sato, who established the Center for Suzuki Studies at the Cleveland Institute of Music with her husband, Sam, detached it at benefits, because she got a mouthful of feathers. "It's not really glamorous when you're trying to eat appetizers," Edmonson says.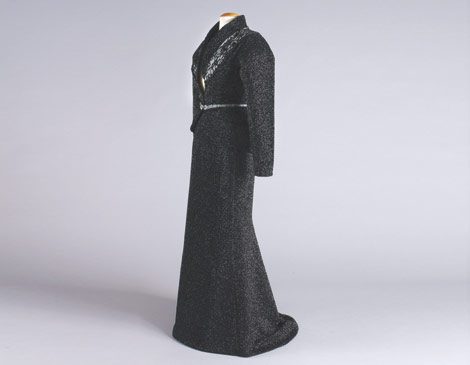 2017
Who: Cleveland transgender designer Denajuá seeks out her own muses. For this suit, she was inspired by the silhouette of medieval armor in an exhibit at the Louvre in Paris, where she lives part time. Why: Made from a glimmering textile of woven VHS tapes, this never-worn piece was loaned directly to the Cleveland History Center. "She's really known for not being a slave to trends and creating garments that really bring women to life because they are so unusual," says Edmonson.