Kiss might really, finally, be nearing the end of the road.
At the band's Sunday night Rocket Mortgage FieldHouse concert, singer-guitarist Paul Stanley reminded the crowd early (and often) that this would be the last time Kiss would come to Cleveland. The show, in the final leg of the band's End of the Road world tour, meant that this might realistically be the last time for Cleveland's Kiss Army contingent to see Kiss live in the city.
Remember, Kiss had already had farewell tours in Cleveland twice in the past. Remember, it already brought this very same farewell tour to the city back in 2019, on an earlier leg. Remember, the setlist on Sunday night's Rocket Mortgage Fieldhouse show was slightly shuffled but still fairly similar, to that 2019 show, right down to the trio of encore hits: "Beth," "Do You Love Me" and "Rock and Roll All Nite."
But this time, playing through its batch of well-worn classics at the Rocket Mortgage FieldHouse in 2023, the band spared no chance to say goodbye to the Cleveland crowd. Ahead of the show, screens showcased a Kiss logo, which stated "The Last Tour Ever," "The Final 50 Shows" and "The 50 Anniv" in large letters.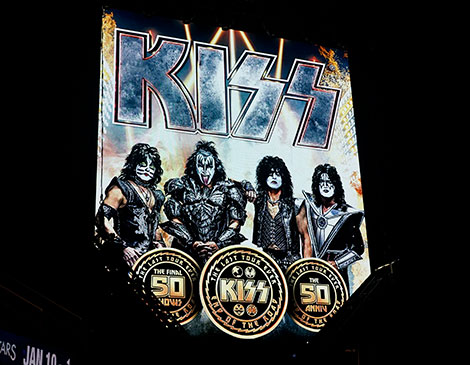 If there's ever a time for this iconic theatrical group to have one last farewell trot around the globe, it's now. This summer marked 50 years of Kiss, bringing founders 74-year-old Gene Simmons and 71-year-old Stanley, plus long-serving band members Tommy Thayer and Eric Singer, back for another fiery romp onstage.
Fifty years of Kiss, and just-shy-of-50 years of Kiss in Cleveland. The latest show took place 49.5 years after the band first performed in town, at the Agora, on April 1, 1974. Since then, the group returned for dozens of stints at a variety of stages; Stanley rattled them off during the show.
"It's the 27th time, and the last time, we'll be joining you, Cleveland," Stanley said. "All the way back to the Agora, all the way back to the Music Hall, all the way back to Richfield Coliseum, all the way back when this was Gund Arena — we have always loved you because you know how to get crazy."
Audience members threw devil horn hand signs into the air and shouted in response.
Still, if anyone knew how to really get crazy, it was the four musicians onstage, performing stunts amidst the powerful eyebrow-singe of pyrotechnics — and doing it all in sky-high platform boots.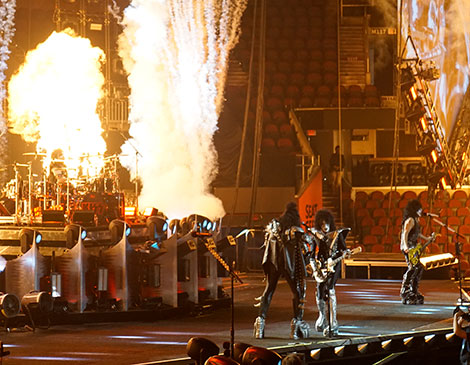 Stanley flew through the air across the arena just ahead of "Love Gun." Simmons spat fire during "I Love It Loud," and snaked his weirdly long tongue out of a set of fake-blood-splattered teeth during "God of Thunder." Thayer ripped a lengthy guitar solo, blasting fireworks from the neck of his guitar. Singer's drum platform rose into the sky, a green-eyed cat looming behind him during a drum solo.
A smashed guitar. A twirling microphone. A fleet of white balloons drifting onto the audience. All these markings of a Kiss show were on full display for a nearly sold-out crowd, some of whom wore face paint designs to match the performers onstage.
And all the sounds of a Kiss show were there, too — maybe just a little rough around those falsetto edges, at times. All those things that landed the iconic band in the Rock & Roll Hall of Fame in 2014, or which pushed Cleveland to declare Oct. 22 "Kiss Day," just a day ahead of the concert.
All these things — classic, recognizable Kiss — caked-on makeup, burst after burst of fire, and red-and-white confetti that twirled gently onto audience members' shoulders.
All these moments, memories, fleeting.
One show's worth of them, but also 50 years' worth of them.
At the concert's end, the four musicians roped their arms together for this final bow — this maybe-final moment — this maybe-final Kiss goodbye to Cleveland.
For more updates about Cleveland, sign up for our Cleveland Magazine Daily newsletter, delivered to your inbox six times a week.