For nearly 100 years, the Akron Civic Theatre has served as Summit County's hub for live music, dance and comedy. In August 2021, the theater completed renovations that go a long way towards restoring the space back to its 1929 glory. During last summer's renovations, the theatre's management found a secret room two floors underneath the spot's newly created Knight Stage.
Despite working at the theater for over 20 years, executive director Howard Parr didn't know the space existed until he stumbled across an architectural drawing, which dubbed the 800-square-foot area "rentable space." After nearly three months of construction, the neglected hideaway became Wild Oscar's, a 45- to 50-seat micro-theater.

The new performance space owes its name to Lloyd Hill, a performer who frequented the Akron Civic Theatre in the '40s, entertaining crowds with his talents on the mighty Wurlitzer organ located in the theatre's main auditorium. Hill gathered a fan base, who lovingly nicknamed him "Wild Oscar."
When the space was first found, the team was a bit underwhelmed. "It was full of junk. You couldn't even walk in it," says associate director Val Renner. And while the space was dusty and cluttered, Renner and Parr immediately recognized it had potential — thanks in large part to a wall that opens up to an outdoor patio, which boasts a gorgeous view of the Ohio and Erie Canal. The inside of the space was also impressive, as it had two walls built out of brick and one built out of striking sandstone.

"This has got to be something," Parr recalls saying.
Upon completion of the renovations, Wild Oscar's made its debut Jan. 14 with Steve Scionti's one-man play Hear What's In the Heart: A Shoemaker's Tale. The show's six performances all sold out.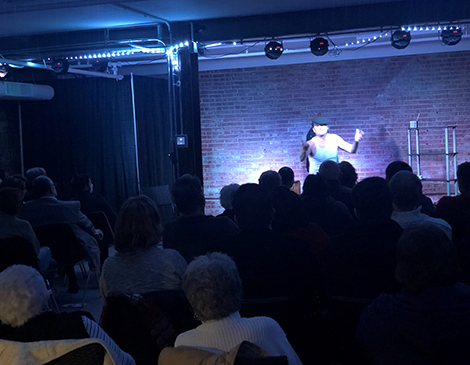 "It's very intimate," said Renner, "It almost makes you feel like you're finding a speakeasy somewhere in a little neighborhood in New York."
Along with hosting the Krackpots of Comedy (a three-man comedy troupe) on Feb. 23, Renner is hoping to bring Scionti back.
The theater's small space opens up a world of inspiration for Renner, who imagines allowing musical artists, poets and comedians to showcase their talents without the pressure of selling out a full-size theater. "As artists and entertainers begin [they] needs a place to kind of cultivate and incubate and then grow bigger," Parr said, "This is really kind of a great room for local talent to come in and, you know, basically try their stuff out."