Starting Aug. 10, Ohio Burlesque presents their 11th annual three-day festival, including performers of all types and backgrounds from across the country performing at the Beachland Ballroom.
Bella Sin, who has led Ohio Burlesque since founding the organization in 2011, looks forward to another killer kick-off.
In 2003, Sin's career started when they got into a burlesque class by lying about their age. When they came to the United States from Mexico as a child, they spent a lot of time in the library at school looking through theater books, which brought them to a burlesque picture book. They knew that was what they wanted to do for the rest of their life.
"I knew that my mother would never let me take burlesque classes, so I told her that I was taking skate classes and told the class instructor that I was 18 when I was actually 17," Sin says.
In 2010, they attended their first burlesque festival, which included the Brown Girls Burlesque, and gained inspiration to bring a burlesque festival to the people of Cleveland.
"They were the first group that showed me representation that I hadn't seen on stage before. I wanted to bring this back home in order to make everyone feel seen. Back then, there were only a couple of festivals, and we just kind of went for it – our first festival sold out," Sin recalls. "We want everyone to come here and feel the warmth of the heartland."
Ahead of the 11th Annual International Ohio Burlesque Festival, we caught up with Sin about their 20 years in the industry, and the importance of the long-reigning festival.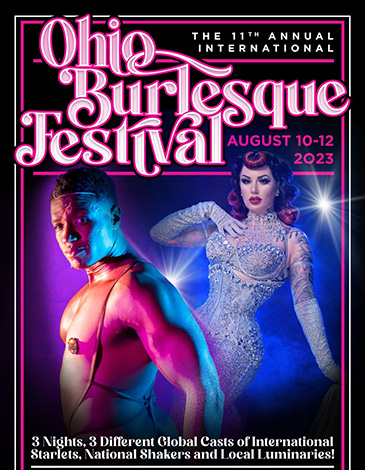 Cleveland Magazine: How has burlesque changed over the last 20 years?
Bella Sin: The internet made it easier for people to connect, versus back when I started it was very underground. Finding costumes and music was more of a challenge as we took songs off of actual vinyl records. Neo-burlesque really started in the '90s in New York and Los Angeles. Then, the explosion of Dita Von Teese really brought a lot of attention to the scene. Cleveland has roots in burlesque because of the Cleveland Academy of Music – during the 1800's they put on a theatrical burlesque-style performance. The first actual burlesque show was put on in the late 1880s by Lydia Thompson.
CM: How has the International Ohio Burlesque Festival changed over 11 years?
BS: It took years to make the formula for the festival feel right. We finally added a third day in 2015 and made sure to theme every festival. We started out working for free, and we just called it a labor of love. Our earlier days saw admissions of a few hundred people, and now we can count on over a thousand people coming to the show.
CM: What makes burlesque so crucial to the community?
BS: We are community-focused and take care of our performers. Many shows do not feed their artists, and some make them buy their tickets to the show. Our festival doesn't just have burlesque – we have drag, aerial performers and many other styles of Vegas-style entertainment. We make sure that they represent people from all walks of life, and I think it is really inspiring to see people witness their own beauty on stage through the work of others.
CM: What makes Ohio Burlesque unique?
BS: We have people that travel specifically to Cleveland to see the shows that we put on. Some vacationers come here to see the three-day festival, and they have never missed a show. We have seen people from all over the United States, Ireland, Mexico, Argentina, Canada and many more far-out places. Burlesque in Cleveland turns 20 this coming March.
CM: What are you most excited about at this year's festival?
BS: We are starting small seminars to empower other performers to become their own business people, which is very exciting. We want people to be able to go back to their hometown and use the skills they've learned here in Cleveland. This year's lineup is amazing and the show is going to be even better than last year, which was our 10th anniversary. When it comes to choosing our performers, we focus on those whose artistry is beyond the pale, and this year we have the winner of the Miss Exotic World best burlesque competition, Samson Night, who also plays Mufasa in the Broadway show The Lion King. Someone calls us the little show that could many years ago, and now we're the little show that did.
CM: What does the future of Ohio Burlesque look like?
BS: We have dates all the way out to the 20th anniversary of Ohio Burlesque. We hope to draw thousands of performers and visitors to Cleveland with our future festivals. We aim to be a go-to for performers to hone their crafts and start their own businesses. Our three-day festival will continue to grow, and our small workshops will eventually turn into huge conventions to inform and educate those who are interested in working in this industry. We want to continue supporting local vendors and the community here, and I would like to see the burlesque scene be seen in a different light as it continues to grow.
This festival will take place at the Beachland Ballroom, from August 10-12. Doors open at 7 p.m and the show starts at 8 p.m. Purchase tickets at the Ohio Burlesque website.
Get ahead of the weekend by signing up for our free weekly "In the CLE" newsletter — your guide to fun throughout The Land. Arriving in your inbox every Wednesday, this weekend to-do list fills you in on everything from concerts to museum exhibits — and more. Click here to subscribe.