Playhouse Square rolled out the red carpet on May 20 for the Dazzle Awards, a ceremony honoring high school theater programs, where Best Actress and Best Actor went to Calista Zajac of Magnificat High School and Savon Harris of Mayfield High School, earning them a check for $1,500 and a trip to New York City to compete in a nationwide musical theater competition, the Jimmy Awards, on June 26.
As a part of the Dazzle Awards program, the two students had been chosen to participate in week-long training at Playhouse Square to prepare for the one-night-only talent showcase. Under the direction of Broadway director Connor Gallagher, 200 Northeast Ohio high school students, including Zajac and Harris, worked tirelessly to prepare for their chance to shine on stage. Each Best Actress and Actor nominee had one thing on their mind — that trip to N.Y.C..
"One of my biggest dreams ever was to go to the Jimmys," Zajac says. "I'm just really excited that I was finally able to make it happen my senior year."
Zajac and Harris will make their trip to the Big Apple to compete and train alongside 94 high school theater students for the chance to earn the title of Best Actor and Best Actress at Broadway's Minskoff Theatre.
Harris, going into his senior year as a football player at Mayfield High School, was in shock when he heard his name followed after Best Actor. At just 16 years old and a first-time Dazzle nominee, he never thought he would be hopping on a plane to Broadway.
"If you were to tell me a year ago you're about to go to New York for Best Actor I would be like 'Are you serious?'" Harris says. "But at the same time, I'm a very determined person and I'm up for the test."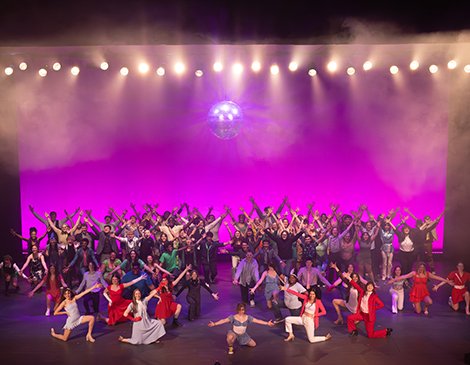 Harris was nominated for his role as 'Coalhouse Walker Jr.' in Mayfield's production of Ragtime School Edition. Coalhouse is an "angry man," according to Harris; however, he found a soft spot for the character. While he typically gravitates towards comedic roles, he enjoyed the challenge of stepping into another person's shoes.
Zajac also stepped out of her comfort zone while playing 'Roxie Hart' in Magnificat High School's production of Chicago: Teen Edition. She found Roxie to be a complete contrast to the sweet, innocent character she typically portrays.
"Roxie is a bit of a villain," Zajac says. "She's empowering and such a dynamic character to play."
Zajac plans to attend the University of Southern California in the fall where she will pursue a bachelor's degree in musical theater. Her desire to make Broadway a career path can be traced back to her first steps as a child.
"I've been singing since I was able to talk, my parents say," Zajac says. "I was a very theatrical kid."
The Jimmy Awards are set to take place on June 26 and will be hosted by High School Musical star, Corbin Bleu. Zajac and Harris will arrive in N.Y.C. a week early to prepare for the special night. The two believe they hold the keys that will open a door to a stage of success.
"I'm here because they liked what I had to bring to the table," Harris said. "I'm going to bring what I'm best at."
Watch The Jimmy Awards live on June 26 at 7:30 pm at the event's website.
Get ahead of the weekend by signing up for our free weekly "In the CLE" newsletter — your guide to fun throughout The Land. Arriving in your inbox every Wednesday, this weekend to-do list fills you in on everything from concerts to museum exhibits — and more. Click here to subscribe.