Royal Iced Sugar Cookies
Bridget Thibeault, owner of Luna Bakery & Cafe, notes that not only are these cookies simple, but homemade sugar cookies are better by far than store-bought counterparts. "So many sugar cookies that you purchase have shortening or added preservatives," she notes. "What sets this recipe apart is it is delicious even without the icing and it has amazing flavor because of the butter and vanilla." Topped with a classic royal icing, this cookie doubles up on sweetness.
In a medium bowl, whisk together 3 1/2 cups all-purpose flour and 1/4 teaspoon salt. In a large bowl, cream 2 1/2 sticks room temperature, unsalted butter and 1 cup sugar on medium-high until light and creamy, scraping down the sides with a spatula to smooth any lumps. Add 1 large egg, 1 large egg yolk and 1 teaspoon vanilla extract and mix on low until incorporated, scraping the sides. Slowly add flour mixture, 1/3 at a time, mixing on low until evenly combined. Divide dough into two discs, 1-2 inches thick, wrap in plastic wrap and refrigerate until firm — at least one hour. Dough can be made three to four days in advance or frozen for up to six months. Raw cookie cutouts can be frozen too. Preheat oven to 350 degrees Fahrenheit. On a lightly floured surface, roll cookies to 1/4-inch thick. Use cookie cutters to cut into shapes. Yield depends on size of cookie cutters used. Spread cookies 1/2 inch apart on cookie sheets. Bake cookies until golden brown on edges, 10 to 15 minutes depending on size of cookie. Cool on cooling rack. Decorate as desired. For Royal Icing: Combine 3 egg whites, 4 1/2 cups powdered sugar and 1 tablespoon water in a large bowl or the bowl of a stand mixer. Beat or whisk slowly until the powdered sugar begins to mix in. If you use an electric mixer, increase the speed to medium, or beat by hand until the icing is smooth and shiny; about three minutes. Adjust the amount of sugar or water to reach the desired consistency. Optional: Color icing with gel food coloring.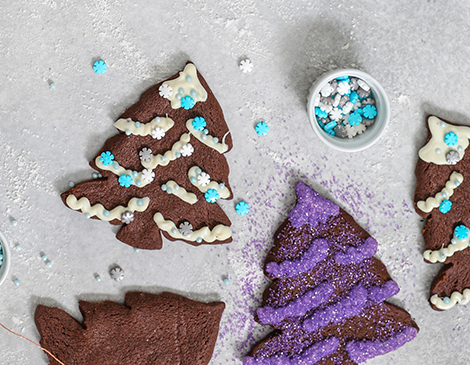 Chocolate Peppermint Tree Cookies
Courtney Bonning, co-owner of Terrapin Bakery, creates a sugar cookie that adds two important flavors to impart holiday flair. "This is actually a chocolate cookie that has been adapted for sugar cookie decoration," Bonning says. "The peppermint makes this cookie perfect for pairing with hot chocolate or coffee. Using [white] chocolate as the decoration on top of these cookies is less sweet than doing a traditional royal icing topping and gives a light bite of chocolate that is always delightful."
Preheat oven to 350 Fahrenheit. Melt 1 pound of butter in a microwave-safe dish. Once melted, add to a mixing bowl. Sift 1 1/2 cups sugar, 3 cups and 3 tablespoons all-purpose flour,1/2 teaspoon baking soda, 1 1/2 cups and 1 tablespoon cocoa powder, 1 teaspoon salt on top of butter, then add 1/2 teaspoon peppermint extract. Mix with a rubber spatula (or paddle attachment if using stand mixer) until a stiff dough is formed. Roll out with a rolling pin between two sheets of parchment paper to your desired thickness. The thicker the cookie, the more it will spread when baking. Chill dough in the refrigerator for at least one hour. Cut out with holiday tree cutter. Should make about 12 cookies. Re-roll the leftover dough and form more cookies. Microwave scraps for 20 seconds at a time until dough is pliable. Bake on parchment-lined sheet trays for 12-15 minutes. You may need to rotate while baking, depending on oven. Pipe melted white chocolate bark on the bottoms of each tree branch and immediately dip in crushed peppermint candy or sprinkles. Sift powdered sugar over cookies for snow effect.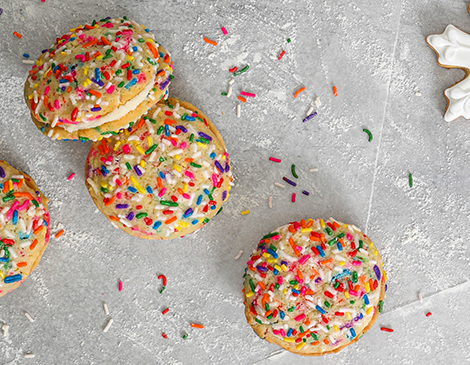 Fativersary Cookies
This recipe — created by Travis Howe, chief cookie officer of FatT's Cookies, for the FatT's Cookies' anniversary — starts with a sugar cookie dough but adds a birthday twist. "It's our version of a business birthday cake, cookiefied," says Howe. "The sprinkles are for color and fun, [and then] the almond gives it more of a wedding cake feel to it as opposed to a birthday cake. Basically you're already excited about all of the colors and then, Boom, flavor bomb, once you take a bite."
Preheat oven to 300 Fahrenheit. Beat together 1 1/2 cups and 1 tablespoon sugar, 1 1/2 teaspoons salt, 1/4 teaspoon baking soda, 2 teaspoons cornstarch, and 2 sticks unsalted butter. Add 1 teaspoon almond extract, 1/2 teaspoon vanilla extract, 2 large eggs and 1/2 cup whole milk until integrated. Mix in 3 cups and 2 tablespoons all-purpose flour and 1-3/4 cups and 3 tablespoons sprinkles (will be a wet dough). Using a large cookie dough scoop or an ice cream scoop, scoop about 1/4 cup of dough to form each cookie. Makes about a dozen. If you want sprinkles on top, drop directly into more sprinkles (1/2 cup total) on one side only. Bake cookies 14-16 minutes (wait for slight browning on bottom outer edge). Let sit until the sprinkles on top re-harden. Assemble each sandwich by spreading a layer of buttercream between (leave a little space around the edge so frosting can spread out when sandwich is put together). For Almond Buttercream: Beat together 1 stick softened unsalted butter, 1 teaspoon almond extract, 1/2 teaspoon vanilla extract, 1/4 cup and 3 tablespoons whole milk and 2 cups and 3 tablespoons powdered sugar (add more for a thicker buttercream).