Grilled Corn and Tortilla Salad
"This salad is made with the vinaigrette, so all the vegetables soak it up. The corn flavor pops, and the contrast between the richness of the grilled vegetables to the tartness and tang of the vinaigrette — it's a unique sweetness, almost umami."
— Heather Haviland, chef and owner of Lucky's Cafe
Preheat your grill. In a thick-bottomed skillet, pour vegetable oil to a depth of 1 inch. Heat oil at medium-high heat until a candy thermometer reads between 350 and 375 degrees. Working in batches, place 8 8-inch flour tortillas, cut into 1/4 inch strips into the oil, turning occasionally with a slotted spoon until strips are crisp and golden brown. Using the slotted spoon, transfer the strips to a baking sheet covered in three layers of paper towels. Sprinkle with kosher salt and set aside while you prep the rest of the salad. Place 2 tablespoons vegetable oil, 1/4 cup olive oil, 1/3 cup Champagne vinegar, 2 pressed and minced garlic cloves, 2 teaspoons chopped fresh thyme, 1/2 teaspoon black pepper, 1 tablespoon finely chopped chives and 2 teaspoons kosher salt in a medium bowl and whisk together. Set aside. Brush the following vegetables with olive oil and sprinkle with kosher salt: 5 ears husked sweet corn, 2 medium zucchini (cut into planks), 2 medium sweet red peppers (cut into quarters and seeded), 1 medium green pepper (cut into quarters and seeded) and 1 medium red onion (quartered). Grill until tender and brown in spots, turning occasionally for about 10 minutes. When vegetables have cooled, cut corn off the cob and cut the remaining vegetables into 1/4-by-1/4-inch squares. Rinse and drain 2 15-ounce cans of black beans. In a large bowl place the black beans, all the grilled vegetables, 3 medium plum tomatoes (seeded and chopped) and 6 thinly sliced scallions, then stir in the vinaigrette. Set aside for at least 1 hour, stirring occasionally to marry the flavors. To serve, toss in the tortilla strips and sprinkle the top with 2 tablespoons fresh chopped parsley.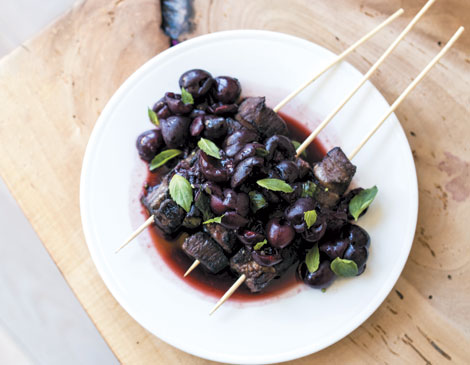 Grilled Steak Kebabs with Macerated Ohio Cherries and Basil
"The Worcestershire sauce adds an umami component to the sweetness of the Ohio cherries. The two may sound like they don't go together, but I promise they complement each other very well."
— Brett Sawyer, chef and owner of the Plum
Cut 2 pounds eye of round beef (or other tender cut of beef) to 1-2 inch cubes. Marinate in 1 cup red wine vinegar, 1 cup water and 2 tablespoons salt for about an hour. While beef is marinating, pit 1 pound Ohio cherries and chop roughly. Place cherries into a mixing bowl and add 1/4 cup sugar, 2 tablespoons red wine vinegar, 1/4 cup Worcestershire sauce and 1 cup torn basil. Mix all ingredients until sugar dissolves. Let mixture sit at room temperature until ready to use. Take steak out of the marinade and skewer. Season well with salt and pepper and grill to medium. Right before the kebabs are done, use a brush and coat the steak with liquid from the macerated cherries. When the meat is done, place on a plate and cover it with the cherries. Garnish with torn basil.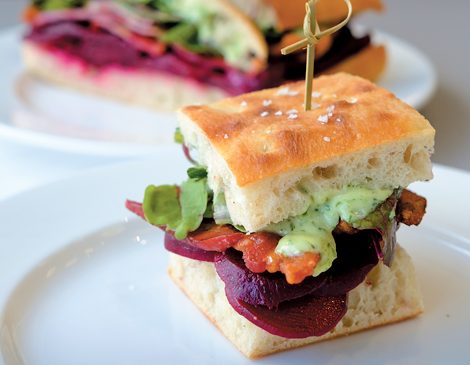 BLB
"Beets are naturally sweet and play really well with bacon. There's a familiar feel with this sandwich, but the beets are a twist."
— John Selick, certified executive chef for University Hospitals Health System and Sodexo Healthcare Services

Place 6 beets in a pot filled with cold water and bring to a boil. Cook beets until fork-tender, about 45 minutes depending on their size. Shock them by placing in ice water. After 10 minutes, remove from water and the skins will peel right off with the help of a paper towel or a scrape from the back of a paring knife. Slice the beets, toss with 1/4 cup sherry vinegar and 1/4 cup olive oil, season with salt and pepper to taste, and let marinate for at least an hour. Split 1 loaf of focaccia bread and liberally apply 1/4 cup herb mayo. Layer with beets, 12 slices cooked bacon and 2 cups spring lettuce mix. Slice into individual sandwiches and serve.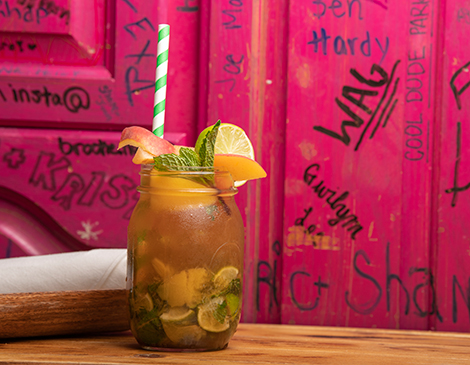 Peach Mojito

"The peach adds a different profile to the whole mojito. The peach and mint combined are very aromatic and fruity."
— Juan Vergara, owner of Barroco Arepa Bar and Hola Tacos

Cut 1/2 lime into wedges and place in a 16-ounce glass.
Crush 4 or 5 mint leaves with your hands, making sure to include at least 1 stem for the aroma, and add them to the glass.
Shave around 1 ounce panela (unrefined whole cane sugar) into a powder, or 2 ounces if you like it really sweet.
Add 2 ounces Bacardi Silver, 1/2 peach, peeled and cut into wedges and muddle all ingredients.
Fill the glass with ice, as desired, and top with soda water or Sprite.
Splash with 1/2 ounce Kraken spiced rum and serve with a straw.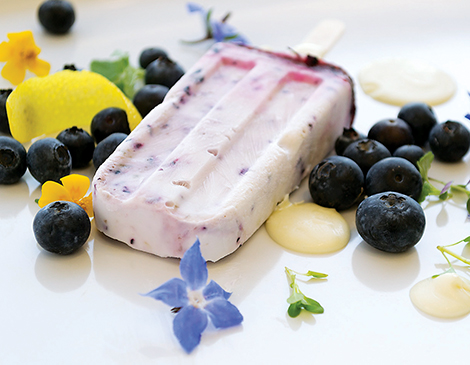 Blueberry-Honey Ice Lollies
"This dessert can be made in the morning and be ready by dinnertime. It's light, refreshing and fun for the kids to make."
— John Selick, certified executive chef for University Hospitals Health System and Sodexo Healthcare Services
Melt 1/2 cup white chocolate in a microwave and dip Popsicle sticks to cover half way and allow to dry. In a blender, add 1 package of fresh blueberries, 1/2 cup honey and the juice and zest of 1 lemon. Puree. Stir in 2 cups Greek or plain vanilla yogurt to create streaks. Pour the mixture into a Popsicle tray or Dixie cups and insert the chocolate-covered stick. Place in freezer for 4 to 6 hours.