After making a name for itself with its handcrafted beer, the Avon Brewing Co. is using its taproom, located just a few steps north, to conquer coffee. The result is a partnership between Avon Brewing Co. and local roasters Black Key Coffee — and a cozy new coffee shop where you can order a pumpkin latte while smelling beer being brewed in the back room.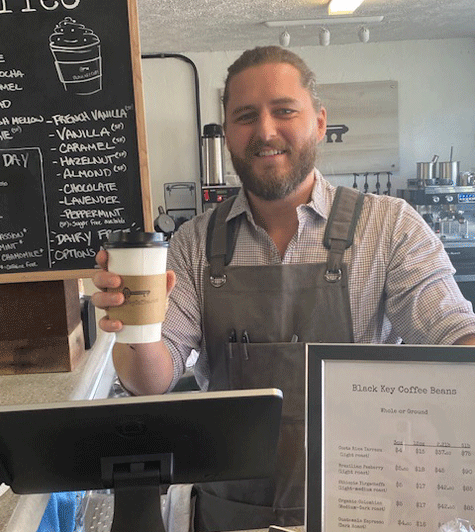 The Brand
Called Black Key Coffee, the new shop is run by Devon and Andrew Blakely, with Andrew taking the helm. "I left my previous job to start roasting," he says. "It's like art therapy."
The Beans
Beans are prepared using a fluid bed coffee roaster that "blows the skin of the bean off," says Blakely, who compares the machine to a giant popcorn maker. The result is a smoother brew, devoid of the burnt taste you'll find in some coffee.
The Space
The shop boasts a bar with stools and handful of tables that get the morning light, as well as a trio of comfy chairs — and Blakely welcomes customers to bring their laptops and hang out for a while to get some work done. Need a boost? The shop also serves scones, cake pops and other treats by Avon baker Sweet Gingers.