Cleveland's scariest new restaurant, The Haunted House Restaurant, is now open in Cleveland Heights on Cedar Road.
The 5,000-square-foot bar and soul food joint is an homage to the horror genre fit for a cinephile. The Haunted Restaurant — which was opened in the former Melt space by Andre Scott, Ryan Gullatt, Jeremiah Burks and Chris Thomas — leans into the heyday of scary movies by embracing the classics. Get nostalgic over It or Jaws, the theme to which plays each time someone orders the Jaws Pizza ($28.99), a shrimp-, salmon-, lobster tail- and veggie-covered pizza topped with seafood cream sauce.
"When you come here, it's like going to Cedar Point — it's an experience," says Scott.
Entering into the lobby covered by a mural of Beetlejuice and Friday the 13th's Jason Voorhees, visitors are greeted through a microphone by a hostess inside a classic ticketbooth. At the table, your first course is movie theater butter popcorn and a classic film such as Ghostbusters.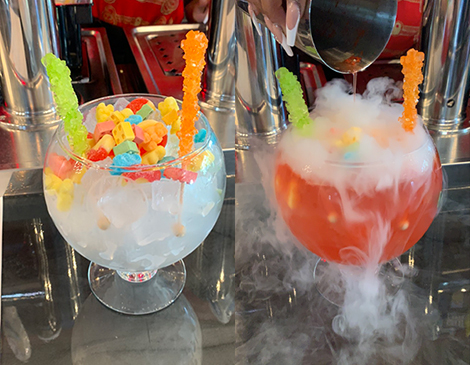 No cinematic expedition is complete without some sweets, so start out with the Candyman ($34.99), an absolutely ridiculous 51-ounce concoction of grape vodka, cherry vodka, lime juice, cranberry and ginger ale. Like the six other big gulps on its Haunted Potion Bowls menu, the drink is poured in front of you and a fog oozes from the chalice, which is filled with handfuls of sour candies and most definitely made for two. Brunch mimosas and shots also offer the smoke effect, and there are non-alcoholic potion bowls, too.
Click here to peek inside the horror movie-themed restaurant on Cleveland Magazine's TikTok.
Executive chef Darnell Ferguson rolls out huge with an extra focus on vegan options, including the Bang Bang Cauliflower ($13.99) and Ecto Impossible Burger ($15.99), and "Brinner," or breakfast for dinner. Ferguson is best known for his hero-themed SuperChef's Breakfast & More concept in Louisville and Columbus and has appeared on Rachael Ray and Food Network's Grill of Victory, among others.
"SuperChef Ferguson is best known for his breakfast food," says Scott. "So we wanted to be able to offer breakfast all day, lunch and dinnertime."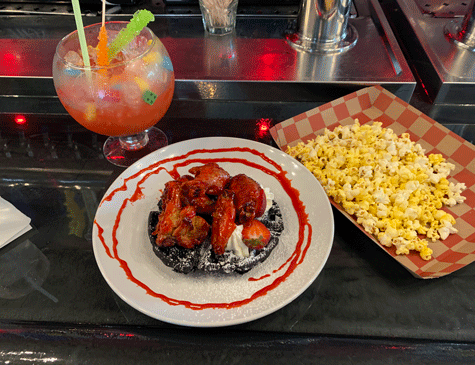 The Twilight ($16.99) is a super sweet strawberry take on chicken and waffles. Sticky fried chicken wings replace the typical breast and sit atop a crispy black waffle with a cream cheese whipped frosting that makes it feel more like breakfast for dessert. The entree menu offers selections such as a burger and a chicken sandwich and salmon and lamb pops at market price.
Going forward, the restaurant plans to lean even further into the horror theme with movie trivia and a costume party for Comic Con.
"And you know we're going crazy all month in October for Halloween," Scott says. "We have a lot of gimmicks for anniversaries and birthdays. It's an experience."
When You Go: 13463 Cedar Road, Cleveland Heights, 216-862-5584, thehauntedhouserestaurant.com