Since opening in 2019, Hola Taco's rapidly expanding Cleveland empire has crossed the Cuyahoga River into the East Side, opening first on Larchmere Boulevard in July and now in Willoughby. The new dual-restaurant concept, shared by its sister restaurant, Barroco Arepa Bar, opened yesterday in downtown Willoughby in the space on Erie Street left by the closure of Brim Kitchen and Brewery. "We were very attracted to the space because everything was pretty much a turnkey operation, except for putting in our signature touches," says co-owner Alejandro Vergara. Right now, just the first-floor indoor space housing Hola Tacos is open, but Barroco is set to open on the second floor with a patio in the next week and a half. We talked to Vergara about what else you can expect from the newly opened, family-run taco joint.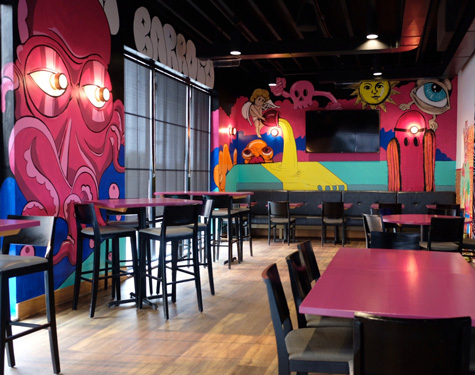 The Space
As Vergara mentioned, the "turnkey operation" already featured two floors, an upstairs patio and 10,000 square feet of space to socially distance. But fans of the departed Brim Kitchen and Brewery (and we're among those who are sad to see it go) will still notice some off-the-plate differences. The decor at all Barroco and Hola locations nods to the Vergara family's Colombian upbringing, and much of the art is painted by co-owner Juan Vergara and Nathalie Bermudez. "A lot of the influence in her art is based around an indigenous Colombian tribe that still has its own land and is out of touch with most of civilization," says Vergara. The owners are also working with the city of Willoughby to add outdoor dining for taco eaters on the lower level.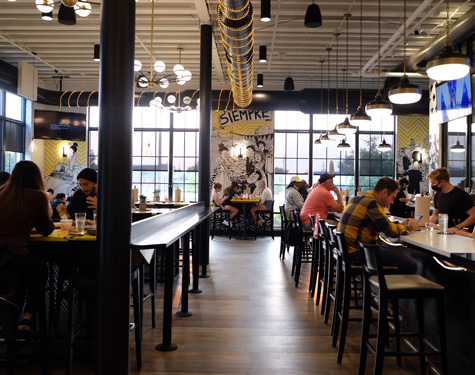 The Beer
The other thing left by the former owners is a 10-barrel brewing system. Starting in November, Pulpo Beer Co. will become the area's "first Latin brewery," serving a stout, an ale, a wheat bear and an IPA. Working with guidance from Houston, Texas-based SpindleTap Brewery, the head brewmaster is Paola Valbuena, who is currently interviewing other local brewers to join her team. The brewery, named for the Spanish word for octopus, is a reference to the six pillars of the family owners. "It's going to be a Latin brewery," says Vergara, "So most of the beers will feature Latin ingredients and fruits." Until then, the space offers a full bar with imported cervezas ($4-$6) and house-made margaritas ($5 per glass; $23 per pitcher).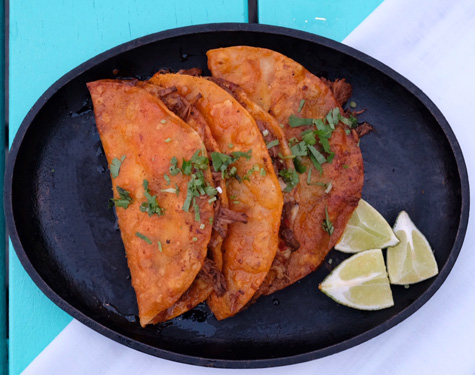 The Food
If you've been to Hola Tacos or Barroco Arepa Bar, the food will pretty much be as expected: authentic tacos ($3.50-$4.25), the marinade-covered Chile Colorado Burrito ($10.25) and the Quesabirria quesadilla with birria beef ($12) downstairs and a huge menu centered around house-made arepas ($16) in the more upscale upstairs spot. But both spots will soon be adding a weekend brunch menu as well as expanding its hours to include an 11 a.m. weekday lunch. The kitchen is run by chef Yadira Llanos. "The brunch menu is going to have four main dishes," says Vergara, "and then each week we'll off a different soup and a chef special." Try the Birria Taco ($4.25), which is filled with slow-cooked braised beef and seared in the beef broth.

When You Go:
4057 Erie St., Willoughby, hola-tacos.com, barrocoarepabar.com