Eddie Tancredi is going back to basics. And what's more basic than a good slice of pizza?
"Less is more" is the philosophy behind ETalian, the chef's new fast-casual, Naples-style pizzeria opening in the heart of Chagrin Falls on Aug. 24.
After Distill Table closed in May 2020, Tancredi began plans for a new restaurant concept that would focus on the simplicity of dining — a shift that he predicted was coming even before the pandemic.
"I really started thinking about what I thought the future of dining was going to be," says Tancredi, whose Lakewood restaurant was named Cleveland Magazine's 2019 Best New Restaurant. "I really feel you can simplify and just narrow down to be one thing. So for us, a pizzeria that has the best pizza."
With a smaller staff — including chef Earl Warren who is on pizza-flipping duty — Tancredi's new spot is pared back to operate leaner and focus on carefully constructed pies with fresh ingredients. The 1,200-square-foot spot overlooking the falls seats just 32 inside and 24 on the patio, weather permitting.
"We're still going to need to hire skilled people to be able to do the job with great hospitality," says Tancredi. "But it's not going to be to the same extent of my last place, where I had 30 employees. I can narrow that down to six or seven."
Before ETalian opens Aug. 24 to the public, here's a sneak peek of what to expect from the new spot.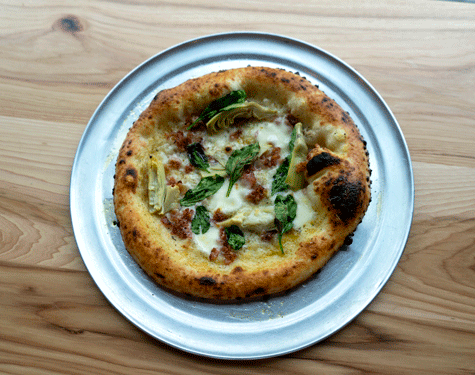 Pizza Haven
In a simple cast of ingredients, the dough is the star of the show. The Naples-style approach involves a classic mixture of yeast, sea salt, water and Caputo flour, which can handle the high-temperature oven. Each pizza zips out in minutes thanks to an authentic Acunto wood-fired oven, which is made in Naples and cooks pizza at 900 degrees. The result is a soft, charred, bubble crust with a perfect, chewy consistency that can be folded in half. "Every day we'll be making dough, there's a very exact process that we do," Tancredi says. "It's all about the dough."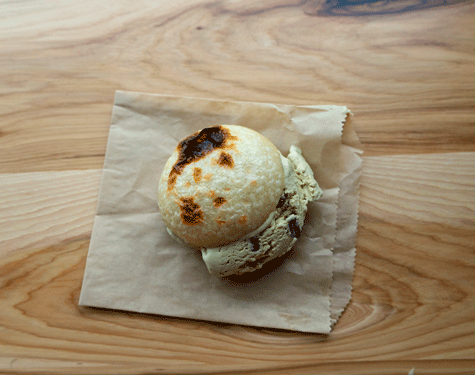 Less Is More
The restaurant's minimalist approach extends to toppings, too. From the simple white pizza ($8.99) with fresh tomatoes, basil and mozzarella to the heartier pepperoni ($9.99) with red sauce made from hand-crushed San Marzano tomatoes and crispy pepperoni slices, each combination is designed to complement each pie — not weigh it down. "The sauce has a little body to it," says Tancredi says. "You might get little chunks of tomato in there." More adventurous eaters can experiment with the shroom ($9.99), the bacon, spinach and artichoke ($9.99) or a customization of your own. For dessert, choose from four flavors of traditional Pane Con Gelato ($5.99), which is served in an easy, grab-and-go style. "Our gelato is going to be served in our wood oven bread," he says. "It's almost like an ice cream sandwich. It's a really traditional thing."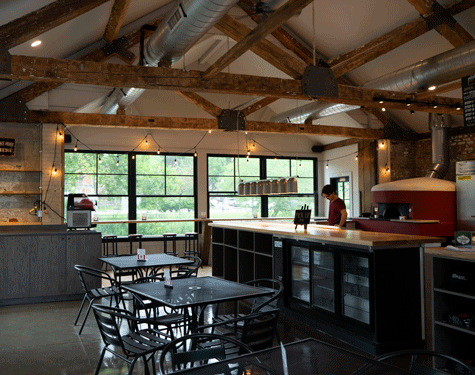 Perfect Fit
Perhaps no Northeast Ohio location is more reminiscent of Italy's charming streets than the historic red brick building on North Main Street, right on the edge of the Chagrin River. The interior is simple and modern with several seating areas, mainly along the windows for a perfect view of the falls. When hunting for a spot, Tancredi knew the environment had to be equal-parts accessible and captivating. "I was sitting across the street last year, just over there and I was looking at this building," says Tancredi. "It's kind of funny how things work. The next couple days, my contractor calls and goes, 'I got the perfect spot for you.' And it just happened to be this spot." With the centerpiece of the bright red oven behind the counter, customers to enjoy their pizza before it's even served as they watch it cook to crispy perfection.
When You Go: Sunday-Thursday, 11 a.m.-9 p.m.,13 Bell St., Chagrin Falls, etalianpizza.com