Taking a short elevator ride to the second floor of Ohio City's new Intro apartment building, Dan Whalen explains what to expect from Jaja, the latest restaurant concept to open inside.
"We wanted it to feel like somewhere completely different," Whalen says. "It's unidentifiably foreign, is the approach. ... I don't think it feels like anywhere else, certainly in Cleveland – but maybe anywhere else."
When the elevator doors ding open, that much is clear.
The room, surrounded by glass windows on four sides — that is, three walls and the entire ceiling — is filled with bright afternoon light and a glow from hanging bulbs on a trellis overhead. Tropical house plants adorn the room, where vintage velvet lamp shades also add a classy touch near lounge chairs and dining tables. Overhead, translucent resin leaves dangle and catch the light just-so. A realistic-looking owl peers over liquor bottles at the bar.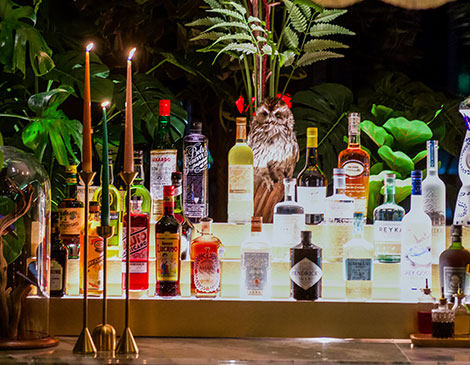 Set to open on Wednesday, Oct. 12, Jaja, located at 2050 Gehrig Ave., joins two other Harbor Bay Hospitality restaurant concepts inside Intro: cafe Edda and sports bar Pioneer. Those two eateries opened in June, when Jaja was originally slated to open, too. However, construction delays pushed Jaja back, says Whalen, the president of Harbor Bay Hospitality and owner of the restaurants.
"At certain times we would hope this was going to open in a similar time frame, but looking back, I think we're glad it didn't," Whalen says. "The design of the space is a little bit more intense and so it required a little bit more attention to detail throughout the process of construction."
That intensity reaches a high point in its massive windows and stellar views of the surrounding neighborhood – and especially in its ceiling rooftop, which is retractable and can open up overhead to let sunshine and fresh air into the room.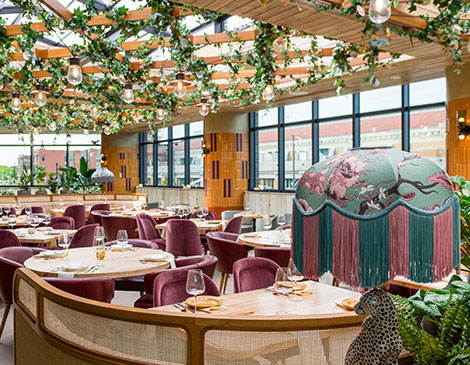 Jaja's construction took time – and so did its menu. Executive Chef Brian Whalen (Dan's brother) said the selection of globally inspired shareable plates took months to create and to train his staff on.
"This menu took quite a bit of time, not only because we were focused on the other restaurants first, but because we wanted to go much more creative, much more in-depth with techniques and flavors of what we're doing," Brian says. "Everything we've put on here is strictly to be shared with everyone. It's not meant to be singular dishes."
Organized by fish, meat and "veg" categories, Jaja's menu brings a surprisingly sizable selection for vegan and vegetarian diners, considering its steakhouse label. The dinner menu includes autumn vegetable terrine ($13), sformato toscano ($14) and burnt carrot with chevre ($15) in its list of 10-plus vegetarian dishes.
Fish and meat options — including potato-crusted halibut ($28), torched oysters ($20) and wood-fired pork belly ($16) — emphasize use of Pioneer's Argentinian grill, located one floor below Jaja.
"I think bringing as much flavor from wood and usage of that grill up here was very important, so we have a lot of char, a lot of what's called burnt or grilled aspects to this menu," Brian says.
The food menu makes showy versions of these grilled dishes – and you'll see the same approach in Jaja's drinks menu.
"The food they're talking about is back-to-basics; it's elevated food off of a wood-fired grill," Beverage Director Nora O'Malley says. "The wine and cocktail program is sort of a modern take on classics all-around. … It's all the things that you already know, with a slight twist, but nothing overwrought, nothing overly pretentious."
O'Malley worked with Chicago's Jeremy Barrett to develop a cocktail menu — a highlight of which is its version of a Manhattan, titled "It's Pronounced 'How-Stun,'" which incorporates a yerba-mate-infused sweet vermouth ($15). As for the wine menu, expect a hefty emphasis on sparkling varieties and South American wines, which make up 25-30% of the wine list, O'Malley says.
In the future, some cocktails may feature Edda coffee, bringing Jaja's sister restaurant inside Intro into the menu, according to O'Malley.
That aspect — along with using Pioneer's wood-fired grill — brings Jaja into collaboration with its two sister restaurants Edda and Pioneer in various ways, while each concept maintains its own personality. That's thanks to the Whalen brothers' distinct roles in the hospitality realm.
"Having Brian as the center point of all the concepts, from a culinary perspective, has helped keep things a little bit cohesive — while at the same time, Dan's vision for each individual brand keeps things completely unique," O'Malley says.
In addition to its dinner menu, Jaja will offer a Sunday brunch and a limited late-night menu on Fridays and Saturdays. Reservations are now open on the restaurant's website, jajacleveland.com.
Get ahead of the weekend by signing up for our free weekly "In the CLE" newsletter — your guide to fun throughout The Land. Arriving in your inbox every Wednesday, this weekend to-do list fills you in on everything from concerts to museum exhibits — and more. Click here to subscribe.