If you're already missing that Flying Fig brunch, don't worry. Karen Small is back with an exciting new brunch-focused project.

Opening April 14 in Ohio City, Juneberry Table marks acclaimed chef-owner Karen Small's entry into the breakfast game. Juneberry Table is a concept that elevates breakfast while still giving customers the classics they want. This new venture follows The Flying Fig's closure earlier this year; it's currently being reworked into a new concept.
With The Fig's temporary closure, its staff has been moved over to Small's new, smaller space, which takes up the vacancy left by Jack Flaps' shuttering. The 35-seat, 1,500-square-foot all-day breakfast and lunch spot is more petite and personal experience than you may be used to from a neighborhood cafe. If you don't want to take part in those fabulous vibes, carry-out is always an option.
"We've got lots of restaurants in the Detroit Shoreway and Ohio City neighborhoods, but there's not a lot of all-day cafe options", says Small. "You know, you can get breakfast here, you can get lunch here. It's just something that's very special."
Here's a few things to know about this new, special spot.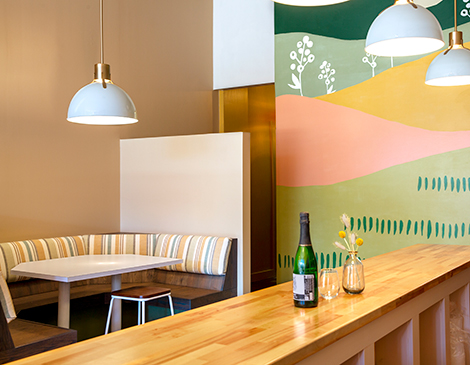 The Space
Small describes Juneberry Table as a more feminine space that's designed to be as bright as possible, even using mirrors to pull in light from the large street-front windows. The restaurant harbors a minimalist design with soft edges and wonderfully simple fixtures. Taking mainstays of cafe design and flipping them to the other side of the coin, the 35 seats include 10 barstools along an L-shaped counter and window bank. With a color palette that includes soft blues, greens and oranges, a beautiful mural in the back of the dining room from artist Charity D'Amato of Studio Chartreuse accents the restaurant's feel and an overall clean look.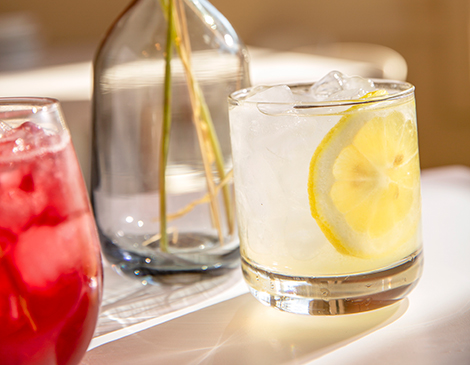 The Drinks
While Juneberry Table offers the breakfast essentials, fruit juices and coffee, it also has a liquor license with a diverse list of craft cocktails. The menu will also feature a revolving door of a wine list, but it will be small and concise to match the venue.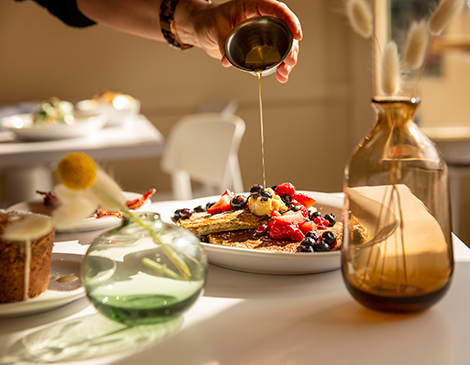 The Food
The restaurant is named after an indigenous berry found in the Ohio River valley. So it's no surprise that Small based the menu off of her decade spent in Appalachia, just outside of Athens in Southern Ohio, where foraging, preserving and fermenting is the norm. Breakfast items such as vegan porridge, buckwheat flapjacks with fresh fruit and maple sorghum butter, fried ham biscuits and cornmeal waffles reflect those regional influences, while lunch offerings, which start at 11 a.m., include pork and pinto bean chili, rice and salad bowls, a stacked turkey sandwich on sourdough and a burger, for good measure. Goods from Ohio-based artisanal producers including Wild Glory, Leavened, Dramatic Snax, Good Company, and Dee-Jays meats. The dish Small is most proud of, however, is the griddled potatoes, served with either chili and sweated onions or loaded with blazed bacon and cheddar cheese. "The potatoes were a challenge for us because they had to be perfect," she says. "I don't know how many pounds of potatoes we went through to get the griddled potatoes we wanted, but I feel like we finally hit the mark with them."
Juneberry Table is open Thursday to Monday, 8 a.m. to 2 p.m.