Some things are just meant to be, says Kelsey Shepard, owner of Kelsey Elizabeth Cakes. Like how the pink-loving businesswoman signed the lease for her new Chagrin Falls location, which opened on Saturday, just weeks after her daughter, Posy, was born.
"This one fell into our laps a little bit," she says. "It might not have been the best timing, but I'm a big believer of if it's meant to be it'll be."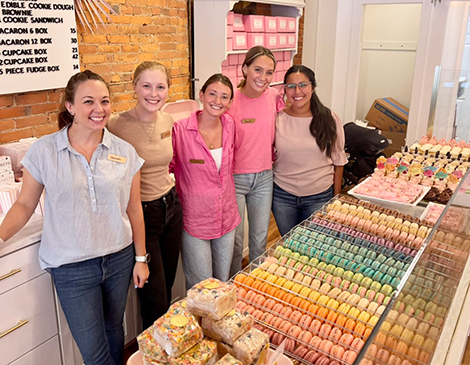 Three months later, Shepard has opened her fourth Kelsey Elizabeth Cakes location at 69 N. Main St. next to Jeni's Ice Cream. With storefronts in Rocky River and Avon, the 1,000-square-foot shop is the company's first on the East Side. A mural of the Chagrin Falls painted by her sister Hailey Smith serves as a greeting card to the pastel store that Shepard calls the "Malibu Barbie" to Rocky River's "Manhattan Penthouse."
"Obviously, we love all things pink," she says.
The store not only serves up the French macarons, cookies and cupcakes that have made her elegant brand famous but also is the only place to get Kelsey Elizabeth fudge, available in fun flavors like strawberry cheesecake, birthday cake and orange creamsicle.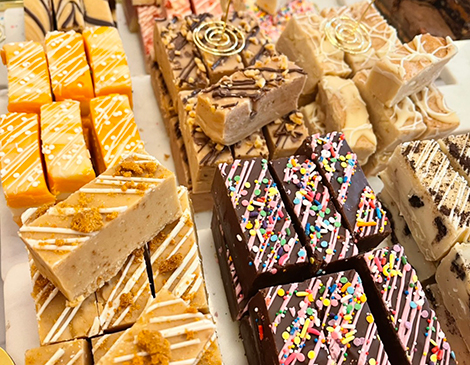 Shepard chose the Chagrin Falls building because of its smaller footprint, deciding against a larger production facility like the flagship 4,000-square-foot production facility in Avon. That would've required a lot of staffing in a labor crunch. Similarly, the store is only open Wednesday through Sunday and opens at 11 a.m. to allow time to ship fresh, baked-daily goodies to the East Side.
Shepard's new store (and baby, for that matter) might still be in its infancy, but the new mother doesn't plan to slow down any time soon.
"I'm one of those people where I feel like it'll take me a long time before I'm done because I just have so many fun ideas," she says. "Every one of our locations has come to us in really weird ways, so in terms of location, I'm just waiting for that next serendipitous moment."