Since 2011, La Plaza Taqueria and Supermarket's Adrian Ortega has slowly but surely built a reputation for serving some of Cleveland's best and most authentic tacos. What started as a weekend taco cart grew into a small taqueria in the back of the supermarket before evolving into a street-facing eatery.
Now, Ortega is bringing his famous tacos — as well as burritos, tortas, tamales and more — to Downtown's East Ninth Street. He teamed up with Rachel Ulloa, who bought Re:Bar in 2019. While Re:Bar excelled in hosting art and live music events, it failed to find its identity, especially when it came to food.
"I just felt like his food and the way he is, the way he cares for his employees and people," says Ulloa, "It was a perfect match to bring him on."
Now, La Plaza Taqueria and Tequila Bar at Re:Bar puts those famous supermarket tacos in a downtown nightlife setting. The space underwent a 16-month renovation to expand the size of the dining room and add a full bar and kitchen. While tacos are mostly what La Plaza lovers have come to know and love, other than a few new ingredients, Ulloa's craft cocktails, which, of course, include house-made margaritas, take them to a new level.
When it hits full hours by the end of this month, the restaurant plans to be open Tuesday through Thursday from 11 a.m. to 10 p.m. and Friday and Saturday 11 a.m. to 2 a.m. Late-night offerings also fill a major hole in Downtown's food scene.
Despite a crowded taco market, Ulloa thinks the partnership with Ortega creates something that you can't get anywhere else in Northeast Ohio.
"La Plaza at Re:Bar — not just another taco joint," says Ulloa. "Because there's a million taco places, but Adrian's is the only one that I consider authentic Mexican. It's a game changer for downtown."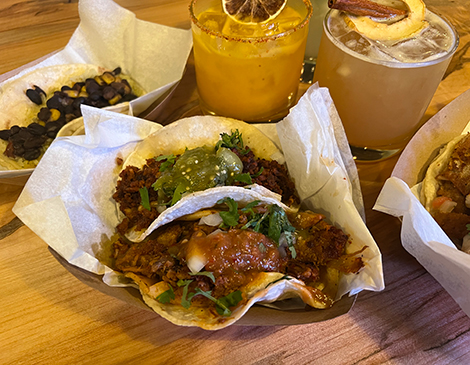 The Food
As mentioned, La Plaza's Downtown offerings should be familiar to anyone who has visited the eatery on the border of Lakewood and Cleveland. For the tacos ($4 each), al pastor, steak, chorizo and chicken — which Ortega tastes each morning to ensure quality control — are cooked the Michoacan way and laid on two corn tortillas for the tacos. Then, guests add their own toppings at a communal taco bar. But there are a few new additions. To serve a downtown crowd, Ortega has added a fish and a vegan option. The eatery also offers nachos, tortas, tostadas and burritos. The lunch and late-night crowds get counter service, while a full-service staff is on for the dinner rush. A Sunday Mexican brunch is coming soon. "It's fast casual, but it holds up to that standard," says Ulloa. "Nobody is doing Mexican like this."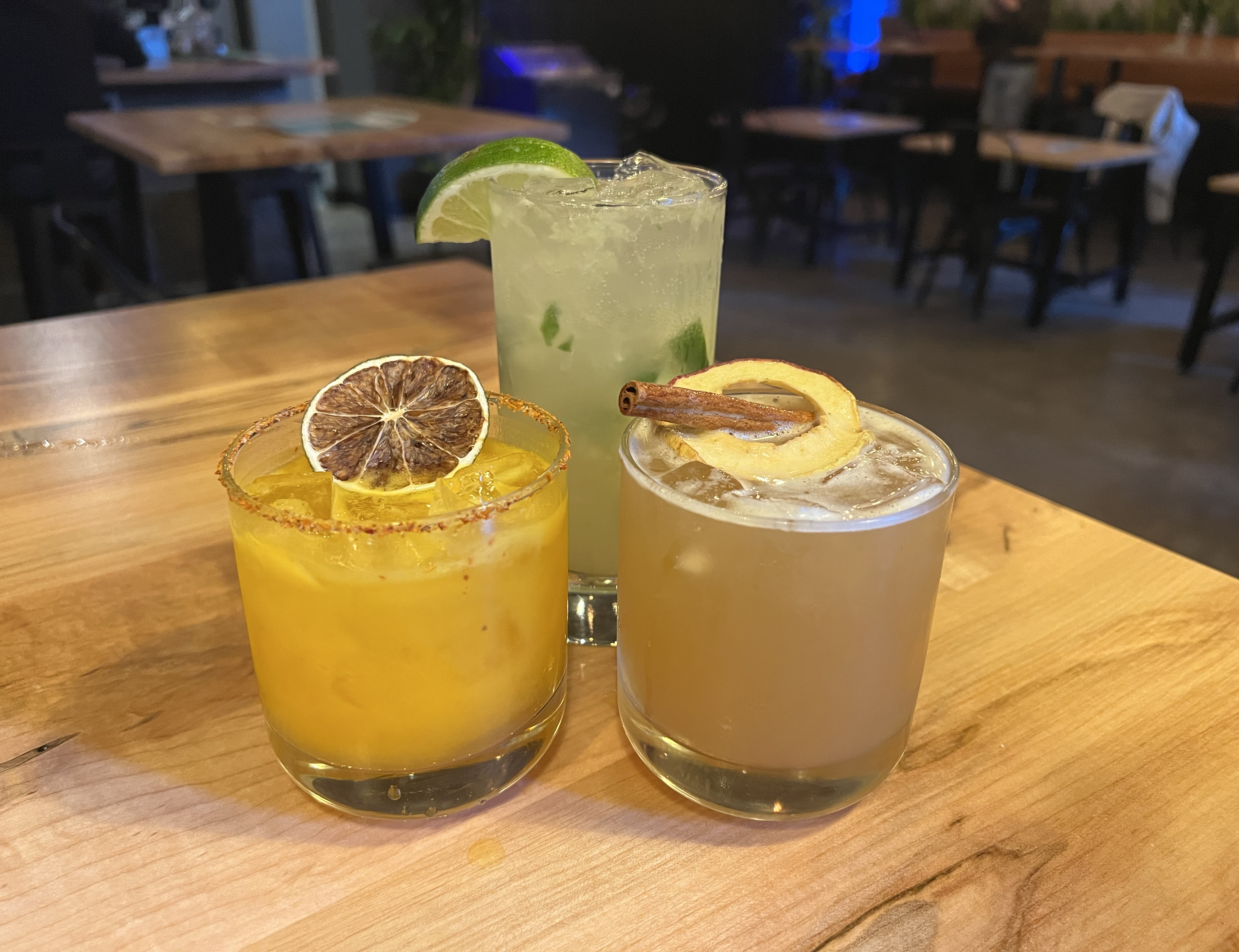 The Drinks
Besides live events, Re:Bar's claim to fame has been its craft cocktail list. Constructed by Ulloa, the signature drink list uses organic, fresh and all-natural ingredients and mixtures are made in-house. Of course, classic margaritas ($12) and mojitos ($12), both of which are available in mango, peach, strawberry or wildberry, were a must, but seasonal drinks such as the smoked apple ($18), an apple cider and mezcal drink that is literally smoked, or the Rosemary's Ol Fashion ($12) with Bulleit Bourbon and organic rosemary simple syrup, nod to Re:Bars past. Plus, everything can be made as a mocktail. "Everybody loves our crafted cocktails," says Ulloa. "We are sort of like an upscale dive bar — at least for Downtown.
The Space
Ortega and Ulloa expected to open this project by the summer of 2022 — but the gods of construction had other plans. "We probably picked the worst time in the past two decades to do a construction project," says Ulloa, who details the delays in materials and difficulty finding contractors. Luckily, the renovation — a total gut job — was worth the 16-month wait.
By expanding into the next-door space, formerly a bookstore, the project has tripled the size of Re:Bar, which used to feel a little like a narrow hallway. That original footprint remains and will be used for live events and spillover dining during the busy summer season. The new space, however, is now the main dining room and bar. Carrying on the industrial feel of that original space, the new area features a mural of Frida Kahlo by Glen Infante, greenery from Cleveland Urban Planting and an eagle's nest DJ booth.
"We wanted to liven up the industrial feel of Re:Bar by mixing these elements of warm, with the wood and the greenery, with cold, with the concrete floors and walls," says Ulloa.
Both visual artists and musicians — especially the old-school hip hop, dance and R&B crowd, which has found a home there — are still as welcome as ever, says Ulloa.
"My passion for what I wanted to bring to the city to Re:Bar by far is like live music events, supporting local artists creating a space for people of all different backgrounds to come together."
As for that corner of Downtown, East Ninth Street and Prospect Avenue, new life seems to abound thanks to the forthcoming additions of Parlay on Ninth and A.J. Rocco's. Ulloa is happy to join the crowd.
"It was really hard to survive the pandemic. I don't know if I could have done it if it wasn't for my sister encouraging me. So knowing we stuck it out and people are starting to love this space and this area is only going to grow more, it's so special," she says. "I'm kind of a spiritual person, and this feels like a rebirth."
Bite into the Cleveland dining scene by signing up for our free weekly CLE Food & Drink newsletter — your guide to food and drink throughout The Land. Arriving in your inbox every week, this coverage fills you in on everything from mocktails to shareable plates — and more. Click here to subscribe.