Following a shocking departure from Cleveland after the sudden closure of his East Fourth Street restaurant Greenhouse Tavern in 2020, chef Jonathon Sawyer seems to have landed back on his feet in Chicago.
Adorn, the Four Seasons hotel restaurant where he finds himself as chef de cuisine, has earned a nod in the Michelin Guide's first-ever list of new discoveries. Making the list, which features 23 Chicago restaurants, certainly seems like a good first step if you're shooting to earn one of the publication's coveted stars, which mark the world's best restaurants.
Here's what the guide has to say about Sawyer's new haunts:
"Chef Jonathon Sawyer's restaurant lives on the seventh floor of the Four Seasons hotel. It's a glorious space with a bar and lounge that blend seamlessly with the airy aesthetic. Hues of silver and black as well as marble floors decorate the room, while a gorgeous light fixture illuminates the bar. The menu is a love letter to global influences along with the bounty of the Midwest. Start with an edible candle made of aged beef suet with a selection of bread — the 'candle' is lit to melt the fat beside the bread for dipping. If that doesn't speak to a unique vision, think of a peeled tomato tart with Carr Valley cheese or pickle-brined trout with purple shallot sauce. Dessert items may teeter on vague, but ask your server to fill in the blanks."
Those familiar with Greenhouse Tavern might recognize Adorn's confit chicken wings, though croissant cereal and edible butter candles are new, big-city additions.
The restaurant earned positive reviews from Newcity Resto, a food and culture magazine in Chicago:
"In these strange times, as we tentatively emerge from the darkened caves of our hibernation, you may tend toward the entertainment or comforting ends of the Adorn menu; or both, as we did; either way, it's a good time."
Chicago isn't a surprising landing place for Sawyer, who was born in nearby McHenry, Illinois, and surely knows many fellow James Beard Award winners around town. A recent profile places his residence in Kenilworth, Illinois.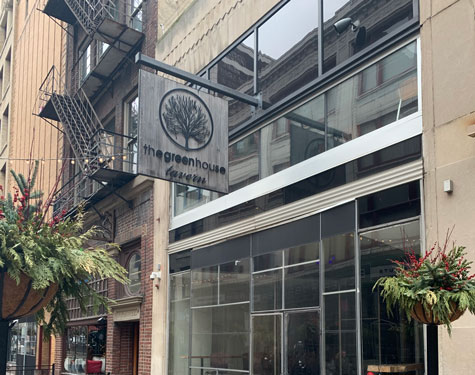 Some might remember that Sawyer's Greenhouse Tavern, named one of the country's most influential restaurants by Esquire in 2019 and one our best restaurants in 2016, didn't exactly leave Northeast Ohio on the best terms. After gradually closing his other restaurants such as Noodlecat and Trentina, Sawyer surprised his staff during a February 2020 staff meeting with the news that his flagship, Greenhouse, would close. Numerous employees claimed absentee ownership and low wages. Meanwhile, vendors such as local farmers and contractors got stiffed (some going as far as to sue him). Still, many regard him as one of the city's most influential cooks. Sawyer, who declared bankruptcy soon after the closure, told Cleveland.com back then that he had no regrets.
"I'm not ashamed or embarrassed by anything I've done. I've always operated aboveboard, and put my employees and my farmers ahead of everyone, including myself," he said. "And I'm thankful for everybody who's dined with us, and everyone who has worked with us."
Chef Jonathon Sawyer did not respond to a request for comment.
Correction: This article was updated to more accurately paraphrase the situation surrounding Greenhouse Tavern's closure.