Looking for a fun way to enjoy the holidays? There are plenty of festive bars in Northeast Ohio that pop up just for the season, bringing flavorful cocktails, cheery tunes and loads of green and red decorations to familiar haunts.
Here are the local pop-ups to check out this November and December.
The Christmas Corner Bar
Around the Corner, a Lakewood classic since 1974, has transformed its side party room into the Christmas Corner Bar every holiday season since 2017. The space, packed with decorations and twinkling lights, is one of the most festive spots for going out in Northeast Ohio. It's open starting Nov. 16, leading up to Christmas. 18616 Detroit Ave., Lakewood, facebook.com/thechristmascornerbar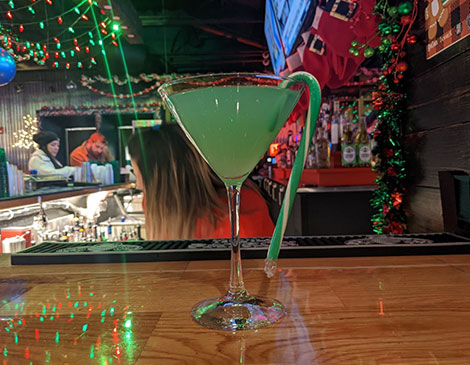 (Photo by Annie Nickoloff)
Xmas Bar
This Flats holiday hotspot keeps the Christmas cheer at an all-time high, and is now open for holiday fun. When it's not a festive bar, the space transforms into a sports bar, says owner and former Fox 8 meteorologist Beth McLeod. 1052 Old River Road, Cleveland, instagram.com/xmasbarcle
Miracle on East Fourth St.
Head into Society Lounge for a festive version of this downtown Cleveland cocktail bar, when Miracle arrives for the season. The holiday version features plenty of decorations and expertly made seasonal cocktails. It'll take over the space starting on Nov. 17 and run through the holidays. 2063 E. Fourth St., Cleveland, societycleveland.com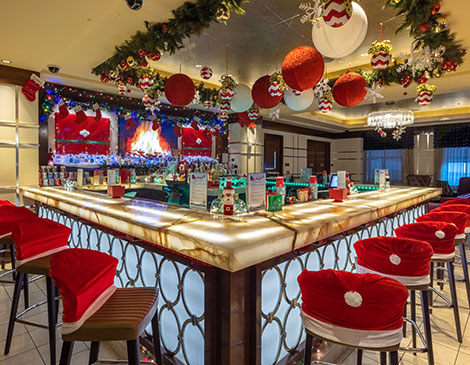 (Photo courtesy of Jack Casino)
Sleigh
Sip a "naughty list" or a "warm & fuzzy" cocktail at Sleigh, appearing once again on Jack Casino's third floor. Along with the fun drinks, check out the room's decorations, which this year will include a phone booth to Santa, life-sized Rice Krispies treat snowman and retro toys. It's open Fridays and Saturdays from Nov. 24 until Dec. 23. 100 Public Square, Cleveland, jackentertainment.com/cleveland
Secret Cellar Christmas Bar
Hoppy holidays! For more of a speakeasy feel, head to Great Lakes Brewing Co.'s Brewpub for the Secret Cellar Christmas Bar. Order a pint of the brewery's iconic Christmas Ale and enjoy the ambiance on weekends and other select dates, Nov. 22 until Dec. 31. 2516 Market Ave., Cleveland, greatlakesbrewing.com/events/secret-cellar-christmas-bar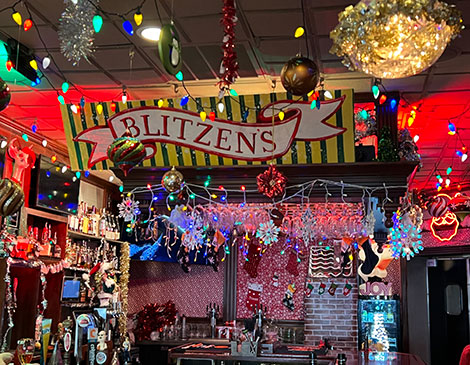 (Photo courtesy Kendra Altomare)
Blitzen's Pop-Up Bar
In Hudson, this annual tradition returns for another holiday season. Blitzen's Holiday bar returns after its Halloween-themed fun ended in late October. So grab your ugly sweater and stop by the Christmas-themed space in late November, until the holidays are officially over. 80 N. Main St., Hudson, hudsonspopupbar.com
Christmas Explosion at Rollhouse Mentor
Ornaments and tinsel fill Rollhouse Mentor's Bomb Bar for its annual Christmas Explosion attraction. The holiday popup fills the space with extra festive cheer this time of year. The bar starts Nov. 11 and runs through the holidays. 7300 Palisades Parkway, Mentor, therollhouse.com/mentor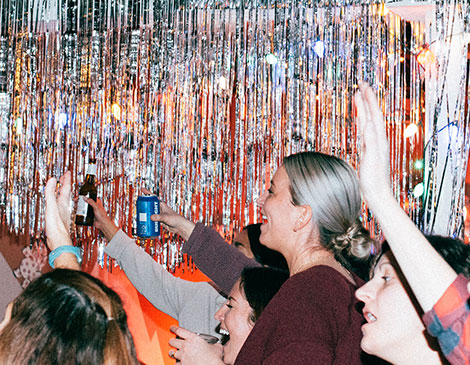 (Photo courtesy Anita Louise)
Tinsel's Holiday Dream House
Swing by Gordon Green for a holiday bar that runs on select dates through Dec. 23. The swanky event center's lower level will transform into a holiday pop-up with free entry and a full bar for the second year in a row. 5400 Detroit Ave., Cleveland, facebook.com/gordongreenevents
Southern Cheer Christmas Pop-Up Bar
Southern Tier? More like Southern Cheer. This local brewery will transform into a festive version of itself, leading up to Dec. 30. Head to the Southern Tier Brewing Co. taproom basement for craft beer, jolly cocktails and other fun. 811 Prospect Ave., Cleveland, facebook.com/STBCbeerCLE
Looking for a little more spirit — holiday or otherwise? Check out our guide to Cleveland's 50 Best Bars.
We've got your weekend plans covered with our free weekly "In the CLE" newsletter — your guide to fun throughout The Land. Arriving in your inbox every Wednesday, this weekend to-do list fills you in on everything from concerts to museum exhibits — and more. Click here to subscribe.