Over the years, Mark Puente's travels have brought him around the country, first as a longhaul truck driver, then later as a news reporter covering the country's swirls of power and crime. Those travels, it turns out, also exposed him to a world of culinary scenes.
Puente might be best-known for his reporting work, but now he's also on the rise in Cleveland's food scene, with his mobile restaurant business Puente's Tijuana Tacos.
First, though, came the stories.
Named a Pulitzer Prize finalist two times for his coverage around police brutality and devastating boat fires on the East and West coasts respectively, Puente has worked at the Tampa Bay Times, the Baltimore Sun and the Los Angeles Times. He got his start at The Plain Dealer, where he became known for his reporting on government and crime, including stories about serial killer Anthony Sowell and former Cuyahoga County Sheriff Gerald McFaul. Most recently, his accountability reporting on local police dynamics has helped to establish The Marshall Project's new Cleveland newsroom.
His hops around the country, motivated by reporting gigs, have always led to more hard-hitting news seeing the light of day.
And it also led to those tacos.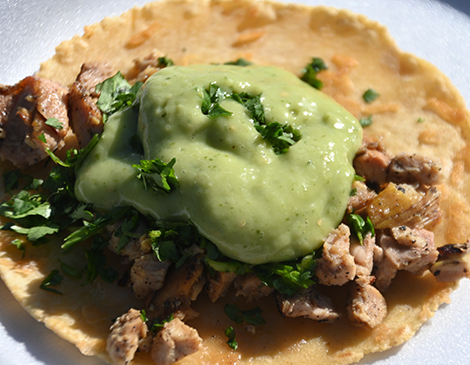 (Photo courtesy Mark Puente)
At Puente's Tijuana Tacos' events around Cleveland, customers will see a decidedly different side of the writer.
"Being a hard news reporter, I'm not a very warm and fuzzy, feelings, type of person. My son Ryan always gets on me. 'You need to be friendly, you need to smile and sell this stuff,'" Puente says. "He's always switching me with people because he says, 'Quit being the reporter, quit being the bulldog. You're selling tacos now.' We argue jokingly about that."
The taco business officially started when Puente and his wife, Laura, moved back to Cleveland in 2021, but its real beginnings were earlier, when Mark was in the middle of his stint at the Los Angeles Times working as an investigative and accountability reporter. While walking between the newsroom and police headquarters, he got his first whiff of the California street taco scene.
"I tracked it down and bugged these guys about cooking over charcoal," Mark says. "We started talking, and they told me it was mesquite charcoal."
It didn't take long for the avid barbecuer and meat smoker to buy himself the same charcoal, using it to craft a version of those tacos at home. That charcoal is such a key component of Mark's cooking that, when he moved back to Florida and then Cleveland, he brought more than 4,000 pounds of the mesquite with him.
The move back to Northeast Ohio was spurred partially by housing prices and partially by a push from family. Mark's son Ryan, who works as Cleveland's deputy chief of staff and chief of government affairs, also often mans the grill at Puente's Tijuana Tacos events. He convinced his parents to move back to Cleveland.
"I'm not going to lie; I was missing my parents and wanting to have them around a lot more particularly as they're getting older, and I'm getting older, too," Ryan says. "I said, 'I'm willing to help with the taco business, I'll do the cooking. I can't do it all the time, but I will certainly have a helping hand on the grill.' I'll take credit for bringing him back to Ohio."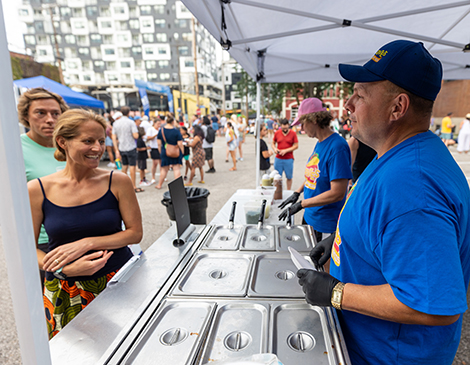 (Photo courtesy Scott Shaw Photography)
Puente's Tijuana Tacos is a true family affair; beyond Ryan's work, Mark's other two sons, Kevin and Keith, help him and Laura run the business when they're in town, along with his daughter-in-law, her parents and her aunt, and a cast of other friends and family.
Together, they craft a small but flavorful menu which includes a couple of new sides, like nachos and quesadillas, but otherwise focuses on its namesake. The tacos stay simple: Choose from three meats (carne asada, chorizo and pollo) with a queso-filled tortilla option, and choose toppings like cilantro, onions, radishes and lime, plus red salsa, salsa verde or guacamole salsa.
Tacos are cooked and crafted on-site; Puente's team even presses its corn tortillas fresh at each event.
"It's an explosion of flavors, and it's not a flavor you'll ever get from a taco maker in Cleveland," Mark says. "It's a unique style of taco; these are as authentic as you can get."
Though the toppings on Mark's tacos were inspired by his time in California, the chorizo recipe came straight from the family, according to Ryan.
"That's actually my great-great-grandfather's recipe. He used to sell chorizo in Mexico. To be able to carry on the tradition, that's certainly been rewarding — and to see the tradition passed down for generations," Ryan says. "I mess with my dad and call him 'taquero.' That's what they call taco masters in Mexico."
Mark remains committed to both the journalism and taco worlds, keeping them separate as both pick up steam. He hasn't ruled out a brick-and-mortar space for his tacos, but for now he's working on instead building out a commercial kitchen addition to his Medina County home, allowing him to more easily prepare for mobile events.
"It's my passion. Luckily my wife supports it and my relatives help, because without them it wouldn't be a business," Puente says. "I don't know where it'll take me, but we like the spot we're in."
Clevelanders can get a taste of Puente's Tijuana Tacos at several upcoming events in Northeast Ohio. The company will be stationed at several LaGrange Food Truck Days throughout the summer, along with several private events and a spot at Bauman Orchards Blueberry Festival in August.
Bite into the Cleveland dining scene by signing up for our free weekly CLE Food & Drink newsletter — your guide to food and drink throughout The Land. Arriving in your inbox every week, this coverage fills you in on everything from mocktails to shareable plates — and more. Click here to subscribe.