Adrian Ortega loves Taco Bell.
That might sound like blasphemy from the man behind La Plaza Supermarket & Taqueria, which serves what's generally accepted as Cleveland's best and most authentic taco. But no matter what city he was in as a 20-something traveling salesman in the '80s, those cheesy, bastardized American tacos were the closest thing to home.
"Let's not play games," Ortega says, leaning back in the desk chair of his basement office and adjusting his Dodge Ram hat. "That's the guy that broke the ice. It wasn't the Mexicans."
For over 40 years, Ortega has watched the taco become as ubiquitous in America as the hamburger. In Cleveland, his first restaurant, Mi Pueblo, and, later, his grocery store and taqueria on the border of Lakewood and Cleveland played a role in its rise. Now, two decades in, Ortega is pushing tacos further by spreading his authentic version across Northeast Ohio and opening more supermarkets that source specialty products in hopes that South American cuisines can see the same growth as Mexican cuisine.
Ortega grew up on a farm in Michoacan, Mexico. His father, Alfonso, was a blacksmith and a strawberry farmer who woke up at 4 a.m. every day to work so he could send his 13 children to Catholic school.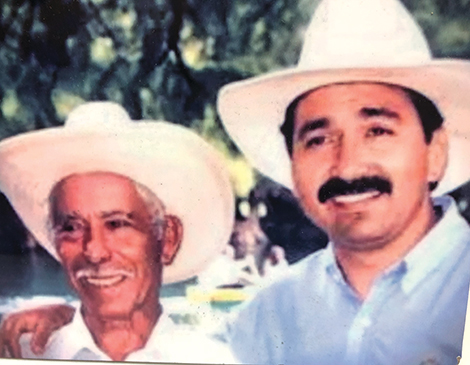 But Ortega wanted more out of life. When he turned 16, he left the Marist Seminary where he went to school with a devout faith and headed to America. Soon, he made his way to Chicago, where his family worked in the jewelry trade. There, Ortega found a Midwestern ethos that fit him better than the West Coast weirdos and the alluring mix of grandeur and craftsmanship that came with making and selling diamonds and gold.
By the age of 23, he had started a jewelry company with Clevelander Michael Teeter. For the next 15 years, he spent 250 days a year selling jewelry on the road: San Diego to Seattle, Miami to Maine, South Carolina to South Dakota.
"I love this country," he says. "I got to see everything."
Yet, he found a greater love in Cleveland. By the '90s, he settled down with his wife, Theresa, and had two kids. He joined a 30-and-over soccer league in Brunswick with other Latinos and some Italians, with whom he'd cookout, drink beer and shoot the breeze after games. That's when he realized how hard it was to source real Mexican ingredients. Jalapenos were a rarity at the time, let alone chipotles or cilantro. Often, Ortega trekked six hours to Chicago to procure supplies.
"Back then, I couldn't even find the products I needed to make my salsa," he says. "It was hell."
On one of those trips, a friend, owner of Taquerias Atotonilco in Chicago, suggested opening a taqueria in Cleveland. Ortega didn't know much about the restaurant industry but saw a business opportunity. So in 1996, he opened Mi Pueblo on Lorain Avenue in Cleveland with his brother and a few soccer friends. The restaurant quickly developed a following among local Hispanics and expanded to a second location in University Circle.
But Ortega's 3,000-square-foot specialty market adjacent to the Lorain Avenue restaurant grew even faster. Cleveland's Latino population, including other restaurateurs, quickly discovered this to be the place for Latin specialties such as hominy for posole and fresh chicharrones.
In 2011, the Ortegas expanded their grocery operation into a 12,000-square-foot building in Cleveland. In addition to produce, spices and snacks, a full-scale commercial kitchen prepares tamales, baked goods, meat and fish.
On the weekends, Ortega would sell tacos out of a wheeled cart with an umbrella in the front of the store. The first day he sold out — 200 tacos. By the time the taqueria moved into the supermarket a year or two later, this gem was no longer hidden. Taco lovers on both sides of the Cuyahoga lined up at the counter, and local media quickly dubbed La Plaza the city's best taco.
"The time was right because tacos were spreading like wildfire," says Ortega.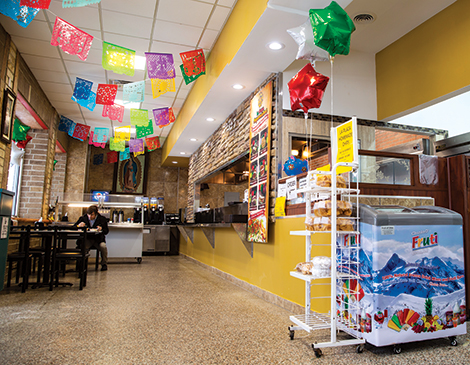 A La Plaza taco is divine in its simplicity. Carne asada, al pastor, chorizo and more sit in two corn tortillas, doubled because they're so stuffed, that are grown and produced by the family-run Taquerias Atotonilco in Chicago. Diners customize their 'co with house-made salsas, guacamole, onions, pickled veggies and other toppings.
"Everything we do is the real McCoy — just like it's done in Mexico," says Ortega.
That lack of complexity is also what is allowing Ortega to expand the concept into a new fast-casual concept called Taco Burrito Express at the Speedy Gas stations in Wickliffe and Amherst. This month, he also plans to open a La Plaza kitchen inside Re:Bar near Progressive Field. The business model is a unique win-win partnership with others handling the overhead of the space while Ortega's people handle the kitchen.
But Ortega knows his taqueria never could have found success without the right ingredients. That's why, in September, he'll open a second La Plaza Supermarket in Amherst with an adjacent taqueria featuring a cocktail and beer bar. There, he also plans to open La Michoacana, an ice cream and popsicle parlor franchise with thousands of locations across Mexico. He hopes to offer the ice cream in his flagship Cleveland location as well.
It's all part of a five-year plan that has more east-side locations and even Akron in its crosshairs. Ortega is in talks with a potential East Side host, similar to Re:Bar, that could come as soon as this year. In two years, he hopes to open a La Plaza Supermarket in Akron. After that, he wants to open a fourth supermarket on the East Side.
By spreading the supermarkets across Northeast Ohio, Ortega hopes people interested in opening restaurants offering the flavors of South America will do so, knowing they have the ingredients they need to thrive.
The ingredients to live the same dream he has in America.
"With the supply channels already growing, if we could do the same basic idea for South American restaurants, food from Chile or Argentina, that would be phenomenal," says Ortega. "I think it would make Cleveland richer."