East siders no longer need to trek across the Cuyahoga River to get some of Northeast Ohio's best tacos. Soon, downtowners won't have to head west either.
About two months ago, La Plaza Supermarket and Taqueria partnered with Speedy Gas to present Taco Burrito Express in Wickliffe. The food is prepared at the same back-of-house production facility inside La Plaza Supermarket in Lakewood and then driven to Wickliffe each morning. Customers order right at the flat top grill inside the gas station and watch and listen as the cheese melts onto their quesadillas and their carne asada sizzles. While more unique, less popular options like la lengua and tripe don't make the trip, the menu features nearly all the La Plaza favorites, such as quesadillas, burritos, tacos, tortas, rice bowls and tamales.
A second Taco Burrito Express has already opened in Amherst, and, if successful, La Plaza owner Adrian Ortega plans to put them in all nine Speedy Gas stations owned by Gihad Zayed.
"It's the same food as you'd see at La Plaza in Lakewood," says Ortega. "We prepare it in the same place. The only difference is I drive it to Wickliffe every day. The food is always fresh."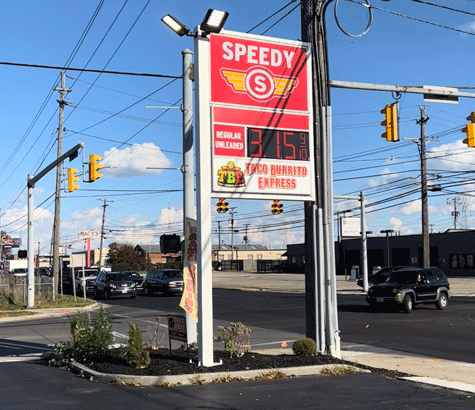 But that's not all Ortega has planned. Barring any construction delays, La Plaza plans to open a kitchen downtown inside Re:Bar on Cleveland's East Ninth Street in March. With the same core offerings, concept and set-up as Taco Burrito Express, this will be downtown Cleveland's only authentic Mexican taco joint. It'll stay open six days a week and close on Monday.
Previously, Re:Bar has attempted a few food concepts, including offering hot dogs to those on the way to the ballpark.
"Construction is taking place as we speak," says Ortega. "The bar is really nice, and it's a great location right by the stadium."
Ortega says the shared business model is inspired by his previous pop-ups at Terrestrial Brewing Co., which recently hired former Saucisson chef Penny Tagliarina and announced a huge expansion. Ortega says the set-up is a win-win situation for the kitchen operator and the hosts. Running a kitchen and correctly ordering ingredients is difficult, especially for first-timers, says Ortega. Yet, if he were to open his own space, overhead such as rent and utilities would cut into the already slim profit margins on food sales.
Instead, at both Re:Bar and Taco Burrito Express, Ortega can focus on what he knows best: making great Mexican food.
"We split the costs, and it's more profitable for both of us," says Ortega. "I'd never open just a restaurant by itself. Food is a volume game. If you are Chipotle, opening 3,000 restaurants around the country, sure. But just one restaurant by itself, forget about it, it's not worth it."
But even after opening the downtown location, Ortega still won't be done. In September, he'll open a second La Plaza Supermarket in Amherst at 1190 Milan Avenue, which previously housed another grocery store. The adjacent taqueria, which will feature a cocktail and beer bar and also offer hamburgers, will open a few months before the supermarket is complete. There, he also plans to open La Michoacana, an ice cream and popsicle parlor with thousands of locations across Mexico to which Ortega purchased the local franchising rights. He also hopes to offer the ice cream in his flagship Lakewood location.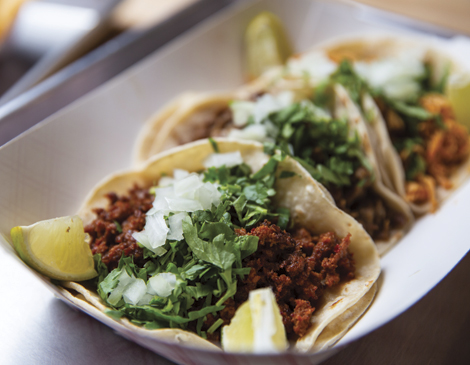 It's all part of a five-year plan that has more east side locations and even Akron in its crosshairs. Ortega is in talks with a potential east side host, similar to Re:Bar, that could come as soon as next year. In two years, he hopes to open a La Plaza Supermarket in Akron. A few years after that, he wants to open a fourth supermarket on the East Side.
Since opening his supermarket and taqueria in 2010, Ortega has watched Cleveland diners become more comfortable and even fall in love with his traditional Mexican street food. By spreading the supermarkets across Northeast Ohio, Ortega hopes people interested in opening restaurants offering the flavors of South America will do so, knowing they have the ingredients they need to thrive.
"Getting real Mexican products was the biggest problem for me and other Mexican restaurants, even through 2000. Now, Mexican restaurants can get anything they want. Anything," he says. "With the supply channels already growing, if we could do the same basic idea for South American restaurants, food from Chile or Argentina, that would be phenomenal. I think it would make Cleveland richer."
When You Go:
Taco Burrito Express, 29849 Lakeland Blvd., Wickliffe, 440-569-1981, facebook.com/SpeedyGrubShack; Taco Burrito Express, 1190 Milan Ave., Amherst, 440-984-7347; La Plaza Taqueria at Re:Bar, 2130 E. Ninth St., Cleveland, 216-465-4268, rebarcleveland.com