Long before Penny Barend Tagliarina made her name in Cleveland as one-half of Saucisson's "lady butcher" duo, the Culinary Institute of America grad sharpened her knife as a chef working in and opening restaurants in California, New York and Orlando, Florida.
Now, after seven years at the artisanal butchery she co-founded with best friend Melissa Khoury, Tagliarina is heading back to the kitchen as the new director of culinary operations at Terrestrial Brewing Co.
"I'm super proud of the business and her and I and all the amazing things we did together," Tagliarina says of the Slavic Village shop. "I still love Saucisson, but I just really missed cooking."
In January, Tagliarina launched a freewheeling brunch menu that featured concepts such as a West Coast-style breakfast with burritos and sweet pastries and Southern biscuits, gravy and grits. This weekend's menu features a tostada, a brunch wrap with Barbacoa and eggs, vegan chilequiles (a nacho-style dish topped with roasted vegetables, lime smashed avocado and almond crema) and blueberry citrus cheese crepes. They've been so popular that she's occasionally sold out of food.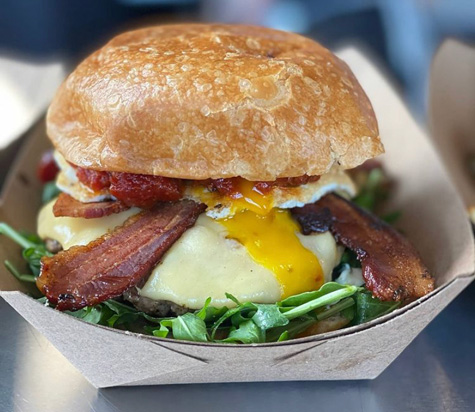 But that's not all she has up the sleeve of her chef's coat. While she's currently prepping ghost-kitchen style — the dog-friendly space formerly occupied by a La Plaza popup isn't licensed for food prep — Terrestrial is exploring options to expand to the second floor of its Battery Park home, where it would build a full kitchen. Tagliarina also plans to expand by offering evening bar snacks first and then a full dinner service in the near future.
"I'm just trying to get a sense of what [dishes] people are really excited about," she says. "The menu will change often."
The chef shares her proudest moments at Saucisson, what she found compelling about cooking at a brewery and what the future holds.
What are you most proud of in your time at Saucisson?
I feel like the whole thing was an accomplishment. We were on the Andrew Zimmern show [The Zimmern List]. We did this crazy butcher challenge on the History Channel. We were in Food & Wine Magazine twice. We got to cook at the James Beard House. Plus, we spent time in New York together just eating and running around and getting new ideas from all the crazy dinners we had. We opened a beautiful space. It's an epic space in a really cool, redeveloping neighborhood that still for whatever reason gets such a bad rap. Every spring or early summer we'd do a kickoff to the farmer's market and cook for about 500 neighbors thanks to free donations from our farmers and purveyors and neighbors. We realized the dream that we were building as we were doing it.
What interested you about cooking at Terrestrial Brewing Co.?
Everywhere I've ever lived I've looked for a couple of cool breweries that I like, but it's definitely an interesting crowd here in Cleveland because most of them are very collaborative and want to do stuff together and help each other out. I've known owner [and head brewer] Ralph Sgro pretty much since I got to Cleveland, and he's just very creative, super positive and is always trying to come up with something new and have something classic but with cool flavor profiles. Right now, I'm sort of playing around with stuff from different batches of beer that they've made and spent grains, like drying them and using them in different recipes. I'm working on a pretzel and a really cool granola to add something crunchy and sweet on the snack menu. We're also working on a savory bar snack, where it's like mixed nuts and some of the grain. But it's all trial and error.
Do you plan on using Saucisson's meat in your dishes?
Absolutely. I think it's the best sausage in the city. I got sausage from [Saucisson] for my biscuits and gravy. The charcuterie is awesome. I have a lot of plans for different menu items. I want to support other local businesses and farms, too. I've been using Cleveland Bagel Co. on the brunch menus. Blackbird Bakery is another one. Yellow House Cheese raises great lamb, beef, pork and chicken, and they'll have eggs soon. I'll continue to work with New Creations Farm in Chardon, which is a mainstay of Saucisson. Erie Shore Seed and Spore is a mushroom company out of Vermillion that we're using. It's nice to support everyone, and everyone has their thing that they do really, really well.
What are you most excited about going forward?
I'm having fun actually working on breakfast pastry-ish sort of desserts and sweet things. I did burritos, and it was really fun to see people get really stoked on my play on my favorite taco shop breakfast burritos. The time that I spent in Orlando, we cooked a lot of Southern-influenced food, so one weekend, I did sausage gravy and biscuits, cheesy hominy grits with braised greens, and then topped with either pulled pork or shaved smoked brisket. Then I made a play on a cream puff but filled with a banana caramel pudding. It's also been fun to work with the bar staff, because we're doing fun brunch cocktails, different Bloody Mary's, mimosas and gin and juice cocktails with juice from Daily Press now. We've just been playing with things every week and that's been a lot of fun.
You're taking on a new project in a tumultuous time for restaurants. People have declared fine dining dead, and ghost kitchens and pop-ups as the latest trend. What are your thoughts on the future of dining during the pandemic and beyond?
I'm not going to say that I think that fine dining is dead. Every style has a place in society. I hope places can hang on and the government can get their shit together to help small businesses. But I also know what the bottom line is. It's hard. If you can't turn a dining room multiple times, it's really hard to keep your restaurant open. I think so many people have done such a great job pivoting to online sales or phone sales or whatever it is. I hope that people continue to understand that ordering through a third-party delivery system is not really doing as much as you think you are for a restaurant. Right now, I'm working to write menus that travel well, so that we can do takeout. It's part of the world right now.
More Info: facebook.com/terrestrialbrewing