As Jason Beudert and his team worked on soon-to-be Geraci's Slice Shop on Prospect Avenue, they met regularly over coffee at a neighboring cafe off of Euclid Avenue. The group quickly became regulars.
They built rapport with the staff and found themselves enamored with the location's coffee and atmosphere, falling in love with the space and team of baristas behind their drinks, only to learn that the owner of Stone Fruit Coffee was planning to phase out the Cleveland location.
Sad to see it go, Beudert jumped on the location, asking the landlord to connect him to Josh Langenheim, owner of Stone Fruit Coffee, a Youngstown-based organic fair-trade coffee company.
With Stone Fruit still interested in selling its beans and the baristas excited and willing to stay, Beudert took over on Feb. 21 and reopened the cafe in just three days as Lionheart Coffee.
"This coffee shop is kind of an 'if you know you know' thing," Beudert says about the Gateway District cafe. "All the residents know about it, all the workers down here know about it, the travelers from the hotels, the concierge and the front desk folks point the guests our direction."
Beudert credits the rebrand to the store's general manager, Julie Loncar, who has been with the location for two years. He believes she will help make Lionheart "a standout destination for your coffee needs all throughout the day."
Loncar is the mind behind the menu, flatwares, slogan — "fearless in the pursuit of coffee" — and name. For Loncar, Lionheart encompasses the store's passion for coffee and persistence of the people and city of Cleveland, who have the "heart of a lion," she says.
"I wanted to choose a name that represented some aspects of our community and personality," she explained.
Through Lionheart's rebrand and maintenance of a hub for community and connection nestled between businesses, lodging and housing it will continue to serve Downtown in many ways.
"I just think a coffee shop is a really magical thing," Chelsea Williams, an operations partner, says. "In whatever city it resides, it serves so many needs for the community. It's a hub for business people, a first date, relaxing time in the morning before you go to or get off work. I really think the way we've rebranded and just maintained what was already here and already magical and continue to show that."
Here's everything you need to know about the Cleveland coffee spot and its future plans.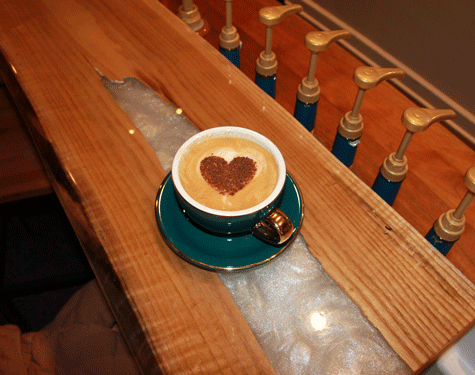 The Drinks
You will not find a drip coffee at Lionheart. All coffees are ground per order and brewed right in front of you via a pourover using Stone Fruit beans. The process may take a bit longer, but it serves a bolder, fresher flavor. Iced Tea Lemonades come in four different flavors like passion fruit or a classic black tea ($5.50). Signature lattes include the Lionheart ($5.75), espresso with bourbon caramel, brown sugar and cinnamon, and the Blue Lion ($5.75), butterfly pea flower, lavender and honey. Lattes come hot or iced with your choice of milk and always with a heart on top. In the future, Lionheart aims to partner with local juiceries and craft soda companies for grab-and-go drink options, says Beudert.
The Food
Lionheart will continue to serve Luna Bakery for pastries and Mediterra Bakehouse for all of their bread and bagels. Beudert says that down the line they can add a small line of "boutique" gelato.
The Space
Accents of gold and teal grace the space through neon signs and flatware. Lionheart's exterior is marked by a subtle yet eye-catching neon blue heart above the front door and their slogan, fearless in the pursuit of coffee. Besides the switch in branding, much remains the same to the location's interior from its predecessor.
Lionheart Coffee maintains a bright and airy atmosphere through floor to ceiling windows that look out onto Euclid Avenue, and greenery from live plants. The store is warmed up by exposed brick, tungsten lights and large wooden tables, perfect to sip and speak with friends or delve into a passion project. A mural of Cleveland further connects the cafe to its location.
Moving forward, Beudert plans to expand the seating.
"Currently, there's a bit of interior upgrades happening," Beudert says. "We're working on adding a little seating area in this corner here because this window is so picturesque, great people watching, to make it a little more comfortable than it already is."
Bite into the Cleveland dining scene by signing up for our free weekly CLE Food & Drink newsletter — your guide to food and drink throughout The Land. Arriving in your inbox every week, this coverage fills you in on everything from mocktails to shareable plates — and more. Click here to subscribe.