Update: The delicious duo behind FatBoy Sammies is launching pop-ups across Cleveland. Visit their Instagram — instagram.com/fatboy_sammies — to find out when and where.
Original Story:
'90s kids — chefs Vinnie Cimino and Ryan Boone have a nostalgic lunch packed for you.

FatBoy Sammies, a Feb. 17 pop-up out of Mahall's 20 Lanes from the duo behind the kitchen at the forthcoming Immigrant Sons Brewing, is a gustatory expression of old-school hip-hop, NBA All-Star Games, school lunches, Nickelodeon and all that is good about being a millennial kid.
"We wanted to create that certain type of excitement when mom said you could go through the drive-thru and get a Happy Meal," says Boone, whose visual artistry appears on the custom bags, burger sleeves and trading cards, which come complimentary as FatBoy's version of a Happy Meal toy, as well as the T-shirts.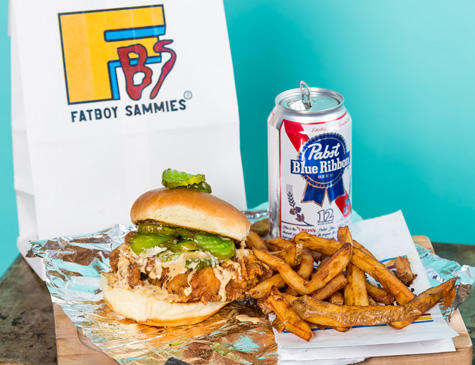 The menu, which was honed over the past year of private parties and at-home experimentation, features bodega favorites and nods to high brow sandwich shops such as New Orleans' Turkey & The Wolf, Chicago's Big Kids and Philadelphia's Middle Child.
"We've been following all these sandwich shops for years, and we love eating sandwiches and making sandwiches," says Cimino. "So, the next logical step was to share our love of sandwiches with everybody else."
Topped with vegan wiz or pimento cheese, the Boomer Cheezsteak Sammie ($15) features crispy mushrooms, pepper jelly, caramelized onions and FatBoy sauce (don't ask what's in it, Boone says). The Untidy Joseph Sammie ($15), also topped with signature sauce and wiz or pimento, is a take on a sloppy Joe using tomato braised chickpeas. While it was the vegan sandwiches that first excited the chefs, an obligatory Chicky Sammie ($15), which features mysterious topping such as "Magick Dust" and "hyper colored Kool-Aid pickles," and the bodega-favorite Roti Chop Cheez Sammie ($15) also grace the menu, which is available for preorder online now.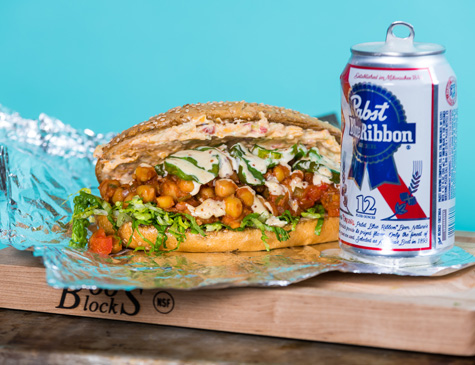 The dishes are the type of thing the chefs cook to feed, challenge and entertain themselves. In fact, the pop-up's slogan is "Have It Our Way," a fun play on the (eye-rolling, at least for chefs) Burger King motto.
"We're taking the techniques, flavors, attention to detail and methodology of fine dining, without any of the constraints, and applying it to something approachable in the quintessential American sandwich," says Boone.
FatBoy Sammies is not the only bite Clevelanders can look forward to from the duo. Immigrant Son Brewing, coming to Lakewood this spring, recently announced Cimino would serve as its chef. Boone will also join the staff.
The chef duo first teamed up (sorta) at Greenhouse Tavern, where Cimino was the executive chef and Boone was a bus boy. ["We worked around each other," Cimino says.] Cimino, who also cooked for Trentina and Michael's Genuine Food & Drink, later tapped Boone for his staff at Summer House. While the pair has since left Summer House, they've spent their pandemic year organizing and growing the food drive and nonprofit CLE Family Meal, which provides groceries, prepared foods and more to local service industry workers and anyone else in need.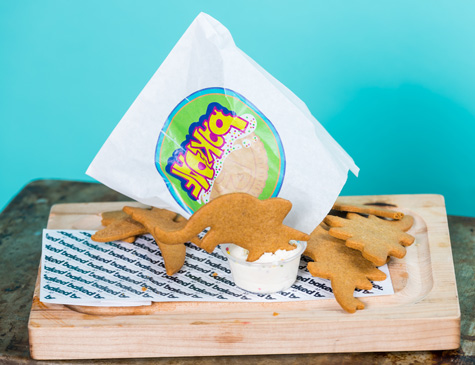 But until Immigrant Son opens in spring, FatBoys is here to hold us over. While Boone and Cimino hope to do more pop-ups in the future, they're happy to bring another iteration of the pop-up, a COVID-friendly dining trend, to Cleveland.
"When you have a restaurant, you're tied to what you can do inside that restaurant setting," says Cimino. "With a pop-up, you can do something completely unique. You can get outside the box and outside your comfort zone and just do something fun. And that's what Ryan and I want to do, something that we can first and foremost have fun with."
More info: neartail.com/us/fatboysammies