At Alea, chef-owner Athan Zarnas asks a very important question: "Why not try six items as opposed to three?" He makes a good point, especially when faced with the menu of grilled Mediterranean fare he launched in Hingetown in 2019.
The restaurant's small team of six, four of whom are part-time, brings high-end cuisine experience with it. Chefs tend to the restaurant's wood fire grill, a focal point of the open kitchen and chef's counter, all of which adds a homey vibe when paired with the high ceilings and steel girders of the 33-seat restaurant, a former drill-bit factory, at 2912 Church Ave.
Zarnas, who is Greek and was born and raised in Cleveland, borrows ideas from all around that historic sea. Inspired by global cuisine, the chef is excited by fresh ingredients and fresh concepts. "When are the grilled oysters coming back?" has been a common refrain among patrons, Zarnas says. When he released the spring menu, however, the oysters were raw. The idea of change has been baked into the restaurant since the beginning.
He says he likes when guests can recognize some dish components. "But ideally, there are elements of that dish from all over the Mediterranean region, possibly even Asia, sort of blurring the lines between, 'What is Asian?' 'What is Italian?' 'What is North African?'" he says. "I mean, there's a fine line between a dumpling and a ravioli."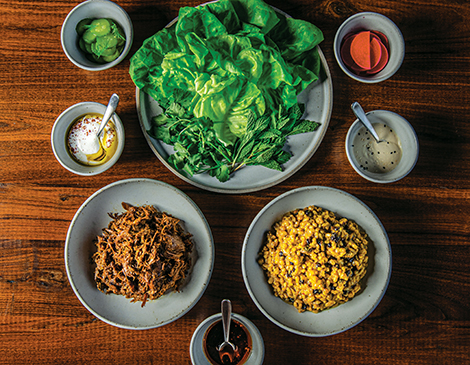 If diners aren't up for sharing and want to go the traditional appetizer-entree-dessert route, that's fine, too.
We visited during the winter menu, and Zarnas says something like the fried Chicken Milanese ($28), a favorite of that season's offerings, probably represents a conventional one-person dish more than any other item; it was served with Meyer lemon, aioli, and a little gems salad featuring herbs, dill flower, radish, shallot and a dijon vinaigrette. Other highlights from the winter menu: broccolini cooked on an open flame and served with taleggio cheese, pear and walnut ($16) and, for dessert, the jiggly, full-on sweet parsnip panna cotta, featuring maple syrup and buckwheat ($14). The menu has always featured a panna cotta.
Zarnas calls his dish development process a form of "culinary algebra," pairing ingredients in novel ways and discerning what's missing, then incorporating it into the mix. The word "alea," he says, means a roll of the dice.
The Lamb "Ssam" For Two ($64) is a dish that pulls from different directions. The fan favorite, served with grains, will return to Alea's spring menu after a hiatus.
"We braise whole legs of lamb with a lot of spices, we pull it, and we serve it with a bowl of bejeweled ancient grains that have dried currants, some pistachios in them, and those are spiced as well," Zarnas says.
The restaurant pairs all that with whole lettuce leaves, fresh herbs, yogurt, chili oil and pickles. The chef-owner says it's his unique take on the Korean dish.
"It's mostly Middle Eastern flavors, but it's presented in a way that's traditionally Korean, in the form of ssam, which are lettuce wraps that you make at the table," Zarnas says.
Alea also offers a Sunday brunch menu that rotates seasonally, though Zarnas says he retains staple items from menu to menu such as the egg sandwich ($14) with mortadella, dijonnaise and American cheese, and the Dutch Baby ($20), a large pancake served with banana, foie butter and maple syrup.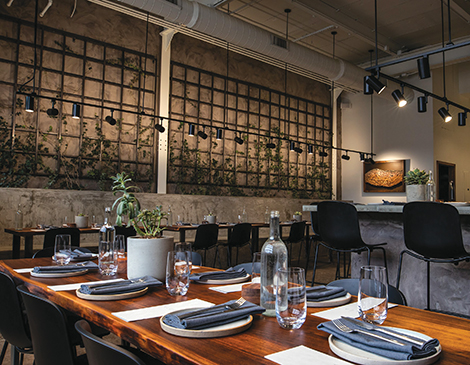 Though he puts a modern spin on his dishes, Zarnas says some guests have found flavors bring back old memories.
"We have had guests who have told us that they've felt as if they were sort of transported to a place or a time after trying some of our dishes," he says. "We've heard feedback like, 'I haven't tasted this since my grandmother made it for me.'" aleacle.com