There's no more sumptuous seat in the city than these pink velvet chairs at golden hour. Sunlight softly illuminates artful dishes and imaginative cocktails. With vines twining above and tropical details all around, the atmosphere is peaceful and serene, even enchanted, in contrast to the grit of the city below. And the Argentinian-inspired food, of course, is top-notch.

That shared passion for precision led Nora O'Malley, chief operations officer of parent company Harbor Bay Hospitality, to join forces with owner Dan Whalen and executive chef Brian Whalen (yes, they're brothers). The restaurant occupies the roof level of Ohio City's Intro building, and they also manage first-floor ventures Pioneer, a camping-themed sports bar, and Edda, a chic cafe and coffee roaster.

Though the building itself may seem steely and uber-corporate, the staff's sentiments are far from it.

"Everyone sees this big, shiny facade," O'Malley says. "We want them to know that there are real people behind it."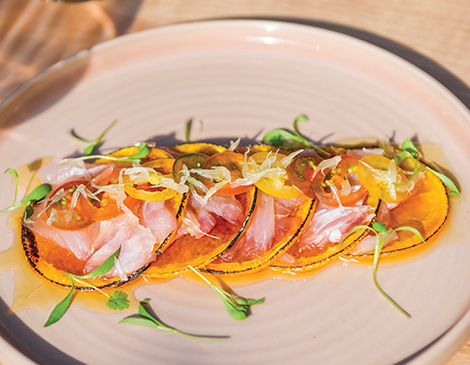 Maybe that's why Jaja itself feels so eclectic, melding European and South American flavors in an upscale-meets-chill Midwestern sensibility. Though technically a steakhouse (and don't skip the steaks — they're incredible), Jaja has become beloved for its imaginative seafood dishes. Brian prides himself on using familiar ingredients to expand Midwestern palates in dishes like the jumbo seared scallops with pillowy cauliflower gnocchi and chimichurri ($30) or potato-scaled halibut with caramelized leeks ($28).

As the weather warms, expect seasonal flavors and local produce. But many dishes will remain as they are, including favorites like burrata with candied lemons ($18) and smoked eggplant spread ($15), a can't-miss small plate that spreads like silk across charred bread.

If you haven't yet been able to snag a reservation, you'll soon have more options. This spring, Jaja opens its 45-seat patio.
"We don't like to think of this place as exclusive," Brian says, "but it's definitely become a hot spot, and we're just really excited for what's coming next." jajacleveland.com
Explore more of Cleveland's 34 Best Restaurants, meet the chefs behind them and check out this year's reader-voted Silver Spoon award winners.
Bite into the Cleveland dining scene by signing up for our free weekly CLE Food & Drink newsletter — your guide to food and drink throughout The Land. Arriving in your inbox every week, this coverage fills you in on everything from mocktails to shareable plates — and more. Click here to subscribe.