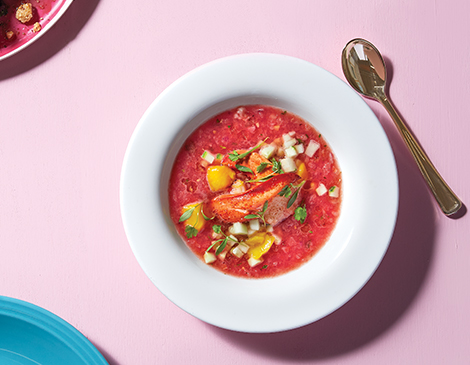 Watermelon Lobster Gazpacho
Talk about a match made in summertime heaven: Natasha Pogrebinsky's cold soup marries the freshness of gazpacho with the light sweetness of watermelon. "You want to find the sweetest watermelon for this dish," says the executive chef of The South Side. You'll use it to create the base for all the complexity to come. "Sweet, salt and acid, when put together correctly, will create a wonder wheel of flavor, with the jalapeno adding a bright layer to the smoky paprika pepper," she says. The unexpected addition of mango is like a bridge that draws out the sweet notes of the lobster, too.
Cut the ends off a ripe, seedless, medium-sized watermelon. Cut the melon in half, place it center-down and cut away the rind. Cut each melon center into 6 large chunks, place in a bowl and pull by hand into smaller pieces. Juices will collect at the bottom of the bowl. Add 1 minced mild jalapeno or serrano pepper, 1 minced shallot, 1/2 cup white wine vinegar or apple cider vinegar, 1/4 cup chopped fresh dill, 1/4 cup chopped fresh cilantro, 1/4 cup chopped fresh basil, 2 tablespoons celery salt, and 2 tablespoons sweet Spanish paprika. Mix well with a spoon until evenly incorporated. Cover and chill overnight along with your serving bowls overnight. Place the mixture in a blender, blend on low and slowly bring up to a medium. You want a smoothie-like consistency, but you don't want to pulverize into liquid. You can use a stick blender if you have one. In a separate bowl, mix 1 pound pulled lobster meat, 1 large diced English cucumber, 1 diced 8-ounce mango and 1 tablespoon grapeseed oil or olive oil. Pour gazpacho mixture into serving bowls and divide the lobster-cucumber-mango mixture on top of each.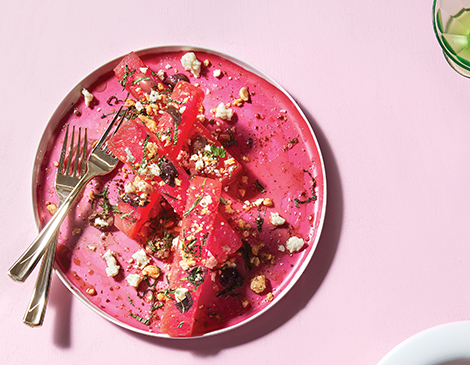 Chilled Watermelon Salad
Watermelon plays well with feta. The smoothness of the Greek cheese offers a perfect counterpoint to the crunch of the melon, and the sweet and salty combo strikes a satisfying balance. Anthony Scolaro, chef and owner of 111 Bistro, uses this duo as a starting point to a salad that's simple to make but filled with complex flavors. "Sweet and salty always bring out the best in each other," Scolaro explains. "The salt in the olives and the pink salt help to bring watermelon's muted sweetness forward more."
Cut 1 small watermelon into 12-16 finger-length planks. Arrange the planks in groups of 3-4 on a plate in a crisscross pattern. Repeat for a total of 4 plates. Divided among the plates, sprinkle on 1 cup crumbled feta, 1/2 cup chopped marcona almonds and 1/2 cup chopped kalamata olives. Top with 2 tablespoons chiffonade mint, 1 teaspoon cracked pink peppercorn and 1 teaspoon pink salt. Drizzle with olive oil and a sherry vinegar reduction (1 cup sherry vinegar plus 1 tablespoon sugar in a small saucepan, brought to a simmer, then simmered on medium-low heat until reduced to a 1/2 cup).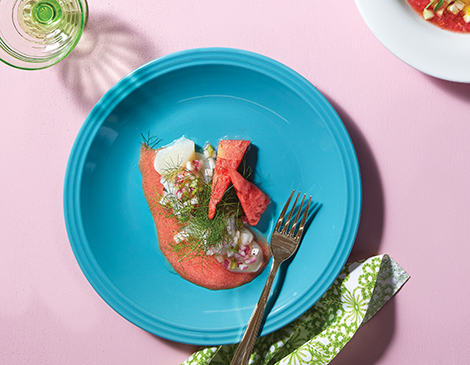 Sea Scallop Crudo with Watermelon Aguachile and a Black Radish and Celery Mignonette
Rusty James Phillips, chef and owner of The Pompadour, uses radishes, onions and celery to provide crunch in this dish. The trio offers an interesting counterpoint to the toothsome scallops, while a 16-ounce watermelon gets turned into an aguachile (Spanish for "chili water"). That thickened sauce cuts through the citrus juice used to cure the scallops. "This dish is a classic pairing of fat and acid," Phillips says. "The natural reserved sweetness of the watermelon balances well with the mild fattiness of the sea scallop."
Discard the rind and white parts of a 16-ounce seedless watermelon. Cut into 1-inch cubes and place in a blender. Add the juice of 4 limes, 1 habanero (stem removed), 2 peeled cloves of garlic and 1/2 teaspoon of Xanthan gum powder. Blend at high speed until smooth. Strain through a fine mesh strainer into a bowl and place in freezer until sauce has thickened to the consistency of a syrup (30-45 minutes). Hold in refrigerator up to 4 days. If it over-thickens, thin with water. Meanwhile, thinly slice 8 fresh U12 sea scallops into 1/8-inch rounds. Place slices in a thin layer in a bowl and cover with the juice of 4 limes and 2 oranges. Refrigerate up to 5 minutes or until scallops turn opaque. To make the black radish and celery mignonette, in a bowl, combine 2 teaspoons of finely diced black radish, 2 finely diced large stalks of celery, 2 teaspoons finely diced red onion, 1/4 teaspoon coarse ground black pepper and 1/2 cup rice vinegar. Refrigerate for 1 hour. To assemble: divide sliced sea scallops and layer into 4 shallow bowls. Pour watermelon aguachile beside scallops and spoon mignonette over the scallops. Garnish with fresh fennel frond or cilantro.