Roasted Beet & Basil Salad (pictured)
"When you roast beets, you're softening them up, but also bringing out a little sweetness. The dried cranberry has a bit of tang and sweetness, and I like the texture differences between cranberries and beets." — Justin Gorski, chef and co-owner of Cleveland Vegan

Place 3 medium beets, rinsed with ends cut off, in a casserole dish. Cover and fill halfway with water. Roast beets for 30 to 40 minutes or until tender. Remove from oven and let cool. While beets are cooling, combine 1 orange, peeled, deseeded and cut into slices, 2 tablespoons thinly sliced red onion, 4 tablespoons dried cranberries and 4 tablespoons sunflower seeds in a medium-sized mixing bowl. In a separate bowl, use a whisk to combine 8 tablespoons olive oil, 4 tablespoons fresh lemon juice, 4 tablespoons thinly sliced basil and salt and pepper to taste. Once beets are cool to the touch and skins come off easily, cube them and mix in lemon-basil dressing. Add beets to greens, toss and serve.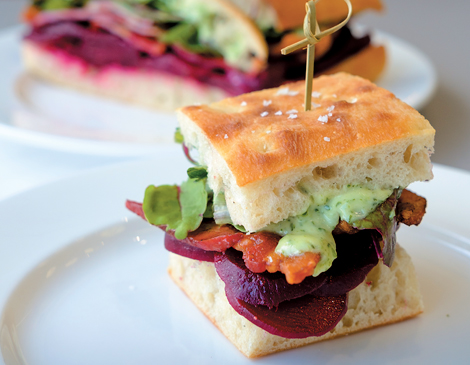 BLB
"Beets are naturally sweet and play really well with bacon. There's a familiar feel with this sandwich, but the beets are a twist." — John Selick, certified executive chef for University Hospitals Health System and Sodexo Healthcare Services

Place 6 beets in a pot filled with cold water and bring to a boil. Cook beets until fork-tender, about 45 minutes depending on their size. Shock them by placing in ice water. After 10 minutes, remove from water and the skins will peel right off with the help of a paper towel or a scrape from the back of a paring knife. Slice the beets, toss with 1/4 cup sherry vinegar and 1/4 cup olive oil, season with salt and pepper to taste, and let marinate for at least an hour. Split 1 loaf of focaccia bread and liberally apply 1/4 cup herb mayo. Layer with beets, 12 slices cooked bacon and 2 cups spring lettuce mix. Slice into individual sandwiches and serve.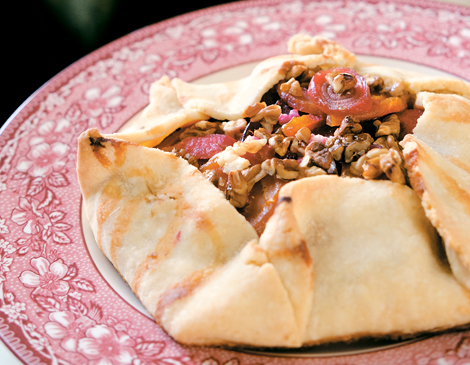 Spring Roasted Three Beet Tart
"Beet greens are really good — similar in taste to Swiss chard. My grandmother always made me use the whole vegetable: don't waste anything. You lay those at the bottom and the beets on top, and the drizzle of maple syrup just gives it a little kick. Fold the sides in so you can see the beets as you bake. If there's any left over, it's really good cold." — Donita Anderson, executive director of the North Union Farmers Market

Preheat oven to 400 degrees. Remove and save the tops from 6 medium to large beets (for color and taste, try 2 red beets, 2 orange and 2 white). Peel beets with a vegetable peeler, cut in half and place on a baking sheet. Toss with 1 tablespoon olive oil, a pinch of fresh thyme leaves, 1 teaspoon each sea salt and freshly ground black pepper. Roast for 35 to 40 minutes, turning with ovenproof spatula once or twice, until the beets are tender (use fork to test). While the beets are in the oven, rough-chop the beet leaves and dice 1 small sweet onion. Saute the onion until soft in olive oil, add chopped leaves and cook until soft. Add 1/2 teaspoon sea salt and stir. Let cool. Remove beets from oven and allow to cool. Slice halves 1/4-inch thin. Stir together 2 tablespoons maple syrup and 2 tablespoons cider vinegar and drizzle mixture over beets. Sprinkle with 1/4 teaspoon garlic powder. Turn oven down to 375 degrees. Break 1/3 cup chevre cheese into small pieces. Unroll a frozen pie crust on a baking sheet. In center of pie crust, place the sauteed onions and beet greens, then sprinkle half the chevre on top. Layer the sliced beets on top with a sprinkle of sea salt and pepper and remainder of chevre, then 1/2 cup chopped shagbark hickory nuts or walnuts. Fold sides of pie crust over the outer edge of ingredients, leaving the middle exposed. Bake until the crust is golden, about 30 to 40 minutes.




Red 40
"This cocktail is named for the food dye because it's very, very beet red. Super-fresh beet juice paired with lovely, bright cilantro gives a lifting, aromatic effect that gets amplified when incorporated with alcohol. The beet-cilantro syrup has more complexity and is less monochromatic than just beet-sugar syrup." — Jacob Bender, beverage director at the Spotted Owl

To make syrup: combine 2 cups fresh beet juice, 2 cups Demerara sugar and 1 bunch chopped cilantro in a pot. Bring to a boil, then simmer for 10 minutes, stirring continuously. Taste syrup every two minutes until desired flavor is achieved. Strain out solids, bottle and refrigerate until cold. In a shaker tin, combine 1 ounce beet-cilantro syrup, 1/2 ounce lime juice, 1/4 ounce Campari, 3/4 ounce Cazadores Blanco, 3/4 ounce Vida Mezcal, a pinch of salt and 2 dashes Angostura Aromatic Bitters. Add ice, seal and shake vigorously for 10 to 12 seconds or until shaker tin is frosted over. Fine strain into a coupe and garnish with a cilantro sprig.