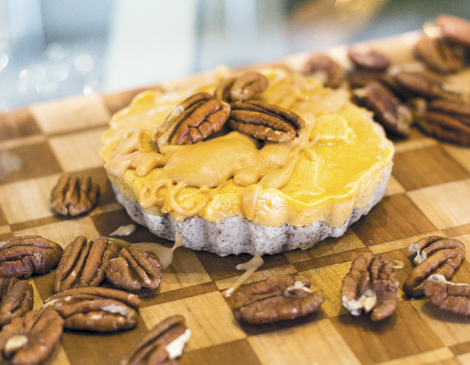 Paleo Vegan and Gluten-Free Pumpkin "Cheeze" Cakes
"Pumpkin enzymes help you digest food, so having pumpkin pie at the end of a meal helps break down and digest the food you just had. So it's perfect for a dessert. I don't know why we don't eat it more than once a year."
— Anna Harouvis, owner of Anna in the Raw and Good to Go Cafe
Separately, soak 5 pitted dates and 1 2/3 cups of raw cashews overnight in water. Prepare four individual tart pans (about 3 1/2 inch diameter) with parchment paper or grease for easy removal. Add 1/2 cup raw pecans, 1/2 cup almond flour, 5 soaked dates, 1 tablespoon coconut oil, 1 teaspoon cinnamon and 1/4 teaspoon Himalayan sea salt into a food processor and blend until small pecan bits remain. Divide mixture into four parts and press in bottom of prepared pans to create the dough. Combine the cashews, 1/3 cup coconut milk, 1/3 cup pumpkin pie puree and 1/4 cup maple syrup into food processor and blend for 3 minutes until smooth (scrape sides if necessary). Sweeten to taste by adding more maple syrup. Pour filling evenly over each crust, smooth the tops and tap to release air bubbles. Freeze for at least 6 hours or overnight. Let thaw at room temperature for 10 minutes before serving. Combine 1/4 cup cashew butter, 2 tablespoons maple syrup, 2 tablespoons coconut oil and 2 tablespoons chopped pecans and warm for 15 minutes on the stovetop. When melted, pour over each individual cake.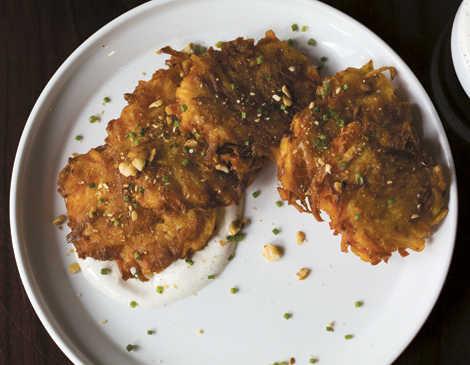 Pumpkin Latke With Autumn-Spiced Sour Cream and Toasted Hazelnut
"Potatoes and pumpkin go well together. The potato helps hold the starch and the pumpkin gives you that fall taste. The spiced sour cream adds notes of sweet and savory, and the crisp latkes and hazelnuts give it extra texture."
— Brendan Messina, chef and owner of Herb'n Twine Sandwich Co.
Peel and grate 1 1/2 pounds Russet potatoes and place shreds in a large bowl with chilled water to prevent oxidization and browning. Place the shredded potatoes in a large clean towel and squeeze out all of the moisture, making sure the potatoes are as dry as possible. Combine 1 cup freshly grated sugar pumpkin, 3 tablespoons pumpkin puree, 1 large grated shallot, 3 egg whites, whisked until frothy, 4-6 tablespoons all-purpose flour, 3 teaspoons kosher salt and 1 teaspoon cracked black pepper in a large bowl and add the potatoes. Mix all the ingredients together until thoroughly combined. Heat a large skillet with 1 1/2 inches of canola oil. Drop spoonful of latke batter into the pan. Flatten lightly with the back of the spoon. Cook the latkes for about 4 minutes on each side until golden brown. Transfer to a paper towel-lined plate or platter. To make spiced sour cream, combine 1 cup sour cream, 1 dash ground allspice, 1 dash salt, 1/8 teaspoon ground cinnamon, 1/8 teaspoon ground nutmeg, 5 teaspoons brown sugar and 1/4 teaspoon vanilla extract in a large mixing bowl and whisk until thoroughly combined. To toast hazelnuts, place 1 cup blanched hazelnuts on a small rimmed baking sheet. Toast in 350-degree oven for 10-15 minutes until lightly colored. Pulse nuts in food processor three or four times until finely chopped. Serve latkes with spiced sour cream and toasted hazelnuts for topping.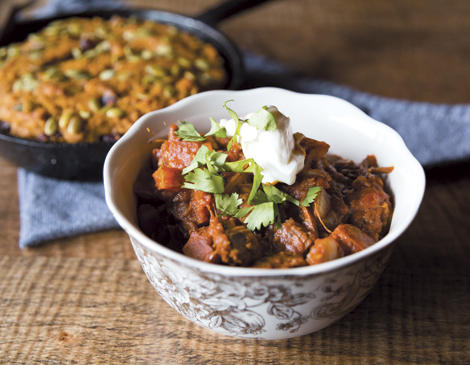 Pumpkin and Oxtail Chili
"Pumpkin is served in this chili chunked like a bean. It gives a velvety smooth background to the chili itself with the oxtail and other ingredients. It will really pop with the citrus of the tomato."
— Hunter Toth, chef and co-owner of Hook & Hoof
Preheat oven to 325 degrees. Coat the bottom of large sauce pot with olive oil. Season 2 pounds oxtail with salt and pepper. Heat pan at medium-high heat to brown oxtail on all sides. Place oxtail in a Dutch oven or covered pan and add 1 12-ounce pumpkin beer and enough water to cover oxtail. Cook for 2 1/2 to 3 hours. Place 2 pounds peeled and cubed pumpkin, 1 small diced yellow onion and 5 minced garlic cloves in a pot and cook on medium heat until softened. Add a 28-ounce can of diced tomatoes, 2 medium-size de-seeded poblano peppers, roasted, peeled and chopped, 1 chopped chipotle pepper, 2 tablespoons adobo sauce, 1 12-ounce pumpkin beer, 1 teaspoon kosher salt, 3 tablespoons honey, 2 tablespoons chili powder, 1 tablespoon cumin and 1 teaspoon ground black pepper. Bring chili to boil then let simmer for about 30 minutes. Take oxtail from oven and remove meat from the bone. Shred meat and add to chili. Garnish with fresh chopped cilantro, creme fraiche and cotija cheese to taste.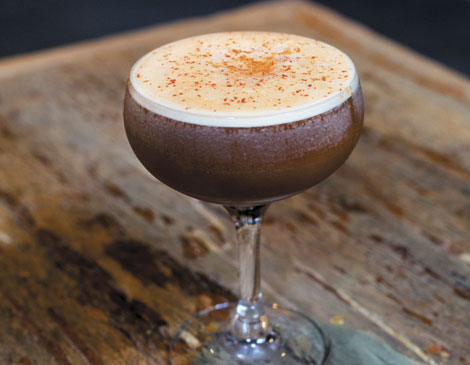 Lord of the Harvest
"I want this drink to be elegant and delicate without being difficult to make. This drink has hints of baking spice and warm spice. The pumpkin puree and beer lend the drink its acidity."
— Kathleen "Sully" Sullivan, general manager of the Spotted Owl
Combine 1/4 ounce St. Elizabeth Allspice Dram, 1/4 ounce Averna Amaro, 1/2 ounce grade B Ohio maple syrup, 1 1/2 ounces Old Overholt rye whiskey, 1 tablespoon pumpkin puree and 1 egg white in a shaker and shake. Double strain through a Hawthorne strainer and a mesh strainer into a coupe glass. Pour 2 ounces Dogfish Head Punkin' Ale into the cocktail. Top with grated cinnamon for garnish.