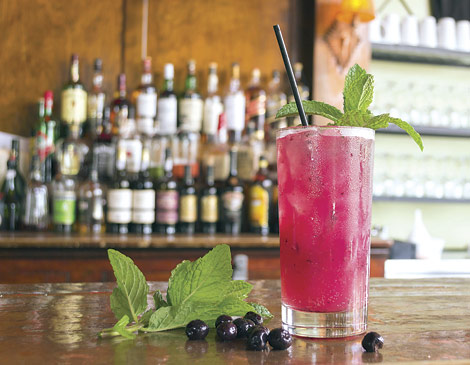 Blueberry Buck
"The blueberries are sweet, the rhubarb is tart and the contrast of sweet and acidic works well together. This cocktail kisses spring on the lips." — Ricardo Sandoval, chef and owner of Fat Cats
To make the rhubarb syrup, start by combining 1/2 cup sugar, 1/2 cup water and 1 cup of chopped rhubarb and simmer for 15 minutes. Cool, then strain. In a cocktail shaker, muddle together rhubarb syrup, 1 thin slice of ginger, 15 blueberries and 2 mint leaves. Add 1/4 ounce lemon juice and 2 ounces bourbon. Shake with ice and strain into an ice-filled 12-ounce glass. Top with 1 to 2 ounces ginger beer and garnish with a fresh mint sprig.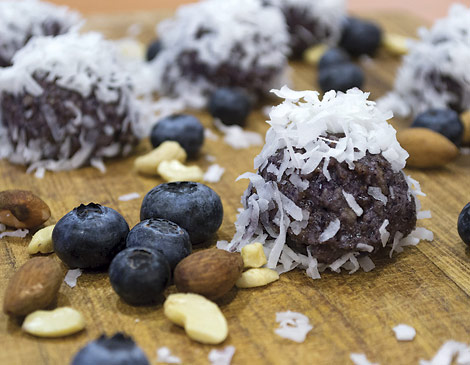 Blueberry Bliss Balls
"The cashew butter and sweetness of the dates play off the fresh blueberries. These are great to bring to a potluck, because there's always someone who is vegan or gluten-free." — Anna Harouvis, chef and owner of Anna in the Raw and Good to Go Cafe
Soak 12 pitted dates in filtered water for at least 12 hours, then drain. In a food processor, process the dates, 1/4 cup raw almonds, 1/4 cup raw cashews, 1 teaspoon vanilla extract and 1 tablespoon almond butter. Add 1/3 cup blueberries and process until well mixed. Freeze for 1 hour. Roll mixture into small balls and roll into unsweetened shredded coconut until covered.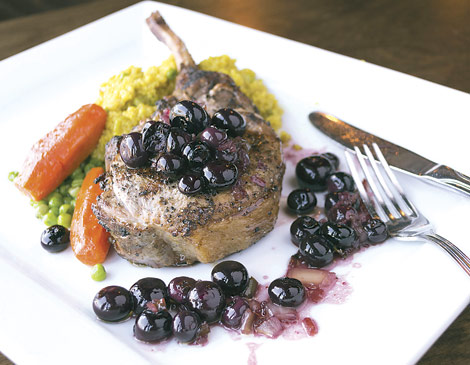 Cardamom and Sea Salt Pork Chops with Curry Quinoa Pilaf and Jalapeno Blueberry Compote
"Blueberries have flavor a bit like a melon, where they're not just sweet. They also have some savory notes and even a touch of umami. " — Dennis Devies, executive chef at Music Box Supper Club and the Rusty Anchor
In ramekin, combine 1 teaspoon cardamom, 1 teaspoon fresh ground sea salt and 1 teaspoon fresh ground black pepper to create rub. Coat 3 bone-in, center-cut pork chops in 1 tablespoon olive oil and sprinkle with rub. Grill on medium heat to desired doneness. To make the curry quinoa pilaf, sweat 1 tablespoon butter, 1/2 cup small diced onion and 1/2 cup small diced carrots in medium saucepan. Stir in 1 cup quinoa and allow to absorb butter. Add 1 tablespoon curry powder and 1 teaspoon turmeric and 2 cups chicken stock and simmer till tender. Add 1/2 cup fresh or frozen peas and cover to hold. To make blueberry jalapeno compote, add 1 tablespoon butter, 1 finely chopped red onion and 1 finely chopped jalapeno to a saute pan. Saute for about 10 minutes over medium heat until completely tender. Deglaze with 1/4 cup spiced rum and reduce by 75 percent. Add 1/2 pint fresh local blueberries and toss. Cook 1 more minute. Serve chops over pilaf and top with compote.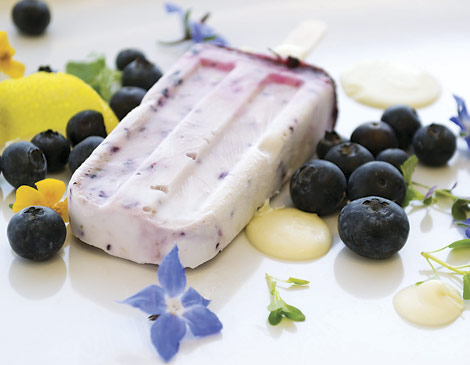 Blueberry-Honey Ice Lollies
"This dessert can be made in the morning and be ready by dinnertime. It's light, refreshing and fun for the kids to make." — John Selick, senior culinary manager at University Hospitals
Melt 1/2 cup white chocolate in a microwave and dip Popsicle sticks to cover half way and allow to dry. In a blender, add 1 package of fresh blueberries, 1/2 cup honey and the juice and zest of 1 lemon. Puree. Stir in 2 cups Greek or plain vanilla yogurt to create streaks. Pour the mixture into a Popsicle tray or Dixie cups and insert the chocolate-covered stick. Place in freezer for 4 to 6 hours.