Plain ice cream can be just so, well, vanilla, which is probably why there are so many options for toppings, sauces and mix-ins. But what's beyond the time-honored chocolate sprinkles and hot fudge of yore? Vicki Kotris, co-owner of Remixx Ice Cream and Cereal Bar, offers up a number of options to elevate your cones at home.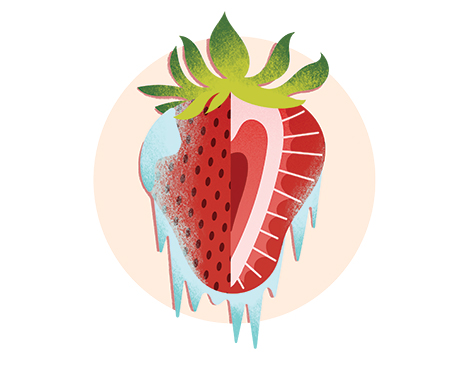 Frozen Fruit: It may not seem as obvious as it sounds, but adding fresh fruit can water down a cone pretty fast. Kotris suggests using frozen berries and bananas instead. "They hold up and offer crunch, too," she says.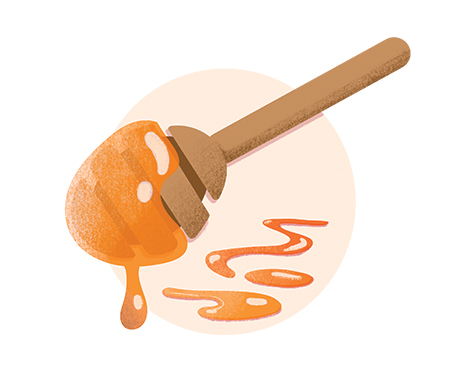 Honey Drizzle: Drizzle is the operative word here, since straight honey is far sweeter than even jarred chocolate sauce. Just heat it up a little before using a fork or spoon to drizzle it over top. "It's a good choice because it's usually a pantry staple," she says.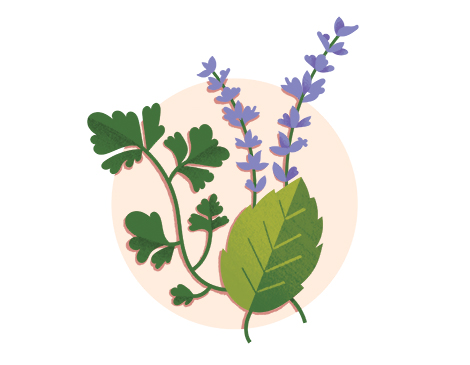 Fresh Herbs: Chop up some basil or lavender for a fresh burst of flavor. Think about what pairs well with the herbs in a non-ice-cream setting and you'll be on the right track. "Basil goes with strawberries, frozen blueberries pair well with lavender," she says.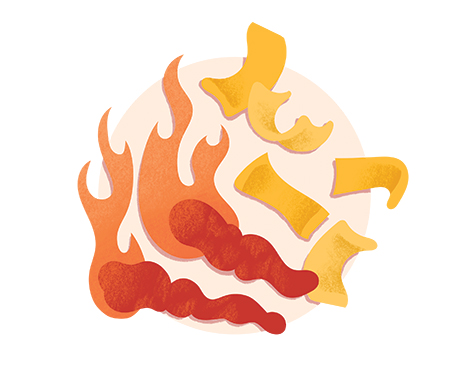 Flamin' Hot Cheetos: Sure, this sounds way out of the icebox, but Kotris compares this mix-in to drinking a cold glass of milk after eating something spicy. "It's fun to blend the two to create a sweet-heat flavor," says Kotris.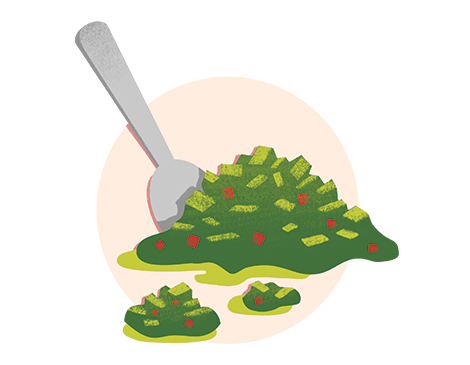 Pickle Relish: All those pregnant cravings can't be wrong. Pickle relish is an acquired taste ("I'm not big on pickles, so I'll leave it to the pickle lovers of the world to decide," admits Kotris), but this unexpected mix-in offers a bit of sour, color and a toothsome snap.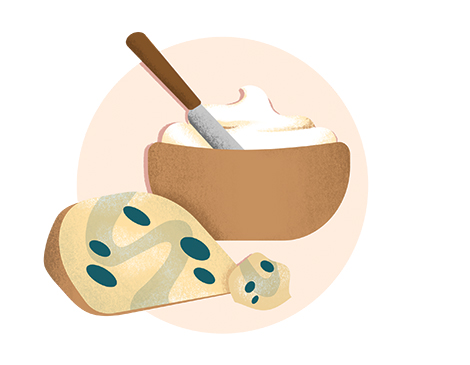 Soft Cheese: Kotris marvels at the possibility of mixing in blue cheese, mascarpone or brie for an added creamy touch that pairs well with fruits and other mix-ins. "Blue cheese with honey is like a cheesecake bite," she says.
Stop, Drop and Roll
Ditch the cone. Here are three alternative ways to serve up ice cream.
Rolled
Let your favorite ice cream soften at room temperature, then spread it thin on a metal sheet tray (make sure it's a tray with sides) and refreeze. "Rolled ice cream needs to be held to a colder temperature than normal in order for the rolling to happen," says Kassandra Morrison, owner of The Treatery. "Put the freezer on its highest setting, cover with plastic wrap and freeze for a half-hour." Using a metal spatula, start at one end and push the ice cream to the other side.
Sandwiched
Jessica Prewitt, manager of Cathy's Gourmet Ice Cream Sandwiches, says that no matter what you use, the ice cream in the middle needs to be firm, and not sherbet or sorbet, which will melt too quickly. "This sounds odd, but try marshmallows," she says. "Smash them down, either regular marshmallows or Peeps, and put the ice cream between them. In the summer, try slices of grilled peach."
Stuffed
Take a cupcake, muffin or other quick bread, cut off the top, use a melon baller to scoop out a hole in the center and replace that tasty ball of bakery with ice cream. "All the nut flavors go great with pastry or rolls," says Don Torma, owner of Country Maid Ice Cream.
Hand Made
No ice cream machine? No problem. Kassandra Morrison of The Treatery offers two ways to make ice cream from scratch: one with immediate gratification and another that requires patience.
In a Bag: Combine 1 cup half-and-half, 2 tablespoons sugar and 1/2 teaspoon vanilla extract in a small, zip-close bag. Then put this smaller bag into a larger, gallon-sized zip-close bag. Put 3 cups ice and 1/3 cup kosher salt into the larger bag, seal it tightly, and toss the whole package around until the ice cream mixture hardens (around 10 minutes). This is a terrific recipe to try with kids, since it's simple, quick and the mixing part is loads of fun. "You could add a little strawberry syrup to flavor it or chocolate," Morrison says. "Or use mint or lavender extract instead of vanilla."
In a Sheet Pan: This method works because the ingredients are laid flat and thin, so they can freeze without an ice bath surrounding them. "For this one, you just blend all your liquids together and pour them in a sheet tray," says Morrison. In a bowl, whisk together 1 pint heavy cream, 1 can sweetened condensed milk, a pinch of salt and any flavorings you choose such as a teaspoon of vanilla, crushed cookies or chocolate chips. Place your sheet pan in the freezer, then pour the ingredients into the pan. Cover it with plastic wrap and freeze for a couple hours. Once set, you can roll the ice cream with a spatula or transfer it into a bowl and re-freeze for scoopable ice cream. Or get creative: use a cookie cutter to make rounds for ice cream sandwiches or put it between two layers of pound cake.