'Nduja and Squash Bake
Get the party started with this casserole with a kick. "This is great to make ahead and take to a party," says Karen Gorman, chef and co-owner of Crumb & Spigot. "It's got surprising flavors. The fontina gives it creaminess and the taleggio gives it a funkiness that goes with the funk of the 'nduja, which is spreadable, fermented salami. It's like heaven in a crock."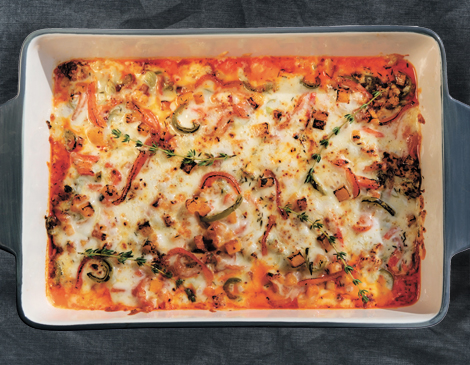 Preheat oven to 450 degrees. Roast 1 large red pepper over a gas burner flame until skin is charred black. Place in a plastic bag to steam for a few minutes then peel, seed, and slice thin. Heat a saute pan over medium heat. Add a couple tablespoons of extra virgin olive oil and 1/4 cup small-dice butternut squash. Saute until soft, about 5 minutes. Add 1 bunch scallions and 3 tablespoons chopped pickled jalapeños and saute until soft, about 3 minutes. Add 5 garlic cloves, peeled and thinly sliced, and cook until lightly browned. Remove from heat. Smash 6 ounces 'nduja into the bottom of an 8-inch cast iron pan or a small casserole dish. Layer in the red peppers, scallions, garlic and jalapeños. Sprinkle a few sprigs of thyme and top with 6 ounces grated Fontina cheese and 8 ounces Taleggio cheese cubes. Bake until hot and bubbly, about 10 minutes. Serve with crusty bread, crackers, or vegetables for dipping.

Butternut Squash and Cauliflower Gratin

This creamy casserole is easy for new vegans. "The cashews' fattiness makes up for what you're missing in dairy products," says Julianna Lutz, chef at Cleveland Vegan. "There's nutritional yeast in there too, which gives you the cheesy flavor you'd find in a cream sauce. It may seem advanced, but really it's just putting a bunch of stuff in a blender and blending it until it's smooth."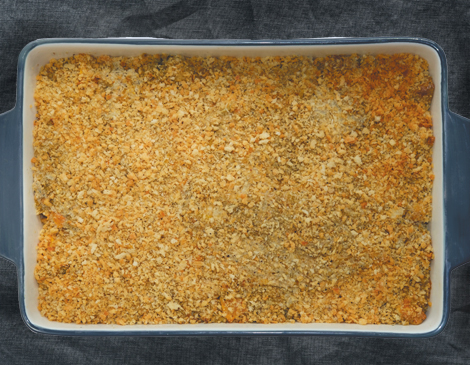 Preheat oven to 350. Soak 3 cups unsalted raw cashews in warm water for one hour. Meanwhile, peel and dice 1 butternut squash, toss in 1 tablespoon vegetable oil, salt and pepper to taste, and place on a baking sheet. Core and chop 1 large head of cauliflower down into bite size pieces, toss in 1 tablespoon vegetable oil, salt and pepper to taste, and place on a separate baking sheet. Bake cauliflower for about 15 minutes or until tender and bake butternut squash for about 30 minutes or until tender. While they bake, combine soaked cashews, 1 teaspoon garlic powder, 1 teaspoon onion powder, 1 teaspoon dry sage powder, 1/2 cup nutritional yeast, 1/2 teaspoon pepper, 1/2 teaspoon salt, and 4 cups almond milk in a high-speed blender and blend until creamy. Mix together roasted veggies and cashew sauce. Place in a 9x13 pan and top with 1 cup breadcrumbs. Bake uncovered for 30 minutes or until breadcrumbs are brown.

Meatloaf Casserole

Mama would be proud with this deep-dish take on the American classic. "Meatloaf is very homey," says Earl Warren, sous chef at Distill Table. "The caramelized onions give it sweetness and the mushrooms mellow it out, giving it an earthier flavor. The addition of soy and Worcestershire sauce gives it what we call a 'brown' flavor, almost like roasting."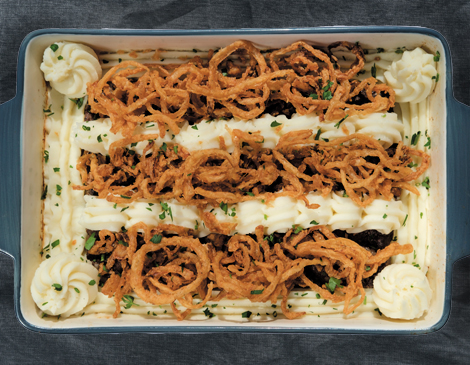 Preheat oven to 325 degrees. In a blender, blend 1 ounce caramelized onions and 1 ounce roasted mushrooms until smooth. Add 1 egg, 1/2 ounce Worcestershire sauce, 1/4 ounce soy sauce, 3/4 ounce ketchup, 3 ounces panko bread crumbs, 1 teaspoon garlic powder, 1/2 teaspoon onion powder, 1/2 teaspoon mustard powder, 1/4 ounce salt, pinch of black pepper, and 1 teaspoon chopped parsley in blender and blend until smooth. In a bowl, combine blended ingredients with 1 pound ground beef, mixing with your hands until fully incorporated. Grease a cast iron skillet or casserole dish. Place meat in dish, cover with plastic wrap and foil on top. Bake in oven 35 to 45 minutes until base reaches 135 degrees. When ready to serve, top with whipped potatoes and/or fried onions for an optional finish.


Frito Pie

When cooking up the recipe for this dish, Nolan Konkoski, chef and owner of Soho Chicken & Whiskey, aimed to put a higher-quality twist on casseroles that were served up during his childhood in upstate New York. "Here, the bourbon, Gouda and gold barbecue give the dish interesting and unique flavors compared to a shortcut version with packaged taco seasoning and cheese blends that are usually used," he says.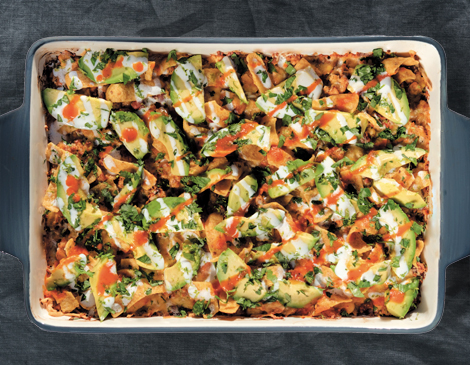 Preheat oven to 400 degrees. Heat 1 tablespoon olive oil and 1 tablespoon butter over medium-high heat. Saute 1 small diced red onion, until translucent, then add 1 small diced jalapeno, and saute 2 minutes. Sprinkle in 1 tablespoon chili powder and 1 teaspoon kosher salt, then add 1 pound ground chicken. Cook, stirring every so often, until all the chicken is just cooked thru, then deglaze with 2 tablespoons bourbon. Add 16 ounces strained white hominy, 16 ounces strained red beans, 1 cup fresh corn kernels and 1/2 cup gold bbq sauce. Stir everything together, and put a lid on the pan to steam 4 to 5 minutes. Cover the bottom of a 9x13 casserole pan with 1/2 a bag of Fritos. Pour half of the chicken and bean mixture over the chips, scatter 8 ounces smoked shredded gouda on top, and then pour in the remaining chicken and bean mixture. Top with 3/4 cup Monterey Jack cheese and 1/2 cup queso cotija and bake for 20 minutes, or until the cheese is melted and browned. Top casserole to taste with chopped avocado, chopped cilantro, sour cream, lime zest, and remaining Fritos.