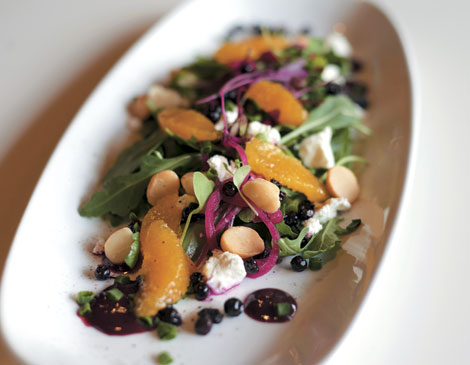 Roasted Chestnut and Rocket Salad
"Don't chop the chestnuts too fine for this salad, but don't leave them whole either. Just smash them with the side of a knife so some of the oils stay put. They pair nicely with the tang from the orange and the bitter bite from the arugula." — Demetrios Atheneos, chef and owner of Forage Public House, the Oak Barrel and Bold Food & Drink
Combine 3 ounces smashed roasted chestnuts, 2 ounces wild arugula, 1 ounce goat cheese, 1/4 cup mandarin orange sections, 2 tablespoons pickled red onion and 1 ounce huckleberries. Separately, emulsify the seeds and juice of 1/3 pomegranate, 1/4 cup apple cider vinegar, 1 teaspoon Dijon mustard, 1 chopped shallot, 1 tablespoon chopped cilantro and 1 tablespoon honey. Add 1 1/3 cups blended oil. Toss vinaigrette with salad.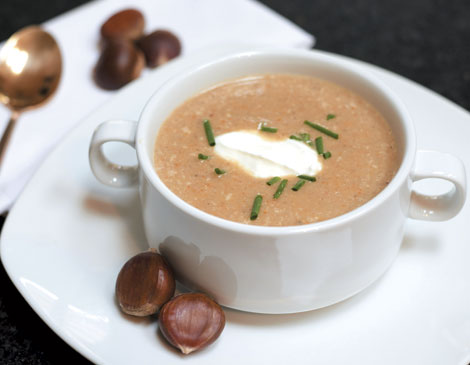 Chestnut Soup
"You'll want to puree this soup really smooth. It's so simple, so delicious and the chestnuts give it body and a soulful flavor." — Ruth Levine, co-owner of Bistro 185
Finely chop and lightly saute 1/2 cup celery, 1/2 cup carrot, 1/2 cup onion, 1/2 cup leek (white part only) and 1/2 cup parsnip in 4 tablespoons butter. Add 1 medium Yukon Gold potato scrubbed and finely chopped (no need to peel), 1 bay leaf, 6-8 cups chicken broth, 1 15-ounce jar cooked whole chestnuts, 1 cup heavy cream, 1/4 cup Madeira, port or brandy, and salt and pepper to taste. Simmer until vegetables are soft. Remove bay leaf. Puree soup in blender and strain through a fine sieve. Serve warm, garnished with a dollop of whipped cream that has been whipped with a tablespoon of brandy.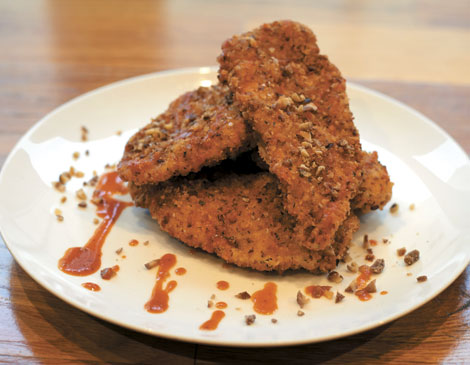 Chestnut-breaded Fried Chicken
"Fried chicken is summer picnic food but adding chestnuts takes advantage of the season and grounds it to this time of year." — Nolan Konkoski, chef and owner of Soho Chicken & Whiskey
Combine 6 ounces finely chopped roasted chestnuts, 1/4 cup grated Parmesan, 2 cups panko breadcrumbs, 1 tablespoon herbes de Provence and 1 teaspoon ground nutmeg in a bowl and mix. In a separate bowl, whisk 6 eggs together. In a third bowl, whisk together 1 cup flour, 1/2 teaspoon smoked paprika, 1/2 teaspoon garlic powder and 1/2 teaspoon black pepper. One piece at a time, dredge 3 5-ounce chicken breasts, butterflied into 6 thin pieces in the flour, the egg and the chestnut crumbs. Fry the chicken in 325-degree oil for 5 to 6 minutes. Lightly sprinkle with
sea salt immediately after removing from hot oil.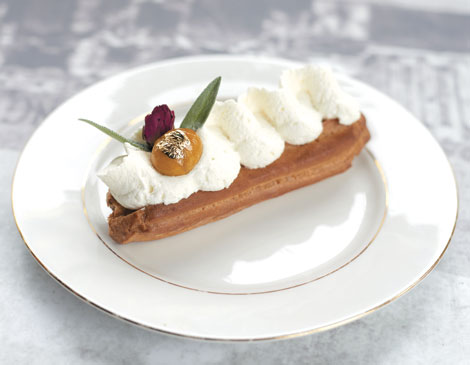 Chestnut Eclair
"The chestnut blend in the cream has an earthy richness, and there's a lightness in the whipped cream. Those textures, with the crunch of the eclair, is just amazing." — Britt-Marie Culey, chef and co-owner of Coquette Patisserie
To make the pastry dough, bring 1 cup whole milk, 1 cup water, 1 cup unsalted butter and a pinch each of salt and sugar to a boil. All at once, add 1 cup sifted all-purpose flour and stir vigorously with wooden spoon. Continue stirring and cooking on medium heat until a ball forms and dough pulls away from edges of the pot. Transfer to mixer and beat with paddle attachment on high for 2 minutes. On medium speed, add 9 whole eggs, one at a time, until fully incorporated. Scrape continually. Pipe batter using star tip on parchment-lined sheet pans. Each eclair should be 4 to 5 inches long. Bake in a 425-degree oven for 15 minutes. Rotate and bake until golden brown for about 15 minutes. To make the pastry cream, bring 4 cups whole milk to a boil in a large pot. In a large bowl, whisk 10 egg yolks, 1/2 cup and 3 tablespoons corn starch, and 1 1/4 cup sugar until light and fluffy. Slowly temper the boiling milk into the yolks mixture, whisking constantly. Transfer back into the pot. Whisking constantly, bring mixture to boil over medium heat for 3 to 4 minutes until the thickened cream starts to thin slightly. Remove from heat and whisk in 3 and 1/2 tablespoons unsalted butter until fully incorporated. Pour immediately onto a plastic wrap-lined sheet pan and spread evenly. Cover surface with plastic wrap and chill until cold. To soften, mix with the paddle attachment on slow speed until smooth. To make the chestnut glacé start by boiling 1 cup sugar, 1 cup water, 1 tablespoon cardamom and 1/3 cup maple syrup. Add 24 whole roasted chestnuts and cook for 30 minutes. Remove 5 chestnuts and set aside. Puree the remaining 19 chestnuts using some of the liquid to thin as needed. Add 1 teaspoon vanilla bean paste. To assemble, cut the eclair tops off lengthwise and set aside. Combine the pastry cream and glacé until smooth. Pipe into the bottom of the eclairs. Whip 2 cups heavy cream with 3 tablespoons powdered sugar and 1 teaspoon cardamom until stiff peaks form. Pipe the whipped cream, using a star tip, on top of the pastry cream. Dot with the 5 reserved chestnuts, chopped. Dust the eclair tops with powdered sugar and place on top of the composed eclairs.