Kristina Cho's cellphone buzzed with congratulatory messages just as she was about to change into her wedding dress. 
"My brother's fiancee literally just shouted, 'You won!,'" she says.
Cho, a Westlake native, was preparing to walk down the aisle in Walnut Creek, California, when, in Chicago, she had just won two James Beard Awards, the food industry's highest honor.
Her debut cookbook Mooncakes and Milk Bread: Sweet and Savory Recipes Inspired by Chinese Bakeries won the Baking and Desserts book award. Cho was also recognized with an Emerging Voice award in the books category, an honor given to a first-time author who has created a work of lasting significance.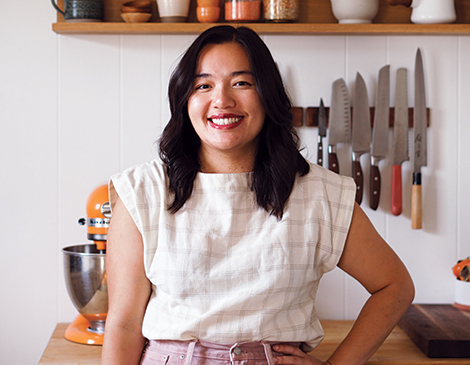 A few months earlier, Cho had joked with her future husband, Reuben Alt, that it would be just her luck if the prestigious awards ceremony fell on the same day as their wedding. Naturally, the awards ceremony remained in the back of her mind that day. She didn't really expect to win an award, let alone two, as a novice cookbook writer.
"A human being should not go through that much anticipation in one day," she says. "It's not healthy."
Wing Tai and Wanda Cho raised Kristina and her brother, Tyler, in Westlake where she knew few other Asian kids.  "I wasn't totally aware of how small my community was represented," she says.
Cleveland's AsiaTown neighborhood is where she regularly connected to her Chinese heritage. "My grandparents moved to Cleveland from Hong Kong in the late '60s. About a block away from Li Wah. We'd walk there on Sunday to get dim sum."
Cho grew up cooking alongside her pau pau (grandmother) making dumplings and joong, a sticky rice tamale wrapped in bamboo leaves. Her goong goong (grandfather) learned to cook before moving to America, where he eventually opened several restaurants, including Tai Pan, now closed, in Westlake. A tight-knit family, everyone was expected to offer to help, and she and her brother often greeted guests.
Armed with an architecture degree from the University of Cincinnati, Cho relocated to the Bay Area, settling in the Inner Richmond neighborhood. Here, she connected with her culture in a new way.
"There was normalcy as a person of color," she says. "I heard Cantonese coming out of the restaurants and at the bus stops."
When practicing architecture lost its luster, she slowly redirected her attention to cooking and baking, where her creativity and attention to detail came in handy.  In 2017, she started Eat Cho Food, a blog to document her culinary adventures. She shared recipes she enjoyed as a Chinese American girl growing up in Ohio. "I felt so alone in that. I wrote from that place. People could relate to that experience."
The blog's buzz-worthy moment was a turning point for her. Cho's followers went wild for her hot dog flower buns — pillowy hot dog-hugging dough rings that resemble a five-petal flower when baked.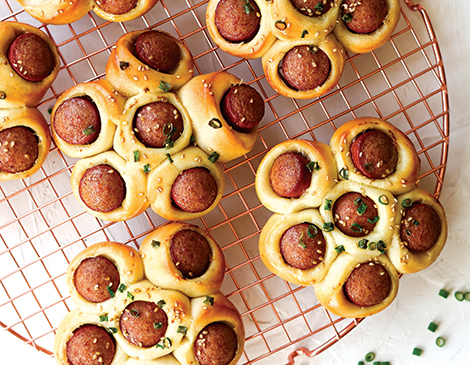 Cho's nostalgic treat is quite "Instagrammable," which exposed the dish to a mainstream audience. Cho noticed "an intense reaction" among her few thousand followers. A literary agent made the first overture, and soon, Cho was working on her debut cookbook.
The book focuses on Chinese baking, with several different techniques, including a Hong Kong style, which runs the gamut from simple to ornate, classic to contemporary. It's an ethnographic document interwoven with a Midwestern, Chinese American family story. Cho dedicated it to her grandparents' memory.
As for the cookbook's title, Cho liked the paradox. "Mooncakes are very old world and traditional, and milk bread is newer, as are many other recipes in the book," she says.
Mooncakes, a popular symbol of the Chinese Mid-Autumn Festival, represent unity, happiness and family. Cho grew up eating these Cantonese-style desserts, which are intricate and special. Her pau pau wouldn't attempt them, believing that mooncakes were made only by master bakers.
Milk bread, on the other hand, is a "gateway recipe" for a lot of people, Cho says. "Once you master this simple but incredible bread you unlock many more recipes in other chapters," she says.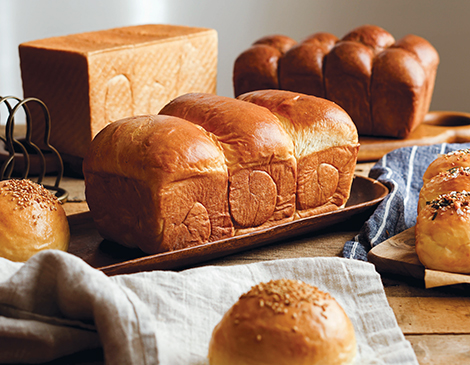 Throughout the book, Cho injects personal memories of family and her formative years in Cleveland, where shopping, eating and being raised by a community of "aunties and uncles" are memories she holds dear.
Cho has sprinkled in personal favorites like Macau egg tarts and Taiwanese pineapple cake. There are also recipes for beginners, like her After-School PB&J Bao (bun) or the classic Dan Tat, an egg tart. For the more adventurous, and arguably dexterous, there is the Rose Siu Mai, an intricately rolled, open-faced stuffed dumpling, or the red bean and salted-yolk mooncakes, which are made using a
specific mold.
Her goong goong's almond cookie recipe is the most special to her. She tells his story in the book. Her grandfather wanted to be a baker but put it on the back burner as his restaurants took off. He never really mastered the craft except for a legendary almond cookie, which was chewy in the center with a crisp edge.
"I developed the recipe based on a memory," she says. "The summer before I left for college we baked together. That's the only baking memory I have with my grandpa. He passed away right after that." 
Cho is adjusting to life as a newlywed and a published author. "Until I die, I'll have 'James Beard-nominated cookbook author' in front of my name," she says.
She's working on her second cookbook, which centers around savory dishes, and would "love to manifest" a Food Network show. Cho visits Li Wah, Siam Cafe and Koko Bakery when in town and looks forward to her mom's "epic shopping trips" in AsiaTown.
"We were really lucky to have this semblance of a Chinatown or an AsiaTown here in Cleveland," she says. "A lot of cities don't have that."