Shaker Heights native Brad Friedlander can't help himself from opening new restaurants. "It's a sickness," he says, laughing. "I just see new ideas, and I can't stop."
At 69, he's pretty sure he's opened 14 restaurants since starting with Lopez y Gonzalez in Cleveland Heights in 1980 — but off the top of his head, he isn't entirely certain.
These days, Clevelanders know him best for former ventures such as Red, the Steakhouse, which has three locations in the Cleveland area and one in Miami, and the now-defunct Moxie, which closed last April after 22 years. In its place now is Blu, the Restaurant, an upscale, seafood-focused spot that opened in July.
Friedlander himself isn't a chef, but he comes from an unconventional foodie family: His father, once named "The Weiner Czar of Cleveland," owned a downtown deli and multiple concession stands at Cleveland Municipal Stadium. Friedlander worked for him while growing up, but initially, he didn't plan to go into the restaurant business. He wanted to go into the movie business instead, leaving Cleveland to attend film school in California.
In 1975, however, Friedlander flipped the script by returning to Cleveland and entering the restaurant industry — which, it turns out, allowed him to play the part of producer and director.


"The curtain goes up every night when you open," he says, expounding on the metaphor. "You've got to stay on task, and everybody's got their part — remembering their specials and their lines."
As with great films, Friedlander's past restaurants have received critical acclaim: Red has been recognized by Thrillist, Esquire and Playboy Magazine as one of the top steakhouses in the country.
And Blu, of course, serves as an upgraded counterpart to Red, making for a colorfully named surf-and-turf culinary duo.
"The idea for Blu came up within the first year of opening Red," Friedlander says. "The idea just seemed fun — red and blue, meat and fish."
Though he'd originally thought South Beach, Florida, would be the right location for Blu, he shelved the concept until last year, when he decided it was time for a change. After more than two decades in business, Moxie had started to feel stale — and Friedlander's old idea for a new concept called to him.
"Sixty-five percent of what we were selling [at Moxie] was seafood, so it just kind of clicked that maybe this is what we should do," he says. "We'd get more excitement over a new concept than trying to rebrand the same one."
Just as Red offers a number of seafood dishes — think whole Maine lobster, king crab and other of-the-sea favorites — Blu's menu follows suit by featuring a number of steak options such as bone-in ribeye and filet mignon carried over directly from the steakhouse's list of greatest hits.
Even longtime Moxie lovers will be glad to reunite with the spot's beloved burger ($16 lunch, $18 dinner), a classic made with aged cheddar, Nueske's bacon, tomato, lettuce, onions and a special sauce — the epitome of simplicity and familiarity, perfectly done.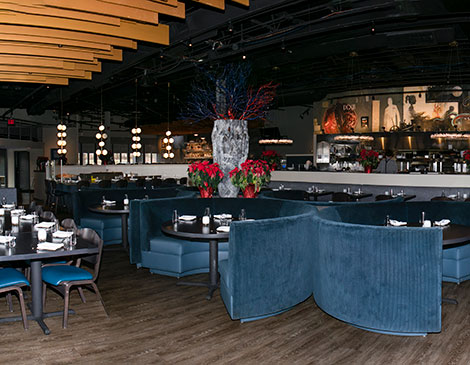 "We have regulars that come in and get this twice a week for the past 20 years at lunch," says executive chef Joseph Lang, who worked at Moxie and now runs the kitchen at Blu. "Everything about this burger is high-end, from the brioche bun that's made in house every single morning to the certified Angus beef patty that we form every day."
High-end ingredients are the calling card for all Friedlander's restaurants — something that's especially important for a seafood restaurant in a noncoastal state.
"We provide everything as fresh as possible," says Lang. "Yes, we're in Cleveland and we're landlocked except for Lake Erie, but everything we bring in, we bring in daily."
That includes fresh oysters brought in six days a week from Blue Island Oyster Farm in New York, bronzini imported from Greece and U10 scallops shipped in from the East Coast. A full-time butcher, who's been on Friedlander's staff for 22 years, checks and cuts all the seafood. In fact, Lang and Friedlander are so confident in the quality of their ingredients that Blu's menu features a section of a la carte fish dishes served without frills.
"We have no problem letting that fish on a plate stand alone with just the flavor of the fish and the sauce that we pair with it," Lang says. "It speaks for itself."
One of those standouts is the ahi tuna ($42), a dish so minimalist in presentation that it's almost alarming in its utter simplicity. Accompanied only by a light ginger-scallion vinaigrette beneath it, the 7-ounce center cut is pan-seared and served rare for a firm, flavorful tuna steak with just a hint of zingy Asian influence. The only downside: It's not quite enough food to constitute a full meal. Turn to sides such as roasted sweet potatoes and Brussels sprouts served together ($11) or lobster mac 'n' cheese ($23) as add-ons.
Other dishes are served with more fanfare, notably the Florida hog snapper (market price), which comes with black beans, sofrito, scallions and other Latin-inspired accoutrements. The fish is served head-on and whole, delivered on a platter so large it begs nearby diners to notice.
"It's the most amazing presentation of a whole fish, kind of curled up with this cilantro salad on top of it," Lang says. "The wow factor is unbelievable."
Less ostentatious in presentation but no less delicious are the jumbo diver scallops ($38) basted to a golden brown with butter, garlic and thyme. Though Lang is dreaming up an alternate flavor to swap in come spring, the most recent version was served four to a plate with a block of savory bread pudding laden with chunks of butternut squash.
"It's my favorite scallop dish, especially because bread pudding is such a comfort food," says Lang. "We bake it off in the oven until it's perfectly golden brown and serve it with these pan-seared scallops that are enormous."
Not convinced that you'll love seafood, even of Blu's quality? Lang offers seafood-light dishes and seafood-free dishes, leaving room for nervous diners to order within their comfort zones or push a bit past them.
"Even I have friends that haven't stepped into Blu yet because they think they don't like seafood," Lang laments. "I get it, we have a raw bar and a lot of seafood, but there's a ton of stuff that we've made accessible to anybody."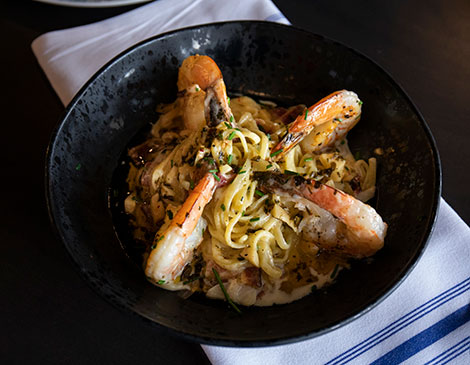 Of note is the shrimp carbonara ($24), homemade linguini noodles tossed in a creamy white sauce featuring a cured egg butter. It's topped with chewy bacon lardons and an Italian "salsa" of olive oil, herbs and Parmigiano-Reggiano. One of Blu's heavier dishes, it's ideal for a cold night in Cleveland with enough left to take home.
For all the fanfare Blu has rightfully received, here's the thing: It isn't even Friedlander's newest restaurant. After selling Red in May 2019, he opened a new concept in December called Rosso Italia in the former Red space next to Blu.
Now, both Rosso and Blu share a kitchen operated by Lang and his team. It's a clear sign that Friedlander's series of restaurants are ongoing — he's still a director and producer at heart.
"You're only as good as the last meal you served," he says. "It's like a show every day."


Try This: Leave room for the Israeli-inspired fried dough ($9), baked with hot chocolate, tossed in sugar and served in a trio of white, dark and milk chocolate sauces.

Art Restoration: The focal point of Blu's decor is a long, wraparound mural leftover from Moxie, originally painted by artist Paul Schuster. The figures populating the scene have since gotten an upgrade from local artist Charity Matty Gangale with the addition of tattoos, piercings and a jaunty crab holding an umbrella.
When You Go: Blu, the Restaurant, 3355 Richmond Road, Beachwood, 216-831-5599, blutherestaurant.com, Mon-Thu 4-10 p.m., Fri 4-11 p.m., Sat 5:30-11 p.m.