Home is where the heart is.

For Paul Mendolera, executive chef and co-owner of Element 41 in downtown Chardon, it's that Geauga County pride in abundant, hyperlocal ingredients that sets their food scene apart from other cities.

"The people out here like their pure maple syrup, local corn and food from local farms," Mendolera says. "They have big farmers markets on the weekends and they love local produce and cheese."

Taking advantage of the best fresh ingredients the area has to offer, Mendolera — a Garfield Heights native who owns the restaurant with his wife Julie — has honed his culinary creations down to a science by assembling a concise, curated menu of rustic comfort foods with the occasional posh twist, including flower garnishes and creative uses of maple syrup.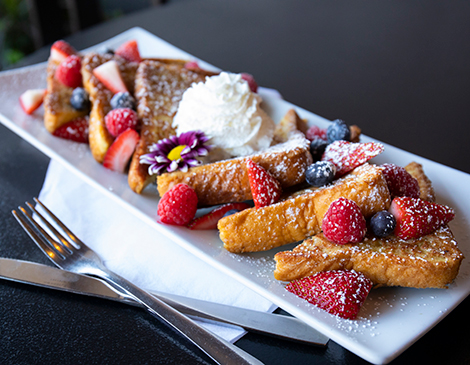 "We take comfort foods but put a rustic twist to it," he says.

Mendolera has worked in the food industry since he was 13, when he lied about his age to get a job at a local pizza shop. He's dreamed of opening his own restaurant ever since. It became a reality in 2017, when he saw the location of a former barbecue smokehouse was for sale in Chardon Square.

"I was putting in 70 to 80 hours a week working for other people, and I was like, I might as well do this for myself," he says of the decision to strike out on his own.

He already knew the area well from his five years as the chef at nearby Bass Lake Taverne & Inn, where he got a feel for cooking with the local ingredients that are now integral to his menu.

"I wanted to bring Geauga County out in the food and on the plate," says Mendolera. "I wanted to showcase and be proud of where we're at and what we're known for."

Thus, Element 41 was born.

For Mendolera, a professional chef who undergoes yearly MRIs to monitor his multiplesclerosis, the restaurant's name is representative of multiple facets of his own life. Niobium, the 41st element on the periodic table, is a light gray metal used in both MRI machines and cooking knives. The bistro's minimalist modern decor is also inspired by the element, with a vintage tin ceiling, a hammered tin bar and walls painted in shades of gray.

For the Mendolera couple, who also comanages the restaurant, it's a real family affair: He's the executive chef, Julie's the general manager and all three of their children work or help out in the restaurant in some way.
It's easy to see the possibilities in Element 41's menu, likely due to Mendolera's enthusiasm, passion and the ample experience he picked up as the chef at other respected restaurants such as XO Prime Steaks and Bratenahl's Shoreby Club. But while his intent is clear and the menu is appealing, in practice, the restaurant sometimes wrestles with consistency in execution, ultimately resulting in a mixed bag of a dining experience.

On good days, Element 41 has the capacity to hit all the right marks, offering up better-than-average versions of the cozy foods Clevelanders crave during colder months.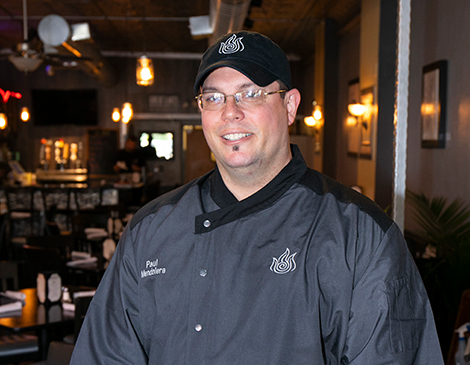 One of the tastiest examples is the short ribs ($25). Mendolera seasons, sears and braises thick-cut beef for five to six hours in a hot beef broth, which makes the meat fall-off-the-bone tender. It's served with sweet potato gnocchi made from hand-mashed sweet potatoes, cream, flour and egg and sides of asparagus tips, bacon and a wild mushroom au jus to be poured over top.
"It's very flavorful with the sweet potatoes," Mendolera says. "We hand-mash them with an old brass hand-masher. With the bacon and the mushrooms, it's just going to be a nice heartier dish."

The braised pork osso buco ($26), too, is a warm-your-bones hit, with meat so tender it slides right into the cheesy, mushroom-laden mountain of risotto beneath it.
Want risotto without the meat? Mendolera is heavy-handed when making his grilled vegetable risotto ($18), which comes packed with grilled sweet corn, asparagus tips, zucchini, squash and a zingy red pepper coulis. It makes for a meatless dish that's hearty, filling and flavorful.
"It's creamy and cheesy and delicious — and it's actually what won my wife over when we first started dating," Mendolera says. "She was like, 'Make me risotto, and we're gonna get married.'"

Another special standout is the beet and goat cheese salad ($13), which comes in a bowl lined cheese and candied pecans. The star, though, is the house-made maple-balsamic vinaigrette, a creamy, not-too-sweet way to show off the liquid gold for which Geauga County is best known.
In fact, local diners' devout love of maple syrup inspired Mendolera to further feature the ingredient in a weekend brunch.
"We're in the heart of maple country, and people here really enjoy their maple syrup," he says. "It's the calling card for Geauga County."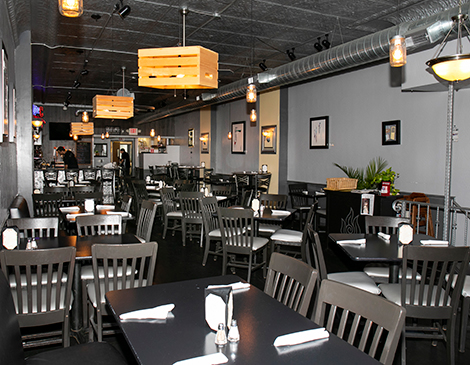 Mendolera uses brunch to showcase syrup in ways that are fairly standard, but particularly well-executed here, elevated simply by the caliber of the condiment. The syrup, which comes from Richard's Maple Products in Chardon, appears alongside staples such as the chicken and waffles ($13) made with buttermilk-fried Amish chicken, and the French toast ($8) served with seasonal berries.
"It's my wife's recipe," Mendolera says proudly of the French toast, made with a batter of eggs, sugar and heavy cream. "We soak cinnamon sticks in there for a whole day so that the [mixture] pulls in all that fresh cinnamon flavor."
Unfortunately, the addition of maple syrup doesn't always guarantee success. Although Mendolera says it's one of the restaurant's most popular dishes, the famed maple bourbon
glazed Brussels sprouts ($10) fell flat. Though deliciously dressed with a sweet sauce, crisp-smoked bacon and tart pickled onions, the veggies themselves were wilted, wet and ultimately left unfinished.

The Element 41 Burger ($15), which appears on both the lunch and dinner menus, has been named to various local "best burger" lists, but ours was a letdown. It arrived overcooked and came without a trace of the house-smoked garlic mayo the menu promised. The thin-cut, herbed french fries were almost tasty enough to make up for it, especially dipped in Mendolera's house-made hint-of-maple barbecue sauce — but alas, we cannot live on french fries alone.
Beyond the food, the service, too, is hit or miss, and at a restaurant that aspires to be upscale in a small town, that can make all the difference.

On one visit, our young server forgot our order and had to return to ask for it a second time. The second round of drinks we requested never arrived, nor did the server come back to our table again, except to hand us our bill after a middling two-hour meal.
On a later visit, though, our server was jovial and attentive, offering helpful suggestions and frequent refills, ultimately making for a completely different — and much more enjoyable — experience.
Mendolera says he knows his current staff, largely made up of high school students, grapples with providing consistent service, especially amid unpredictable dining patterns.
"Sometimes we have one server and we get annihilated, or we have two servers and we're dead that day," he says, "but then sometimes it's just phenomenal and everything works exactly as it should."
Two years into the operation, Mendolera's devotion to the restaurant, the community and the food he's created for them are evident in the way he speaks about his work. As the restaurant kicks off its plans for the new year, including live music nights and beer and wine food pairings, more careful attention to detail could make all the difference.
"I want people to notice the love and the passion that I put into my own place and into the food," he says. "I want people to feel welcome when they come in and have a very memorable dining experience."


Try This: Leave room for the Heavenly Pudding ($6.95), a warm, spongy dessert inspired by malva pudding, a South African classic. It tastes like the love child of a caramel-dipped bread pudding and a decadent oatmeal cookie — with a bit of maple syrup added for good measure.

In Bloom: Many of the restaurant's dishes are topped with delicate microgreens that include tiny, brightly colored flowers, all suitable for eating. "It's like edible artwork," says Mendolera.
When You Go:
Element 41, 141 Main St., Chardon, 440-214-9011
element41chardon.com
Tue -Thu 11 a.m.-9 p.m.
Fri 11 a.m.-10 p.m.
Sat 9 a.m.-10 p.m.
Sun 9 a.m.-2 p.m.