Ohio City Pizzeria isn't your nonna's Italian restaurant.
Sure, the pressed tin ceilings, red checkered tablecloths and gilded portrait of St. Martin de Porres that presides over the cozy 34-seat dining room reflect the iconography of Italian-Americana. But you're less likely to find church ladies than you are a table of nurses becoming increasingly rambunctious as they unwind over white wine and pizza. Or, perhaps a crowd of Chelsea-booted young professionals milling around the bar, unwinding with $2 Pabst Blue Ribbons and eyeing enormous bowls of fettuccine ($12) swimming in garlicky alfredo sauce.
For more than 30 years, Angie Zingalis ran Ohio City Pizzeria as a hole-in-the-wall pizza place, beloved by near-West Siders for dishing out hearty pies, wings and fries. When she wanted to retire from the pizza game, she contacted OCP's neighbor, the West Side Catholic Center.
"Ohio City Pizzeria was accessible," says John Litten, WSCC's executive director. "It was an easy place to pop in and grab a slice of pizza."
Since 1977, the WSCC has provided critical services to Clevelanders experiencing homelessness. Last year, the nonprofit served hot meals, provided shelter to families, women and veterans and offered babysitting and workforce training to more than 8,000 people.
"It was strategically important for us to get the building," says Litten. "We could go another 50 years before another adjacent property to our three buildings would come about, so it was really important for us to acquire the building regardless of what the use would end up being."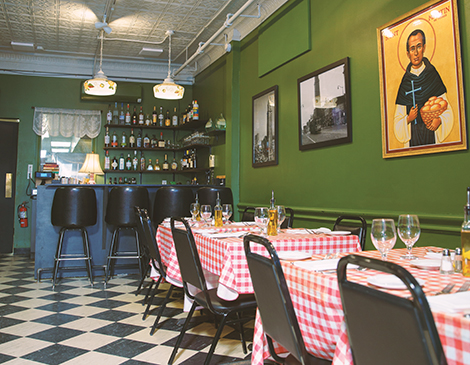 In 2018, Zingalis sold Ohio City Pizzeria and its building to the WSCC and Litten reached out to Brandon Chrostowski, a Cleveland restaurateur whose work was at the intersection of service and hospitality with Edwins Leadership & Restaurant Institute. Since 2007, Edwins has provided formal workplace training in the hospitality industry to formerly incarcerated adults and underserved communities at its flagship French restaurant in Shaker Square and nearby butcher shop and bakery. With Chrostowski's guidance, the WSCC wanted to find a way to incorporate their mission into running a pizza restaurant.
"Transportation challenges being what they are, the idea of having an employment opportunity on our premises was too intriguing to pass up," says Litten.
Chrostowski worked with WSCC to reimagine Ohio City Pizzeria. The restaurant got a fresh coat of olive-green paint, air conditioning and new lighting that turned it from a takeout spot to a sit-down restaurant. What's more, Chrostowski took a research trip to the Bronx's Arthur Avenue — one of the most prominent Little Italy neighborhoods in the United States — to modernize the pizzeria's cuisine.
"I spent a week up there procuring the right product, the right pepperoncini, the right red pepper flakes," says Chrostowksi. "In the dining world, some things have to be run-of-the-mill; there's a price behind it. But there's some explosions that make people say 'Wow.' "
Ohio City Pizzeria reopened in summer 2019, managed by graduates of Chrostowski's hospitality training at Edwins and staffed largely by servers who had completed the WSCC's eight-week training program. There, they learned the skills necessary for working in a small, contemporary restaurant — cutting and chopping, opening and serving wine and using a point-of-sale system.
Chrostowski helped develop a new menu of antipasti, salads, pasta and main dishes to accompany the pizzas. But a pizzeria's heart and soul lie in the pies.
"For 30-plus years, that was the place — the beacon of light for pizza in the neighborhood," says Chrostowski.
For decades, Ohio City Pizzeria served thick pies topped with a slightly sweet tomato sauce and finished with a mountain of provolone. After a brief experiment with New York-style pizza, Chrostowski knew he had to stick to the original style, with a few tweaks. For one, the tomatoes now come from California's Stanislaus Foods, a brand favored by diehard pizzaiolos.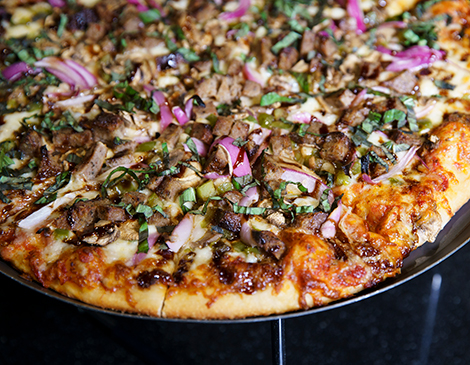 "Any pizza shop in New York that has any sort of reputation and quality uses these," says Chrostowski.
The crust is thick, with a prominent breadiness — similar to what enthusiasts call Detroit-style pizza — and a buttery crisp thanks to the residual fat left by the lightly smoked Galbani provolone that blankets them. Toppings emerge like shipwrecks, each piece pulling away with as gooey strands of cheese as in old episodes of Teenage Mutant Ninja Turtles.
The pepperoni ($14-$17) is a great place to start, but the pizzeria's best pie is the Wildcat ($19-$24), topped with meatballs, onions, basil, green peppers, mushrooms and a balsamic reduction that provides acidic balance.
"It's about playing with the palate, the sweet, sour from the balsamic reduction," says Chrostowski. "We know it's not light, but there's a brightness to it."
If you're looking for a pie-alternative, head to the OCP Classics menu for some Pizza Fries ($7) topped with the fixings from your choice of pizza. The fried mozzarella ($6) is another gem. Five sticks come fried to stretchy, golden brown perfection. They're served with the restaurant's velvety, resplendently tangy house red sauce.
"It's about getting the garlic and onion in there, using the right blend of tomatoes — some are diced, some are pureed and some are whole — and literally using your hands to crush them up," says Chrostowski.
The pizzeria's new trattoria dishes will look familiar to those who frequent Cleveland red sauce restaurants. Lighter dishes on the salad and antipasto menus serve as acidic foils to cheese- and cream-heavy main courses. Among the pastas, you'll find the best dish on the menu: a spectacular lasagna ($12) with 20 ingredients including four cheeses, sausage, veal, the house red sauce and Chianti.
"I'm a freak for lasagna — it's my favorite food," says Chrostowski, who acquired the recipe from a friend. "The whole recipe is laborious, expensive, but extremely delicious."
For the main dishes, the osso bucco ($25) makes for a striking centerpiece. An enormous veal shank is seared and braised in veal stock, tomato and red wine for hours before it rests overnight in its cooking liquid. This liquid is then reduced to a thick sauce, which is used to glaze the fork-tender shank over a cream-enriched risotto.
"It's got to sit in that liquid," says Chrostowski. "Once it relaxes, all that great flavor is in the osso bucco."
Those who have dined at Edwins will be familiar with the restaurant's expansive list of French wines, and Chrostowski pulled out all the stops here with a hundred or so bottles and glasses. The list emphasizes Italian varieties balanced with California cabernets and chardonnay. This is complemented by a short list of classic Italian cocktails including Negronis ($10) and Aperol Spritzes ($11).
Though many of its dishes will leave you ready for bedtime, Ohio City Pizzeria has a good soul. The restaurant sticks to its roots, providing rib-sticking red sauce dishes and pizzas in a fun dining room, and to West Siders looking to take lasagna home.
"The goal of the project is to make sure we're pushing this dialogue with underserved populations with food — but at a higher level," says Chrostowski. "We're not trying to open up a sandwich shop or soup counter, but something that can get you skill sets."


Try This: Chrostowski sourced several Italian obscurities on his trip to the Bronx's Arthur Avenue that are well worth investigating, such as the rich Punch D'Abruzzo that's served alongside the ricotta cheesecake ($6).

Family Style: Ohio City Pizzeria is as family-friendly as Italian restaurants get — and the whole menu is available for takeout. Share as much as possible, and if you have a larger party, ask for the private dining room, which seats six just beyond the restaurant's kitchen.

When You Go:
Ohio City Pizzeria, 3223 Lorain Ave., Cleveland, 216-281-5252, ohiocitypizzeria.org
Mon-Thu 11:30 a.m.-9 p.m., Fri & Sat 11:30 a.m.-10 p.m.