We all came out of the pandemic a little bit different — evolved, maybe.
Some of us grew mustaches, started TikTok accounts or picked up new hobbies. Rood Food and Pie, meanwhile, became an entirely new restaurant. The stylish Lakewood spot with neon signs, bright paintings and artsy, '70s trailer park vibes opened in 2018 offering a tight menu of family-style gourmet sliders and pie. But the pandemic forced owner Brian Ruthsatz to rethink his sharable service concept. Now, Rood is home to an expansive exploration of seasonal ingredients, rustic cooking and modern presentation from one of Cleveland's hottest young chefs, Rachelle Murphy, a 23-year-old who seemingly came out of nowhere.
"Rachelle is really challenging the norm and bringing on some unique dishes," says Ruthsatz, who already made Murphy a partner in the business after just her first year.
Murphy's journey into chefdom started at Baker College's Culinary Institute of Michigan. She quickly caught the eye of her instructors, specifically chef Amanda Miller. The pastry chef, who appears in the Netflix's School of Chocolate, coached Murphy to multiple gold medals in American Culinary Federation competitions and helped the 20-year-old secure an appearance on an episode of Guy's Grocery Games.
"She taught me to be confident in what I'm doing," says Murphy.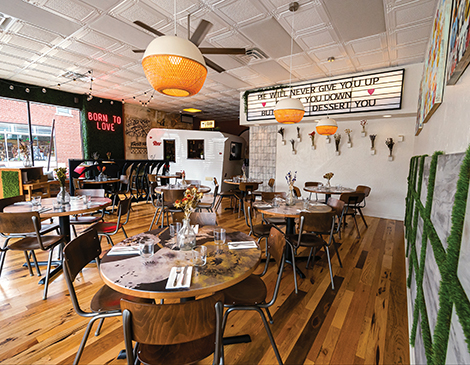 The institute also led Murphy to an internship at Italy's Ristorante Zeppelin, a culinary academy run by chef Lorenzo Polegri. Amidst Led Zeppelin's blistering rock 'n' roll, she fell in love with Italian cooking and pasta making. She visited Parma, Italy, to see fresh cow milk turn into Parmesan cheese wheels. "It was an incredible experience," she says.
After graduation, Murphy returned home to Grand Haven, Michigan, where the 20-year-old spent the next year as executive chef of Fuel Bar and Refuge. In a renovated 1930s gas station with a smoker, she led a pasta-
driven scratch kitchen that laid the groundwork for what she's doing now but lacked refinement.
"I loved that stuff, but it wasn't who I am," she says. "I love nicely plated food. It's beautiful, elegant and artistic. There, people just kind of want their meat and potatoes."
In early 2020, Murphy traveled to Seattle for a conference. During a tourist visit to Pike Place Fish Market, she struck up a conversation with salmon-tossing fishmonger Colin Kiplinger. "I was just trying to catch a fish," says Murphy. "Now I'm about to marry him." Although her plane left in a few hours, they went for drinks and fell for each other. A few weeks later, she visited again and never went home, taking a job at the Charlotte Restaurant & Lounge, a five-star restaurant at the city's Lotte Hotel. As the pandemic hit, the newly engaged couple decided to move to Kiplinger's hometown of Cleveland.
Meanwhile, Ruthsatz was in a pickle at his Lakewood restaurant. Rood Food and Pie's build-your-own sliders concept had opened to rave reviews, with this magazine calling the atmosphere and menu of fresh rolls, funky slaws and exotic meats "endearingly offbeat." But his social sharing concept didn't work in a new world of social distancing, and plating the sliders took away the fun of trying a bit of this and a bit of that.
"How do you elevate sliders and make it sexy? By doing lamb, rabbit, goat and daikon slaw," he says. "That's the fun when you create a restaurant, making it a little bit different."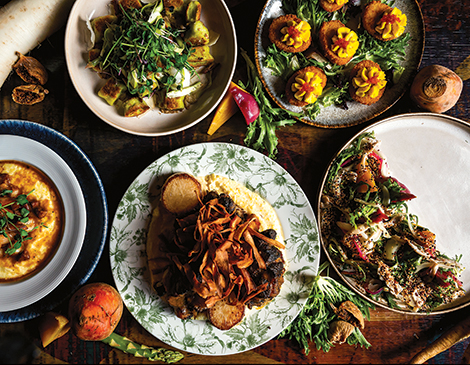 He was getting by with a "boujee brunch" but needed a new executive chef with a strong vision for the uncertain future. After 12 interviews, he finally found Murphy, who was hired in January 2021.
"Her menu in Grand Haven just blew me away. Really unique stuff," he says. "I told this woman, 'It is a blank canvas. I want you to wow guests with things they haven't had before.' And that's what she's done."
Murphy's first menu quietly launched in March 2021. Over the past year and change, the menu, which Ruthsatz refers to as Murphy's "greatest hits," has gone through a few seasonal evolutions to add fresh veggies and new ideas. Still, some originals have become favorites among regulars, such as the tortellini emiliano ($22), a house-made pasta filled with wagyu beef and Parmesan in a spicy arrabbiata sauce.
Whereas a concise theme drove Rood 1.0, expansiveness defines the restaurant's newest phase.
Free-spirited exploration touches on myriad cultural influences but rarely fuses them together — a trend we also noticed at The Last Page at Pinecrest in Orange, which Cleveland Magazine readers just voted Best New Restaurant and whose Logan Abbe just edged out Murphy as the city's favorite chef.
Yet, at times, I wasn't sure what Murphy's menu wanted to be. The Southern flavor of the cajun shrimp and grits ($22) was solid but strange next to the arancini ($12), a bland ball of risotto and stringy fresh mozzarella in arrabbiata sauce that didn't impress. Despite Murphy's time in Italy, we didn't fall as hard for the beloved tortellini as others did. The zucchini and corn cakes ($12) were utterly boring.
"I think having our menu kind of being so diverse and eclectic drives people in," says Murphy.
For me, however, it's the eclecticity, not the diversity, that keeps me coming back time and time again.
The more you steer your ship toward boundary-pushing plates with unfamiliar and seasonal ingredients — like the pan-seared hog snapper ($36) or the asparagus salad ($14) with creamy tarragon dressing, tender asparagus, pickled hard-boiled egg and shaved cured egg yolk — the more exciting the Rood experience becomes.
I'm almost as big a proponent for injecting fun into the dining experience as I am for deviled eggs, so things got off to a great start with the fried deviled eggs ($13). Bacon fat is whipped into the egg yolk before the salty, yellow paste is squeezed into a fried egg white vessel and served with Oaxaca chili aioli.
From there, we moved on to a salad I cannot stop talking about. A text about a roasted heirloom beet salad ($14) would typically alarm my friends and family of a hostage situation. Until, that is, they tried the crunchy, creamy, spicy, sweet-and-sour combination of smoked whipped mascarpone, pickled oyster mushroom, red onion, fennel, crispy quinoa and fresno vinaigrette greens, all plated elegantly and modernly with a half-naked plate. The beautiful variety of colors and textures stuck with me for weeks.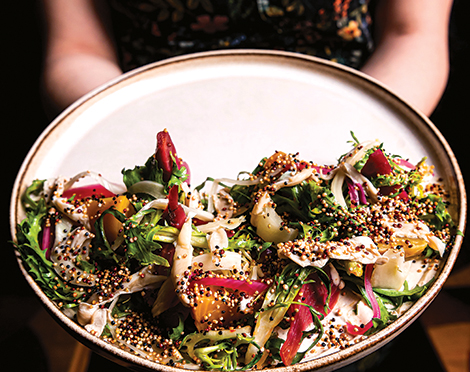 Unlike the two mind-altering salads, which stun by singing peculiar songs, many of the entrees excel by expertly disguising new flavors in familiar packaging — a subtle nod to Murphy's roots in that state up north. Presented similarly to a bone-in short rib, the bourbon and fig braised oxtail ($30), a protein more common in Caribbean food, conjures up fork-falling, mouth-melting cliches that are every bit accurate. Murphy breaks down whole tails into fist size pieces and braises them for five hours before serving them with smoked cheddar grits, a fig-bourbon balsamic reduction and crispy parsnips.
Meanwhile, the spring onion gnocchi ($22) was every bit as exciting as the beet salad thanks to handmade gnocchi and seasonal veggies. A creamy eggplant sauce, confit purple scallions, shaved asparagus salad, oyster mushroom, candied walnut crumb, shaved Parmesan and fried eggplant add up to a surprising springtime medley with a bit of heft for that cold Cleveland breeze.
"It's kind of taking Italian as the base," she says, "But like, forget everything you know about Italian pasta."
That, in my opinion, is where Murphy thrives. Thankfully, when the summer menu comes out in mid-June, diners can expect more experimental gnocchis and dishes celebrating
ingredients such as fiddleheads, ramps, morels, halibut and monkfish, sometimes called "poor man's lobster."
"We're playing with things that are hyper-local and hyper-seasonal," says Murphy. "We want to give the best ingredients we can get."
OG Rood fans are likely wondering about those pies. Don't worry, a full dessert menu remains, including the menu-anchoring salt and honey pie ($7.25 per slice; $34 whole pie), served with a vial of bee pollen. In fact, Ruthsatz plans to
expand hours around his pie offerings with a daytime Cafe Rood and the late-night Pie Bar with "boujee coffee cocktails."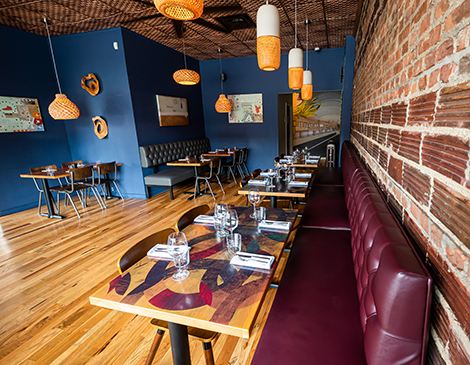 But don't expect a return to sliders. Much like the impossibility of a new normal, we've come too far to go backward. We've read the books and mastered the hobbies — and hopefully shaved the 'stache. God willing, we're better off for it.
Rood certainly is. Once highly conceptual, the Lakewood eatery is now a playground for a budding culinary creative with an operating partner who
rewards unrestrained creative expression. Despite still finding her voice — and at 23 years old who can blame her — Murphy has already solidified herself as one of Cleveland's most exciting young chefs. We await each of her future menus with bated breath.
How's that for evolution?
"You always gotta look forward," says Ruthsatz. "You can't look back."