There's not much to see in the Proper Pig Smokehouse's tiny kitchen: two upright smokers, a squat Vulcan oven and a long rectangular prep table in the center.
But oh lord, the smell. Sweet and thick, the scent hangs in the air like summer laundry billowing on a line.
Kitchen manager Tom Novak opens one of the stainless steel smokers to reveal the char-black gems inside and slips a meat thermometer into one of the beef briskets: 200 degrees. Right on the numbers. Because each cut of meat is different, Proper Pig cooks to temperature not time.
"We don't have a chef," says co-owner Shane Vidovic, gesturing toward the smokers. "We have these."
Still it's just after 9 a.m. and these beauties — two pork shoulders and three briskets — have been smoking all night. Tuesdays are comparatively light at the year-old spot on Detroit Avenue in Lakewood, and the Pig only cooks what it needs. When it sells out — it's gone.
That doesn't happen much anymore, since Vidovic and his co-owner Ted Dupaski added the second smoker in August. Now, on Saturdays, they can cook up to 1,000 pounds of meat.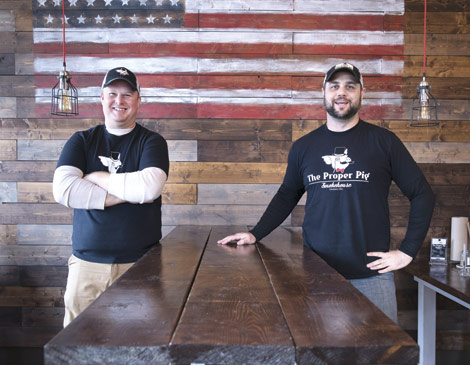 Novak usually works the morning shift solo, swapping out the brisket and pork for the ribs, turkey and sausage, which need less time in the smoker. He slides five full slabs of ribs, which have been marinating in a dry rub over night, into a vertical rack and tosses them into the smoker. A large turkey breast goes below them, so the poultry juices don't drip on the other meats.
With a long-handled pizza peel, Novak extracts the finished pork and brisket from the smoker. "If you use your hands, they just fall apart," says Vidovic.
Brisket gets wrapped in butcher paper, while the pork goes in foil to rest — each with a few spritzes of apple cider vinegar to help keep them moist.
Then Novak moves to prep for the next day, sliding his long, thin knife around the certified Angus brisket, keeping about a quarter-inch fat cap and trimming away the excess. Every inch gets a Texas-sized dose of the coarse pepper, salt, paprika and garlic powder mixture. "It took us a long time to find exactly the right pepper," says Vidovic.
All this effort before it goes into the smoker pays off in the final product, he says. "Barbecue is meant to be cooked slow but served fast and fresh."
That's a pretty good description of Cleveland's barbecue scene right now as well. For years, it's been a slow burn with little to speak of outside Hot Sauce Williams BBQ and Bubba Q's World Famous Bar-B-Q & Catering.
Then in April 2016, after what felt like years wandering lost in the prairie, Michael Symon's Mabel's BBQ opened on East Fourth Street in the same week the Proper Pig debuted in Lakewood. While going head-to-head with this town's culinary Boss Hogg may make some folks feel like the runt at the trough, it actually benefited Vidovic and Dupaski. In almost every article about Mabel's — and there were enough to fill a homestead — the Proper Pig got a shout-out. "It was great for us," says Vidovic.
Although Symon has taken on the yolk of creating a Cleveland-style barbecue, Vidovic and Dupaski are focusing on great 'cue as its served in Central Texas, where even the sauce isn't the Lone Star of the show. Yet in our barbecue-starved town, even that has been a struggle at times.
"Education has been a big thing with us" says Vidovic. "You don't know what good is until you've had good."
So the co-owners started slow. They both worked in corporate America and sampled the best joints in Kansas City, Missouri, Austin, Texas, and elsewhere during their travels.
They started as hobbyists in the backyard, landed a few catering gigs and eventually decided to buy a used truck off Craigslist for $1,000. Over six months in between work and family, Vidovic and Dupaski built the food truck themselves for about $20,000 including their first smoker.
By the end of food truck season in 2015, Dupaski was able to quit his job. Last year, Vidovic quit his job to open the restaurant, which draws inspiration from the iconic, no-frills Franklin Barbecue in Austin where folks line up outside just to get a taste.
"We were like, 'Hey, Cleveland has nothing like this,' " says Vidovic. "It was kind of our aha moment."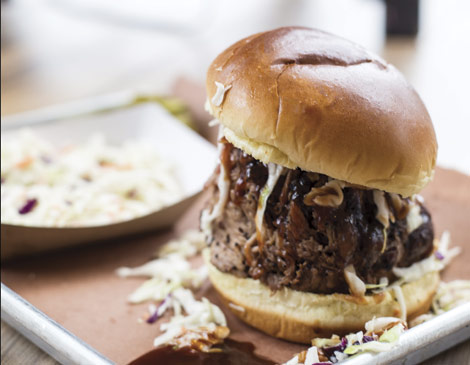 Located near the western end of Lakewood, the Proper Pig doesn't stray too far from its food truck lane. A few small tables line a wall with wood-slat planking and one long communal table runs down the center. The menu fits on a chalkboard above the front counter. There's meat (brisket, pork, turkey, hot-link sausage and ribs), five sandwiches, three sides, bacon on a stick and banana pudding. That's it, the whole hog, but it's more than enough.
Ordered in platters ($12, $16 and $22) or by the half pound, everything is cut right in front of you and served with pickles, onions and white bread on a metal tray. "This allows us to keep things simple," says Vidovic. "You get a big ol' plate of meat, and you pig out."
On our fist visit, we sampled the entire ranch: pulled pork ($8), smoked turkey breast ($9) and beef brisket ($10) by the half-pound, along with sausage ($4), a rack of ribs ($21) and all three sides ($3 each).
Yeehaw! But for the love of barbecue, do not pour sauce over everything before you dig in. It doesn't need it. Start with a little pool of the sweet vinegar sauce on the side.
We occasionally use a fork but would rather pick away with our hands. The strands of pulled pork almost stick to your fingers — which offers the perfect excuse to lick them clean. If you claim a piece with no blackened bark, give it a little dunk in the tangy sauce. Otherwise, eat it au naturel so the peppery rub accents the full smoky flavor. We set aside a hunk of bark as a treat, allowing its full force to warm our mouths like a good whiskey.
The St. Louis-style pork ribs are similarly tender, giving way from the bone as you pull off pieces of the pink, glistening meat.
As lean brisket converts, we're always worried about how much fat we might find. Only once in three visits did we get a layer a tad too large for our taste. Otherwise it imparted a buttery lusciousness that served as the perfect counterpoint to the deep, almost jerky-like beef flavor.
The Pig "imports" its hot links from Mikeska Brands Texas Bar-B-Q near Austin, which supplies some of the top barbecue places in the country, and you can taste the tradition. With a nice snap on the natural casing, the 80-20 mix of beef and pork is juicy, moderately coarse and mildly spicy.
Too often, turkey can get overlooked at a barbecue joint. Don't do that here. Traditional Thanksgiving dinner may never be the same after this bird, which gets finished with hunks of butter enclosed in a foil wrap and comes dripping in hickory flavor.
Among the sandwiches, the Proper Slopper ($12) lives up to its name. The chopped brisket, pork and sausage gets formed into 1-pound softball-like mass, then topped with coleslaw and barbecue sauce on a bun.
"It's kinda like that meal you eat after Thanksgiving where you just pile all the leftovers on your plate," says Vidovic.
As for the sides? Well, that's not what you're here for. The beans, a blend of pinto, baked and black beans, are probably the best of the trio with sweet barbecue notes that complement the rest of the menu. And while Vidovic has worked hard to get it right, the Stadium Mustard potato salad still could use a little more kick in its heels.
As local barbecue fans, we're excited that the number of quality joints continues to grow. For its part, Proper Pig is expanding to Mentor this month with daily lunch and dinner service in a former Quiznos just off Heisley Road.
"Barbecue's hot," offers Vidovic. "I don't think we're done seeing more places open."
Try this: Available only on Thursday, the humongous 1 1/2- to 2-pound beef ribs ($25) tap into your inner Neanderthal. But make like Fred Flintstone and hustle on over, because once they're gone, they're extinct until next week.

Good to know: Rustle up some friends on Wednesdays for rib night, when full slabs, normally $21, are a smokin' good deal at just $15.

When You Go: The Proper Pig Smokehouse, 17100 Detroit Ave., Lakewood, 440-665-3768, properpigsmokehouse.com, Mon-Thu 4-9 p.m., Fri & Sat 11:30 a.m.-9 p.m., Sun 11:30 a.m.-7 p.m.