Jia Wei always thought he'd become a musician — but his version of the American dream went in a very different direction than he originally planned.

The chef and owner of Wild Mango moved to Ohio from Beijing, China, in the 1990s to study the trumpet on a full scholarship at Oberlin College. But by his senior year, he had shifted his focus to the restaurant industry.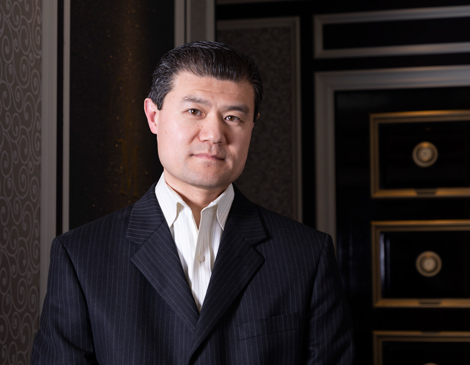 "The reality hit me that being a musician, especially from overseas, it's very hard to find a job and make a living," says Jia Wei, who goes by his full name, per Chinese custom. "So I decided I had to change."

He'd long been curious about cooking, namely because his mother wouldn't let him into the kitchen while she prepared dinner. So after college graduation, Jia Wei moved back to Beijing and spent a year working in the restaurant of a hotel managed by his uncle.

"I was able to learn a lot from a lot of people," he says of that experience. "That's where I learned all of the basics."

When the year was up, he returned to Oberlin and purchased Mandarin, a small Chinese takeout restaurant on the brink of closure — then set out to try to turn the business around.

On a budget of just $200, Jia Wei gave the place a much-needed face-lift, painting it stark white and covering the walls in Chinese characters — handwritten recipes inked in Sharpie.

"With limited funding, I completely did a makeover," he says proudly. "We completely transformed that little space."

That was in 1994. For Jia Wei, now 49, it was the start of a career in both culinary arts and restaurant management — a creative fusion that allows him to be artistic and business-minded at the same time.

Mandarin's runaway success inspired Jia Wei to open a second Oberlin restaurant in 1998. Weia Teia was born from his desire to move beyond traditional Chinese cooking and experiment with a variety of cuisines.

The success of that high-end, multiculturally influenced eatery soon eclipsed that of Mandarin. In 2000, Jia Wei opened a second Weia Teia in North Olmsted — renaming it Wild Mango two years later.

Like Mandarin and Weia Teia before it, Wild Mango proved an immediate hit with locals. For nearly two decades, it has served Asian-based, globally inspired cuisine in a lavish, special-occasion-worthy atmosphere.

"The whole idea of this restaurant is that you've been invited into someone's home for dinner," Jia Wei says.

He closed the Oberlin location in 2017 to focus on finding a home for Wild Mango on the East Side. This March, after a decade-long hunt for the right spot, he opened his newest location at Legacy Village, in the building that once housed pan-Asian restaurant Stir Crazy. Jia Wei designed the new space himself, making Wild Mango unrecognizable from a chain restaurant.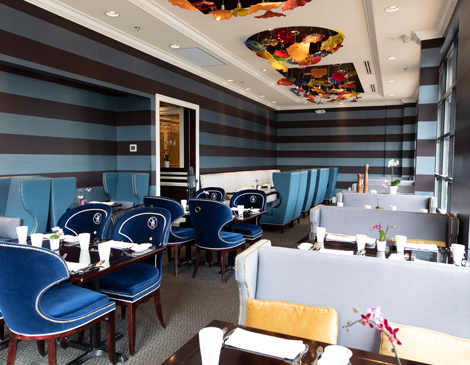 North Olmsted's Wild Mango is divided into small, intimate dining rooms, each with distinctly different global decor. If you've dined there, you may not be surprised by the elegant beauty of the new Lyndhurst spot — but you'll still be awed by it.

Guests are greeted by a large, ornate foyer at the new space where a hostess leads them through massive double doors and into the dining rooms — that's right, plural.

To achieve an intimate vibe, the restaurant is divided into separate dining areas with a maze of long, marbled hallways with high ceilings and mirrored walls. The overall effect is a cross between a swanky spa and the kind of extravagant Singapore mansions featured in Crazy Rich Asians.

And although much of his decor and cooking are influenced by his roots, Jia Wei is adamant that Wild Mango not be thought of as an Asian restaurant.

"Most Asian restaurants, they're doing fusion," Jia Wei says, "but it's really a Southeast Asian mix, rather than taking on world cuisine. What I'm doing is multicultural."

Indeed, his menu draws inspiration from all over the globe, including France, Spain, Italy, and beyond.

That commitment to culinary diversity is evident in many of his entrees, including Wild Mango's most popular dish, the sauteed sea scallops ($24). The scallops, flown in fresh from Hawaii every other day, are sauteed in a tomato cream sauce, a very Western-style preparation — but they're served with bok choy and a crabmeat risotto reminiscent of classic Asian cuisine.



Try This: Sure, you've had pot stickers before, but you've never had them like this. Wild Mango's appetizer version ($8) is pan-fried to perfection, each piece served over its own cucumber slice, then topped with peashoots and drizzled with a ginger-soy vinaigrette.

"It's like an East-meets-West," Jia Wei says. "A lot of French influence with Southeast Asia." Another indication that Wild Mango isn't your average Asian restaurant is the grilled strip steak ($28).

"Cleveland is still a meat-and-potato-based clientele," Jia Wei says. "[Ours has] Asian flavors, but the presentation, the preparation and the ingredients we put on the plate are what people are familiar with."

It's served with sauteed mushrooms, asparagus and caramelized onions, alongside thick-cut sweet potato fries, an homage to Asian street food.

The five-spiced roast duck ($25) is also inspired by home — namely, the popular head-on Peking duck Jia Wei grew up eating in China. The version he serves at Wild Mango includes just the tender, juicy duck breast, which he's found to be most appealing to squeamish American diners. It's sprinkled with sesame seeds and comes with a steaming side of garlicky veggies, including Szechuan eggplant, green beans and red pepper — a sort of upscale sweet-and-sour stir-fry.

Get Wild: For a lightly Asian spin on a classic American cocktail, sip on the Wild Manhattan ($12), made with rye whiskey and sweet plum syrup. No, that's not a cherry in the bottom of your glass; it's a tiny, dried plum.

One of the menu's more playful items — an unexpected bit of whimsy on an otherwise chic menu — is the Pepsi shrimp ($7), a cola-battered appetizer he came up with after cooking a Thanksgiving meal with his 8-year-old daughter back in 1996.

"She accidentally dropped a shrimp into her Pepsi, but she picked it up and started eating it," he laughs. "It just tasted so good." It's been on the menu ever since, served over a cucumber salad and crispy soba noodles.

To further spotlight the menu's many unexpected flavor combinations, Jia Wei puts significant thought, effort and imagination into the presentation of each dish. He hand-sketches each of his dishes such as the green tea ice cream with hand-spun sugar.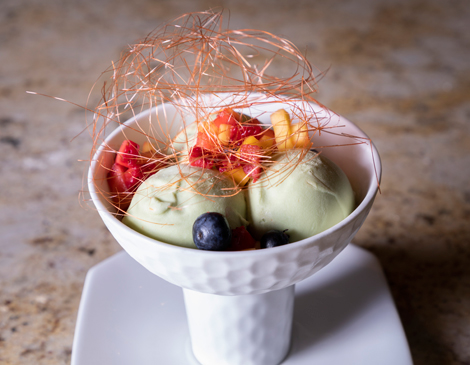 "My philosophy of food presentation is that it should be a part of the dining experience," Jia Wei says. "When you go out to eat, [you want to go to] a beautiful restaurant that draws people in, with very good service, great food, perfectly prepared. Those should be the package deal."

His exacting creativity ensures that every plate out of Wild Mango's kitchen is colorful, multi-textured and architectural. The crunchy cheese-battered Romano shrimp ($20), for example, comes atop a stack of sweet potato fries built into a Jenga-like base, while the creme brulee ($7) is finished with a delicate, crunchy tangle of spun sugar at least two inches high.

Jia Wei hand-sketches all of his dish concepts, including desserts, before preparing them in Wild Mango's test kitchen and then reworking each dish until it meets his rigorous standards. He won't name a favorite, though: "If it's not my favorite, I won't put it on the menu," he says. "Every item on the menu is my favorite dish."

From the decor to the cuisine to the innovative ways each plate is presented, Wild Mango exudes a singular, multicultural opulence not often found in Cleveland.

"I want it to be memorable," Jia Wei says. "I want people to think it's the most beautiful restaurant in Cleveland, and I always go back to that wow factor. I want people wowed — always."

When You Go: Wild Mango 25385 Cedar Road, Lyndhurst, 216-716-8001, wildmangolegacy.com, Daily 11 a.m.-10 p.m.