The sleek, copper bar at South Franklin Circle's Radius restaurant is fully stocked, and the curved room's windows overlook the Chagrin Valley.
White tablecloths and a sweet bouquet on every table dress up this Judson community's dining room. But for residents like Gayle Bauer, the personal touch makes it special.
"It's fine dining, but friendlier," says Bauer, who especially enjoys the trout piccata.
Servers at Radius take orders, greet each person by name and offer a glass of wine or a cocktail. It's not just dinner — it's an experience.
"The fact that great dining is right here where we live adds to the pleasure and convenience," says Bauer, 93, who believes Radius stacks up to any restaurant she and her husband, Bill, visit downtown.
More senior living communities are looking for ways to differentiate themselves and attract the well-traveled, health-minded and choice-conscious baby boomers. Dining is a priority, and when done right, food helps increase satisfaction ratings, according to a 2018 report in Senior Housing News.
Senior communities are upping their food game and offering restaurant-style dining staffed with experienced chefs, dining rooms with servers and food-focused events. Throughout the country, some are even serving house-branded coffees, wines and signature sauces. Others are opening their dining rooms to the public, including Radius in South Franklin Circle.
"Residents are looking for more of a normal dining experience like you'd have at a restaurant, mixed with some home cooking," says Mike Lipnos, executive chef at Danbury Senior Living in Broadview Heights. "We try to walk the balance. Our cooks have a restaurant background, so they are less inclined to prepare industrial meals and more into short-order cooking."
Northeast Ohio's senior living communities are elevating their meal game with more choices, all-day breakfast, food-focused events, room service, a restaurant experience and more.

Dish Network
Helen Bond, 91, worked in catering management at Stouffer's for 30 years.
At the Danbury dining room, she understands what it takes for well-plated meals — "served on a hot plate if it's hot, and on a cold plate if it's cold," she says.
"I'm very aware of presentation," Bond adds. She spent too many years focused on food service to ignore it now.
Bond is not alone. A 2010 study by Unidine, a food services company, showed that old-style tray passing programs produce the lowest levels of satisfaction among respondents from senior services executives at senior communities throughout the country.
"We eat with our eyes first," points out Darcel Williams, director of dining services at Hamlet Village in Chagrin Falls. "If a meal looks good, it just tastes better."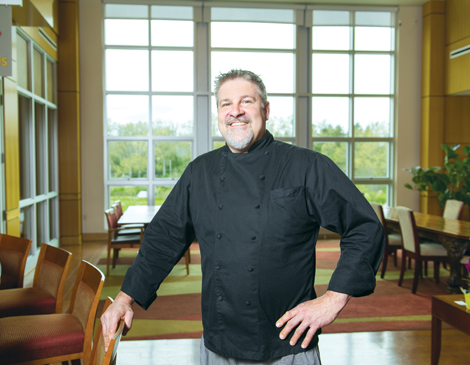 At South Franklin Circle, executive chef Chris Koshar treats the plate like a canvas. He even extends the artistic touches to the dining room with intricate weekly food sculptures.
"It started with a little cauliflower lamb," he says. "That was a catalyst for creative ideas for fruit-and-vegetable sculptures."
Photographs of the sculptures, including a life-size turkey made from watermelons, gourds, carrots, celery and plantains, decorate Koshar's office wall. At Halloween, he carves a 150-pound pumpkin.
"Residents really enjoy it, because they never know what I'm going to do," he says.
The same approach applies to the kitchen as well. Creating a crowd-pleasing menu involves repackaging familiar flavors, while introducing new preparations.
At Danbury, for example, Lipnos wouldn't have put chicken ratatouille on the menu five years ago. Yet, something unfamiliar is often balanced by home-cooked favorites such as soup.
"We'll run through 28 different soups on a rotational cycle," he says.
Koshar describes the food at Radius as "gourmet with smaller portions, elegant and artistically presented — a combination of new and old."
He might, for example, serve stuffed cabbage with risotto rather than mashed potatoes or transform a comforting chicken dish with a mushroom, tarragon and sherry cream sauce. "It's keeping in touch with residents' comfort zone," he says.
Mashed potatoes might become lobster mashers, and pasta carbonara could be served as risotto carbonara.
He might do a steak Diane, but use the filet center-cut so it's more tender and more easily digestible.
"It's going to be presented with the same elegance and tradition and artistic flair," he says. "I'm just always conscious of how tender it is. That's always my final goal."
At Hamlet Village, residents still want to see the baseline of favorites such as chicken cacciatore, chicken Parmesan and steak-and-potatoes, Williams says. But basic items shouldn't be bland.
"Residents want five-star quality and eating is the highlight of the day," she says. "It's not boring, institutionalized food."

Any Time, Anywhere Dining
At many senior living communities, residents expect a menu they can order anytime to replace a main entree or as an in-between meal.
Like popular convenience restaurants, Danbury offers breakfast all day. Waffles, omelets and eggs, along with a variety of sandwiches and salads, are cooked to order from 7:30 a.m. to 6:30 p.m. on the Always Available Menu.
"If you want pancakes for dinner or a burger for breakfast, that's your world," Lipnos says.
In addition, active adults who miss lunch don't have to worry about a closed dining room. Those who like to press the snooze button and miss an early breakfast can just order in.
"You eat what and when you want," Lipnos says. "There is no missing meals."
A growing number of communities are following the lead of our delivered-to-your-door, always-open society.


"You can call in for a meal, just like you would in a hotel," Lipnos says. "We'll send it up on a tray with a special cover to be sure the food stays up to a safe temperature."
When a resident at Jennings told Michael Mills that he craved a steak, the director of culinary services and executive chef asked, "What kind?"
The man had a hankering for a New York strip, so Mills went to the nearby Giant Eagle and picked up a cut.
"We look at this as their home," Mills says. "We are going to do what we can to make them happy."
After more than 20 years as a restaurant chef, Koshar says, he's never served more oyster appetizers than at South Franklin Circle. And while he tries to stay within a certain comfort zone, he realizes the well-traveled residents are open to experimentation.
That has even included serving kangaroo.
"Sometimes I'll add an item that could be on someone's bucket list," he says. "I know that some people have traveled and tried a lot of things, but they might not have had kangaroo."
Dining services directors gather ideas from outside their communities to kick up menus. Williams might tweak a recipe she saw on the Food Network and adapt it, minding the sodium content and her audience.
She's trying hunter's stew, for example, a Polish dish made with cabbage, kielbasa, pork and mushrooms. "I've always got my ear to the ground to see if we can put something new on the menu at least once every two weeks," Williams says.
Senior living communities are taking suggestions from their residents as well.
Bauer sits on the dining committee at South Franklin Circle, which shares ideas and feedback with the chef and staff. "Frankly, we are usually complimenting the chef and saying, 'We don't know how you do it!' " she says. Comment cards in the dining room and bistro give anyone an opportunity to sound off.
Mills recalls when a resident told him that she'd never put black beans in her chili. The next time he made it, he used more traditional kidney beans. "So, we listen," he says. "They see the changes, they know our team really cares about what they say."
Jennings, for example, accompanies its menus with a "glossary" that describes each meal, so there's no guessing what a turkey roll-up is.
When residents asked for a cheeseburger on the regular Radius dining menu, that's what they got. "It's more casual for people who prefer that," Bauer points out. "And, the filet mignon is always on the menu for people who want a steak."
Choices, Choices, Choices
More older adults are asking for fresh food and an array of produce as part of a healthy diet.
Some, like Hamlet, follow the National Heart, Lung and Blood Institute's Dietary Approaches to Stop Hypertension eating plan, a balanced, low-sodium diet.
And as more adults adopt gluten-free, vegetarian and vegan diets, senior communities have adapted.
South Franklin Circle offers gluten-free bread and pasta. An onsite garden produces tomatoes, basil and chives to add flavor without salt or calories.
Bauer and her husband attend daily fitness programs and make eating right a priority. "I can't imagine coming in for dinner and finding something on the menu that's heavy with carbohydrates and fat," she says. "That's important to us."
At Danbury, Bond feels the same way about her meal choices, opting for extra veggies and plenty of fruit. "When I grew up, we had a garden and we were taught to eat healthy," she says.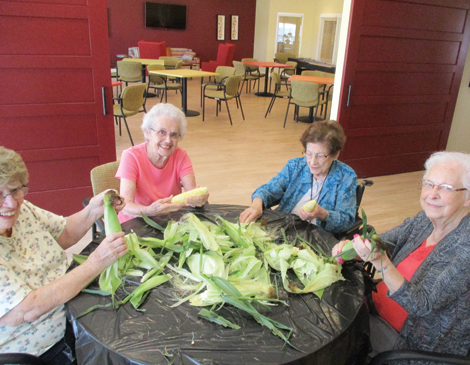 Cheryl McCallum, sales and marketing director at Danbury, notes that healthy options are an emphasis in modern dining at senior living communities. A staff dietician reviews menus at Danbury and makes recommendations. "Our meals are balanced, and our residents really want to be healthier and prefer those healthy options," she says.
When residents at Hamlet submit a favorite recipe to Williams, she's sure to note on the menu that its Mrs. Smith's sweet potato recipe. It's gratifying and empowering to know that all choices aren't off-the-table when you live in a senior community.
"I had one resident who loved to cook," Mills says. "Every six weeks or so, she'd help out with our brunch — it meant a lot to her."
When a woman asked Mills if she could prepare a special dinner for her husband, he was happy to invite her into the kitchen. Helping prepare the meal made her feel at home. "It's the little things that can make a difference," he says. "Food is probably the most important thing in many residents' schedules."
Indeed, social events from clambakes to regular happy hours give residents a chance to mingle. A Senior Housing Network dining industry report revealed that more than half of respondents provide food-centric activities once a week or more with 35 percent producing dining-related programs on a monthly basis.
Danbury hosts an Oktoberfest and other special food-focused events, such as a chocolate party and football-themed gatherings with sliders, wings and game-day fare. Friday happy hours include snacks and alcohol for those who are not restricted.
South Franklin Circle even offers events that families can enjoy, like Sunday brunch with omelet stations. "Dining is something most of our residents have enjoyed their whole life," Koshar says. "They look forward to food and companionship and all that goes along with dining."