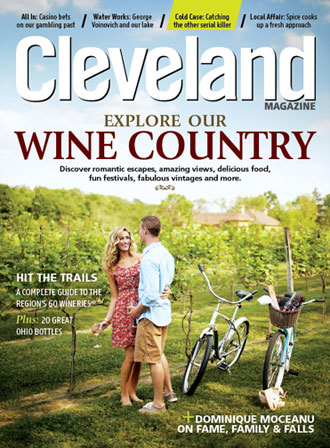 Style
Greeting cards from local design firm Chartreuse are giving Clevelanders a reason to sign, seal and deliver.
Travel & Outdoors
Drink in our travel guide to 60 Northeast Ohio wineries. From scenery and romance to family fun and culinary expertise, we found something for all tastes.
Vermilion Valley Vineyards creates a far-away retreat by focusing on local appeal.
Experience the outdoors while enjoying wine with one of these interactive feasts for the senses.
Put down the glass and take out your credit card. Here are some spots for other treasures.
Get beyond cheese and crackers at wineries with a flair for food.
They're the perfect companion to your wine weekend: five great inns to rest your tipsy head.
Vintage Ohio may be the granddaddy of Ohio wine celebrations, but here are some smaller events to sample.
Learn a thing or two about the wine you're drinking with these grape opportunities.
As one of Ohio's oldest vineyards, Firelands Winery is all about history, family and fun.
Health
In a social media- and camera phone-dominated world, you're constantly reminded what you look like. In the past year, Greater Cleveland plastic surgeons have seen a jump in procedures aimed at putting your best face forward.
New advances are making cosmetic dentistry more attractive to baby boomers hoping to maintain their teeth for a lifetime.