FIRST BLOOM
Bailey Wilson, co-founder of Molly Taylor and Co., could not have anticipated her love as a mother. Holding their then-newborn son Otto in the hospital, she asked her husband, Chris, " 'Isn't it terrifying to just love something so much?' "
"I never expected this amount of joy and happiness, everything that makes it all worth it," Wilson says. "Right now he's starting to smile and respond to us, stuff like that makes your heart just burst."
Now 5 months old, Otto is learning entrepreneurship firsthand in the floral studio with Wilson, who in addition to a Pack 'n Play, stroller and Otto's preferred lobster and dog binkies, has set a small chair for him at her workbench.
"When I'm making flowers, he's right there next to me sitting with all of the flowers around him," Wilson says.
Wilson counts Otto's monthly milestones with doughnuts from Brewnuts. When Otto reaches 12 months, they will be able to take his picture beside a full box.
Unearthing confidence as a new mom is an art Wilson continues to embrace.
"I second guess myself a lot. Like when he's crying, [I ask] 'Am I doing the right thing?' " Wilson says. "The choices that we make now aren't just for us. They're for him, too."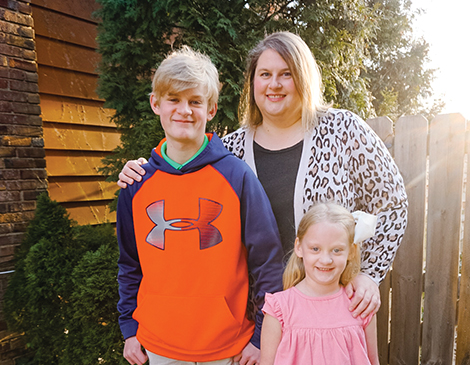 MOM IN THE MIDDLE
Fruit is eaten first at Karen Horn's house. The Cleveland East Side Moms editor and mother of two ensures the fridge is stocked with berries, oranges and apples. On weekends, Horn preps breakfast, saving time during the week when the alarm shrieks around 6:15 a.m. She keeps her 6-year-old daughter on task while her 12-year-old son may elect to remove raspberries from his granola.
"I've just been really trying to be as flexible as possible and giving myself grace and my kids grace," Horn says.
Horn cites the pandemic as just another "twist" on motherhood — the real work is instilling the life lessons.
"[For my daughter I'm] trying to make her be comfortable being a strong woman," Horn says. "I have to constantly remind her that it's OK. You know, if people have a problem with her saying that she doesn't like something, that's not her problem."
For the blogger's son, social media is a challenge.
"[As he gets older] electronics are involved, phones, iPads, even on the Xbox when they can talk to other people — we never had to deal with that growing up," Horn says. "I think that's the hardest part is navigating this new territory of social media."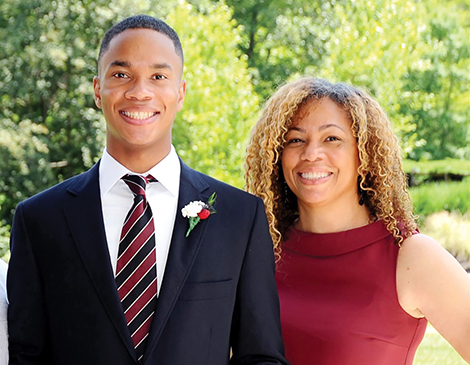 ONCE MOM, ALWAYS MOM
Five hours separate Jennifer Coleman from her son, Cole. Coleman, project director of creative culture and arts for the George Gund Foundation, is happy to leave the physics, chemistry and calculus to her Syracuse University freshman, but is still exploring what an empty nest means.
"I worry about him eating and if he's cold," she says. "But I'm going to do that I'm sure for the rest of my life."
Motherhood refined and sharpened Coleman's identity and values. It was because of the birth of Cole she was able to shift her narrative to fit her priorities, which included her own architect firm in 2005. Reflecting on the "wonderful tornado" mothering is, Coleman advises parents to relax, let go of perfection and treasure their roles as guardians and stewards to their kids.
"There's little periods in your kid's development and it is really specific to you and your kid in terms of who they are and where you are," Coleman says. "Like when they're seven and they start becoming their own person. I miss that little guy. You have to say goodbye to that as they grow into something else. It's really cool. It's fun to see how he is experiencing all this."