Say "Hallo" to the land of fire and ice. Starting this month, Cleveland Hopkins International Airport welcomes two nonstop flight options to Iceland. Sure, grade school geography taught you Iceland is the green one and Greenland is the icy one (kind of true), but how much do you really know about the Ohio-sized island? Turns out, this fantasy getaway offers a diverse landscape that includes geothermal pools, white and black sandy beaches, mountain ranges and an array of exotic wildlife from whales to puffins. Plus, it's an inexpensive link to more than 30 European destinations. Here are three Icelandic cities to explore.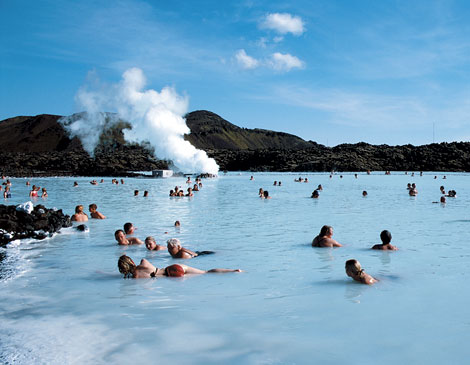 Keflavik
Your wheels touch down at Iceland's Keflavik International Airport in this small fishing village of 15,000. Luckily, the airport is just 20 minutes from one of the world's great natural wonders: the Blue Lagoon. While outdoor temperatures top out in the mid-50s here, geothermal pools, ones naturally heated by the earth's hot zones, are located in almost all Icelandic cities. The sky blue water, hazy fog and snow-topped mountains make this geothermal pool the country's premier and most picturesque swim. "This amazing hot water has kept us warm," says Maria Bjork Gunnarsdottir, manager of Visit Iceland. "We swim all winter. It even heats our houses."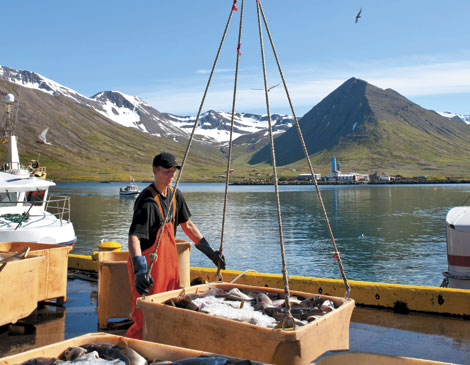 Reykjavik
Iceland's capital is just a 45-minute drive from the airport. A hub for eating, drinking and shopping, Reykjavik's Laugavegur street is within walking distance of landmarks such as the Solfar Sun Voyager statue, Harpa concert hall and Hallgrimskirkja Church, which houses a 28-ton pipe organ. The 244-foot-tall Lutheran parish towers over the skyline and doubles as a breathtaking observation deck. Head across town to Fish Market, a seafood-forward take on the local cuisine — which includes grilled whale (mostly to humor tourists). "Icelandic cod is famous," says Gunnarsdottir. "We have very good roast lamb. All major restaurants have some variety of that kind of dish."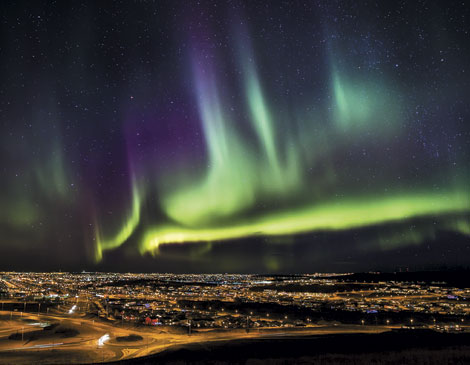 Husavik
It's a scenic six-hour drive or 45-minute flight northward to this small harbor town. Animal lovers may enjoy the guided tours for whale watching (if you don't see one the first time, guides will let you hop another for free) and spotting puffins, a bird nicknamed the "clowns of the ocean." With more than 20 species of whales in the frigid North Atlantic waters, Iceland claims a 95 percent sighting success for watchers. It is also a great place to see the northern lights, the aurora borealis natural light phenomenon that paints the night sky. "It needs to be dark, so September to April is best," says Gunnarsdottir. "During summertime, it's bright more or less all around because of the midnight sun."

Fare Deals
With two flights competing for your buck, we had a local travel agent help us assess each option.

Icelandair

First flight: May 16
Flights per week: 5
Takeoff: 10:20 p.m. departure, 4:50 p.m. return
Lowest fare we found: $443, round trip (May 21-28)
Amenities: In addition to free baggage, customers don't have to pay to select their seat.
The catch: Seats can be upgraded for extra room, extra baggage and more.
Travel agent's review: "The seats on this aircraft are a little better," says Mandy Grimaldi, travel consultant and Europe specialist for Canary Travel. "They're a little bit more spacious, so if I had a choice, I'd probably take this one unless WOW had a deal I couldn't pass up."

WOW Air
First flight: May 4
Flights per week: 4
Takeoff: 12:30 a.m. departure, 9 p.m. return
Lowest fare we found: $330, round trip (June 3-7)
Amenities: It's cheap, remember?
The catch: A carry-on bag costs $39.99 each way and checked is $49.99. Choosing your own seat carries a $6.99 fee and a more spacious seat runs up to $299.
Travel agent's review: "It's a budget flight, but I would have no problem selling it or booking it myself," says Grimaldi. "Once you pay the fees, though, it might be more or less the same [price]. ... Compare and see what works better for your trip."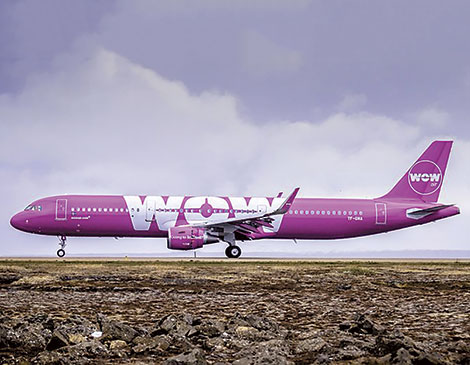 Euro Connection

Since direct connection from Cleveland to London ceased in 2009, flying to Europe typically included an expensive stop in Newark, New Jersey, Boston, Chicago or Washington, D.C. But with two new airlines offering connections via Iceland to more than 30 cities across the continent, experts expect ticket prices to plummet. "Due to our position in the Atlantic Ocean between Europe and America, we are in a unique position as a gateway," says Maria Bjork Gunnarsdottir, manager of Visit Iceland. On a trip to Amsterdam, Oslo or Berlin, customers can save anywhere from $100 to $500 by choosing Icelandair over United, Delta or other airlines. The savings are still there for cities such as London and Paris, though in many cases the major airlines are already running prices just above those of Icelandair. Meanwhile, WOW undercuts them all with flights to London, Dublin and Berlin for less than $300, though additional fees significantly jack up the price. "Using [Iceland] as stopover for a night or two as you connect to Dublin, Amsterdam or Paris won't add much to the cost of the flight other than an additional hotel stay," says Mandy Grimaldi, travel consultant and Europe specialist for Canary Travel.