As Cleveland's downtown living movement ramps back up after a year of economic slowdown and quarantine, it does so with a new commitment to opening the city to the non-luxury crowd.
For too long, the very people who keep Cleveland running — service workers and young professionals alike — have been priced out of living downtown due to an overflow of luxury apartment construction. That's starting to change as developers focus on making workforce housing a priority.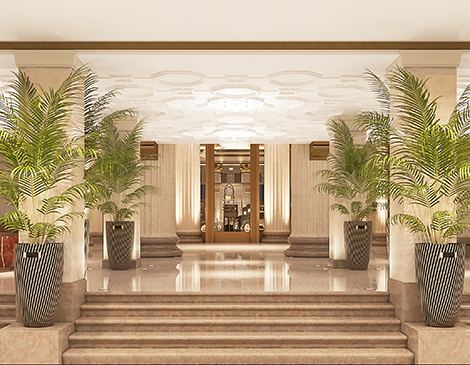 When The Millennia Cos. began planning its ambitious conversion of Cleveland's former Union Trust Building, it started out as another luxury apartment concept. COVID-19, though, changed all that. "The luxury housing market was already getting pretty saturated before the pandemic, so we refocused on what downtown Cleveland really needs," says Tom Mignogna, senior tax credit developer for The Millennia Cos.
Now, 100% of The Centennial's 868 units will be workforce housing with rents capped far below what higher-end properties charge. One-bedroom units will range around $737-$1,180 per month and two-bedroom units around $885-$1,416 per month. "We're excited to provide affordability at a time when it's needed most by the community," says Mignogna.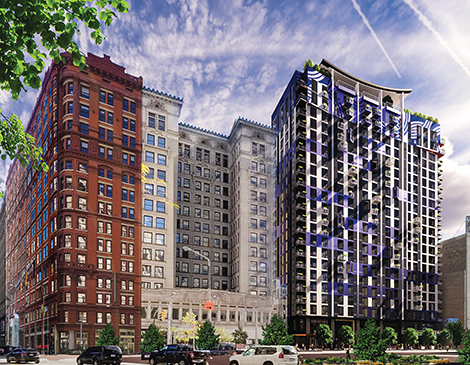 Jonathan Holtzman, founder and CEO of City Club Apartments, agrees. "People in their 20s and 30s, just graduated from college or trade school, cannot afford luxury apartments," he says. "Let's give them a choice that better fits their lifestyle and income." City Club Apartments, opening on Euclid Avenue in late 2022, will do just that by offering some smaller units at lower prices.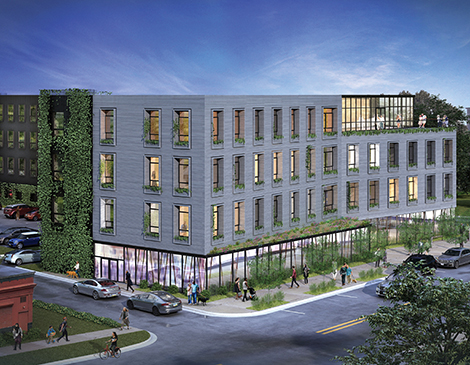 In Tremont, Sustainable Community Associates has led a similar push to ease the financial burden on middle-class professionals. "We typically attract folks who work as teachers and nurses," says Josh Rosen, co-founder of SCA, "so we hold the rent on a certain number of units to make sure that they can afford to live here." The Tappan, which opened in Tremont last June, reached 100% occupancy by August as would-be residents eagerly signed on after taking FaceTime tours of the property. That success inspired SCA to begin work on The Lincoln, an 83-unit mixed-use project, just a block away.
Besides increasing local workforce housing, there's another residential trend on the rise — and it's a breath of fresh air. Literally. After a year spent cooped up inside, Clevelanders are starving for the chance to gather with friends and family out in the open air.
Over in Ohio City, the nine-story Intro will become America's tallest mass timber structure upon completion in spring 2022, but its commitment to the outdoors doesn't end at building materials. "Our rooftop pool will definitely be the most-used amenity because there actually aren't that many of them around here," says Dan Whalen, vice president of design and development at Harbor Bay Real Estate.
Holtzman makes the same point when describing City Club Apartments' planned rooftop pool and cabana deck. "For whatever reason, Cleveland doesn't have many rooftop pools and we think that's a mistake," he says. "We know what renters want and that's more fresh air and more outdoor gathering spaces."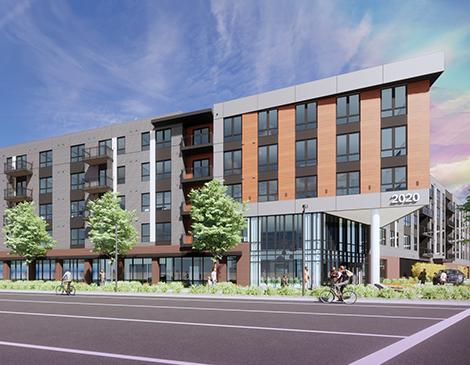 And, of course, some locations lend themselves perfectly to outdoor amenities. Waterford Bluffs, a five-story project on Lorain Avenue, will perch atop a bluff at the western end of the Hope Memorial Bridge, affording residents a spectacular view of the West Side Market area from its outdoor deck and heated pool. "Going forward, providing open-air common space is so important," says Rick Cavenaugh, president of Stoneleigh Cos. "It's really a recommitment to what should have always been important in the first place."