1. The festival highlights our unpredictable weather with February temps ranging from 69 degrees to near freezing in years past. "We have no clue what's going to happen," says Brian Horsburgh, executive director.

2. CLE takes the stage with soulful rockers Mourning A Blkstar, R&B duo FreshProduce and indie singer Tim Moon among the 40 bands performing on five stages. "It is Cleveland bands who make up the core," he says.




3. Fluri, the 6-foot tall furry mascot, roams the festival, performing for a younger crowd. "Fluri's been known to hop on stage with a few of our local bands and dance the night away," says Horsburgh.

4. Smallpools, The surf-pop headliner from Los Angeles, is sure to cure even the worst cabin fever. "We really have to coach our bands," Horsburgh says, noting that hand warmers are best positioned on the wrists. "It warms up the blood going into your hands, so you still have feeling to play those last few songs."

5. We have an excuse to duck into McCarthy's Downtown and Mulberry's, where bands perform on two separate indoor stages.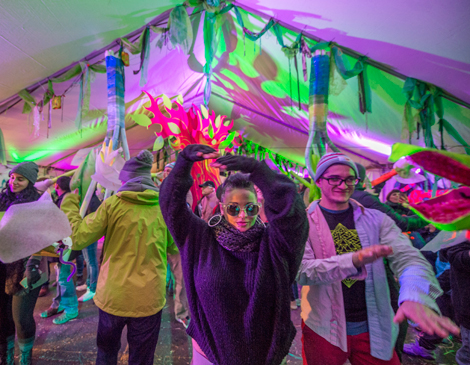 6. The festival is growing its art and creative aspects by expanding into a nearby vacant warehouse. "It allows us to have more art than we've ever had," Horsburgh says.

7. Interactive art activities such as improv comedy skits allow you to fully participate. "We want to put off that vibe of something brighter and more fun," says Horsburgh.

8. As part of this year's Land, Air and Sea theme, a heated tent covers three sand volleyball courts. Plus, a vacant warehouse has been transformed into a flight hangar with suspended airplanes.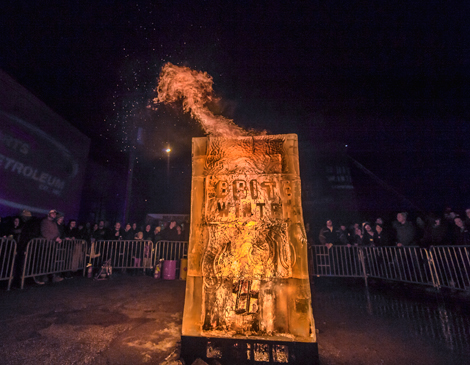 9. Platform Beer Co.'s Brite Lights, Big City returns for a third year. This light-bodied wheat ale spiced with coriander, orange peel and juniper berries with a hint of black pepper keeps you warm inside no matter the weather.
10. Built like an ice chimney with a stack of firewood at its center, the 10-foot fire and ice tower goes up in a blaze at 8 p.m. and comes crashing down about 40 minutes later. "As the ice melts, it collapses down and burns out," he says.

More Info: britewinter.com