This store is so sexy.

It's simple, clean, certainly modern, and yet still screams, "Cavs!"

Collaboratively conceptualized from New York-based design practice, Snarkitecture, and Cavs Creative Director Daniel Arsham (who also holds the title of co-founder for the East Coast architecture company), the pairing set out to achieve a fresh take on what fans could expect from a sports retail shop.

The two-story space within Rocket Mortgage Fieldhouse stamped with the fitting name "Center Court" was, in part, inspired by the backroom and private access areas of the infamous downtown arena. This may seem like an interesting decision on a project that aims to boost the store's "cool" factor until you remember that the 6,700 square foot space has been packaged in Arsham's captivatingly contemporary style. Every design element was carefully constructed with consideration for presentation at the forefront of the team's mind.

(Photo courtesy Sean Davidson)
"Our goal was to create a team shop that complements what Rocket Mortgage FieldHouse is today as a modernized, world-class attraction," says Nic Barlage, CEO of the Cavaliers, Rock Entertainment Group and Rocket Mortgage FieldHouse. "Much thought and inspiration went into creating not only a shopping experience, but a destination that goes beyond simply retail and activates our brand in a compelling and authentic way. We are proud of the outcome and thrilled to open the doors to Center Court for our fans to shop and enjoy."

What features make this revamped store a slam dunk?
For starters, the new Snarkitecture kinetic sculpture. It's suspended from the second-floor ceiling and cuts through the center of the shop. Pictures can do a lot, but you really need to be there to fully appreciate it.
Fluted wood panels also make up the walls, and the first-floor side room is dedicated to retro Cavs gear. With vintage 80's-to-90's fashion taking over popular streetwear, this section of nostalgia will likely be a fan favorite.

Additionally, the stairs leading to the second floor are a trip for concert lovers. Inspired by tall theatrical curtains commonly used as backdrops and drapery on classic stages, this element is a nod to the rich concert and entertainment history the FieldHouse has provided over the years.
The Center Court signage further builds on the theme of vintage revival through its similarity to old-school LED scoreboards, where the letters are composed of individually illuminated dots. More LED action can be found in the concourse entrance, which features a scrolling LED banner.

Although far from the final design aspect of the store, our last mention has to be in regards to the first-level dedication to official team replica Nike player jerseys. The section resembles that of a trendy locker room, allowing fans to feel that much closer to the action.

In need of a little trivia fact?
The mega-sized art piece titled "basketball run" within the shop is inspired by a children's marble run toy … just scaled up to accommodate 15 full-size basketballs.

"One of our goals with Snarkitecture is to reimagine the familiar, and in our collaboration with the Cleveland Cavaliers, we've been able to create an inviting and elevated retail," says Alex Mustonen, partner and co-founder of Snarkitecture. "Our goal was to create a retail destination within Cleveland that draws on the experience and excitement of attending a Cavs game. Front and center within the space is a custom, sculptural Snarkitecture installation - a double height basketball run that creates a playful moment of engagement and wonder within an active retail environment."

With all of this art talk, let's detour to speak more about what Center Court will hold. It is a retail shop after all.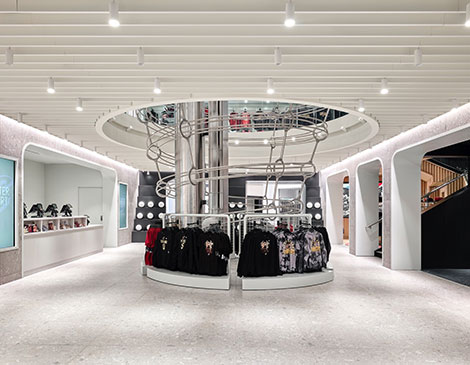 The store will feature the widest selection of Cavs gear and will be home to product lines unavailable anywhere else (Hint: Check out our web article on the "Cavs x UNDN LAQR" nail polish line from global superstar Machine Gun Kelly.)

The ground level of the store will house Cavs apparel you know, love and need. This means everything from hoodies, hats, trinkets and treasures. They are all here, and all enthusiastically waiting for new owners to come and claim them.

A portion of the proceeds from sales during the month of May will go to NF Forward in memory of Nick Gilbert, son of Cavs Chairman Dan Gilbert, who passed away earlier this week from complications related to Neurofibromatosis 1.

Hours of operation are Monday to Friday from 10 a.m. - 5 p.m. and will remain open for all Cavs and Monsters home games, as well as select special events.
Get ahead of the weekend by signing up for our free weekly "In the CLE" newsletter — your guide to fun throughout The Land. Click here to subscribe.